Yep, THIS Is Justin Timberlake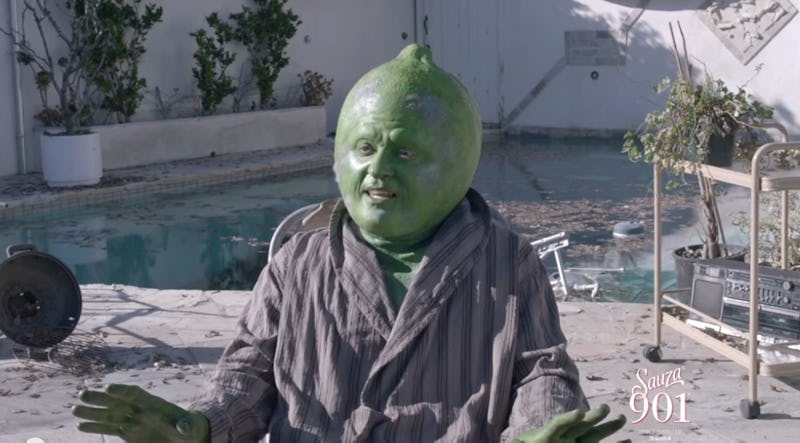 Well, I've reached my quota for bizarre Internet content for the day. Justin Timberlake is in human flesh is usually the object of many fans' desires because he's, well, Justin Timberlake. But in a new promo video, his dreamy looks are masked as Justin Timberlake plays a lime named Rick "Sour" Vane. Now, why is he dressed up as a moldy lime? Timberlake is the co-owner of tequila brand, Sauza 901, and this three-minute faux-documentary follows the lives of rock star limes who are put out of their jobs when Sauza 901 declares its "no limes needed" tagline.
While George Clooney and Sean Combs are celebrities who have also gone into the tequila business, not many stars would take the same comedic route with their advertisements that Timberlake has. In a business that is generally caters more to yacht parties and exclusive VIP tables, the actor/singer has made it a point to set a fun tone for his brand. The spot was written by Saturday Night Live veteran Paula Pell, and given that Timberlake has taken more laid back approach to tequila and dressed as a lime, I decided to look back at some of the most memorable times Justin Timberlake hasn't been afraid to dress up in costumes and have a lot of fun while doing so.
When He Was The Cutest Gingerbread Man
Ellen DeGeneres even asks him, "What are you doing in this?"
When He Dressed Up As The Sassiest Piece Of Tofu
I wish the tofu I try to eat was this exciting. :/
When He Was Beyoncé's Backup Dancer
The leotard doesn't look half bad on him.
When He Looked Like An Extra From American Hustle
His work with The Lonely Island is iconique.
When He Was A Roll Of Wrapping Paper
And Jimmy Fallon popped up!
When He & Lady Gaga Made The Best Drinking Buddies
I want to take them to a party.
When He Was A Silicone Breast Implant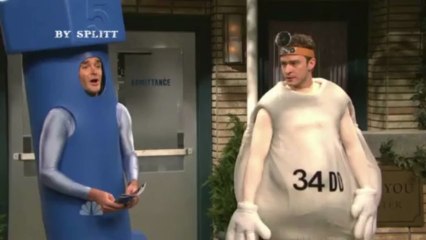 I don't think anyone else can say they've dressed up as a boob implant and still been taken seriously.
Images: Sauza 901 Tequila/Youtube