Is Emma Roberts' Met Gala Ensemble Offensive?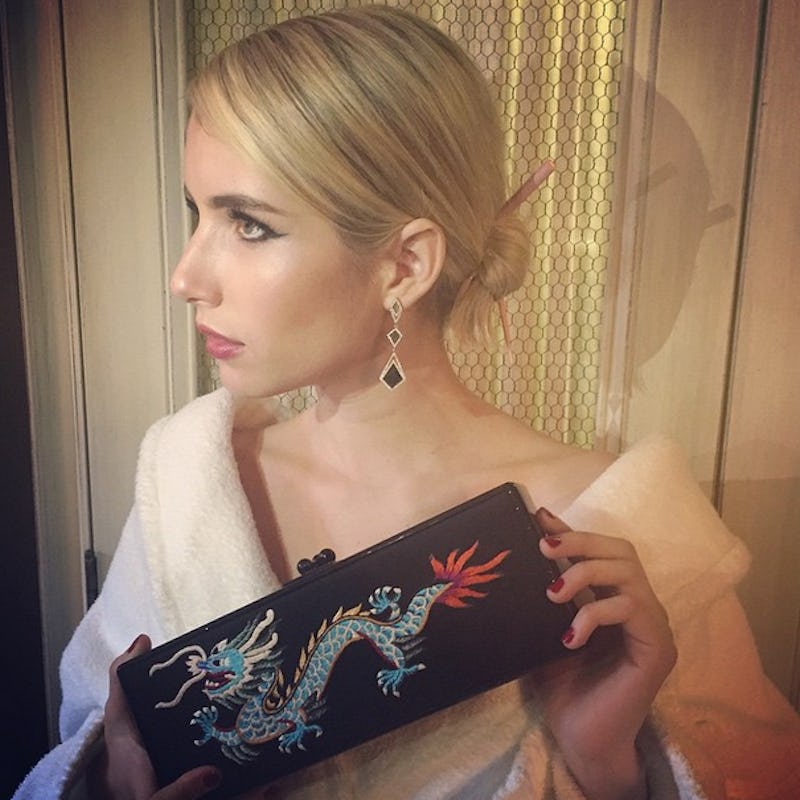 As fashion's elite primp and preen in anticipation of the 2015 Met Gala, Emma Roberts has posted the first Met Ball selfie of the evening, and it is a humdinger. Clad in what appears to be an incredibly plush terrycloth bathrobe, the American Horror Story actress displayed a dramatic winged cat eye, contoured cheeks, crimson tips, and... hair sticks. Oh no. Much has been made of the gala's "China: Through the Looking Glass" theme, which provides ample opportunity for sartorial experimentation and the potential for cultural appropriation. Roberts' delicate Art Deco drop earrings are befitting for a red carpet event, but the actress's hair sticks and dragon-adorned clutch are quite another matter.
In this age of political correctness and indeed cultural amalgamation, donning hair sticks for an event that revolves around Chinese art and heritage is a potentially risky move. In fact, hair sticks aren't specific to Chinese culture, and have historically been used as an implement in Japan and Korea. However, '90s pop culture catalyzed the use of chopsticks as hair adornment, a look that many criticized as culturally insensitive. If Roberts had sported chopsticks at any other red carpet event, namely one that had nothing to do with Chinese antiquity, the resounding public reaction may have been more accepting. And this first glimpse of Roberts ensemble is primarily positive. Nevertheless, if Roberts' hair is any indication, the 2015 Met Ball will certainly provide a glimpse into how culturally progressive the fashion industry truly is.
Image: emmaroberts/Instagram