7 Things About 'CosmoGirl!' That Were The Best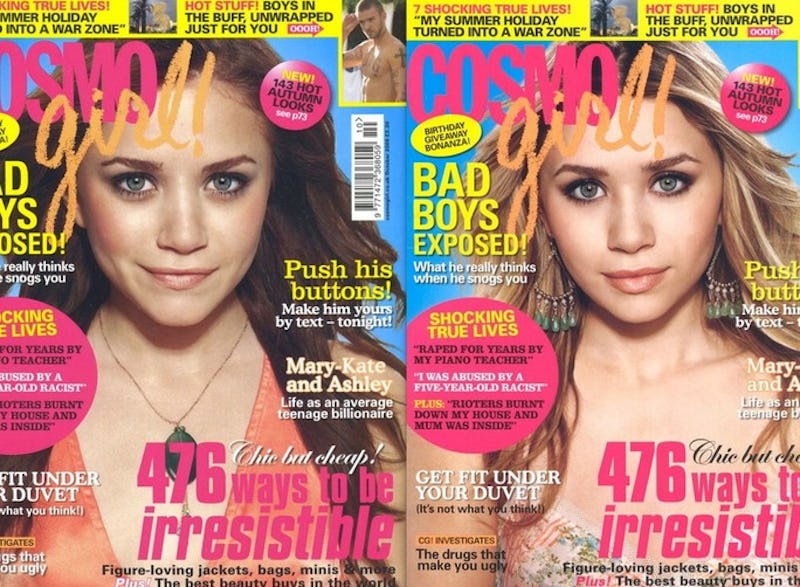 Every decade is blessed with one outstanding teen magazine. The '90s gave us Sassy . Today's teens have Rookie . And the aughts belonged to CosmoGirl.
As you well know, CosmoGirl! was the best. This teen publication — which now only lives online — featured standard mag fare like celebrity interviews, embarrassing stories, and fashion spreads, but was never afraid of tackling serious issues, too. After scouring the smattering of issues I still have — ranging from April 2000 to February 2007 — I fell even more in love.
Flipping through those pages was more than a nostalgic romp through the aughts; it was a reminder of what great publications are capable of — yes, really. CosmoGirl! was fun, sometimes serious, and cared about its readers. From beauty stories and quizzes to features about sex and teens struggling with body image issues, each and every page was filled with great content. No topic was off limits.
As a magazine addict who cherishes the old print edition, here are the parts I miss most about holding CosmoGirl! in my hands.
1. The Letters To The Editor
Most magazine readers breeze past editor's notes, but Founding Editor Atoosa Rubenstein's letters were always so heartfelt. In one from April 2000, she writes about being mocked at summer camp as a 12-year-old for her "hairy arms" and "watermelon boobs."
As a late bloomer, with eyebrows as heavy and hair just as frizzy as Rubenstein's, I appreciated that she was never afraid to show us a complete picture of who she was. Although I was never mocked as mercilessly as Rubenstein, I hid my small chest and wide hips under baggy T-shirts and oversized sweatpants because I felt so insecure. I loved how Rubenstein owned her awkwardness — zit photos and all — in every letter.
2. The Celeb Back Page
If I ever needed a laugh, I could always turn to the last page for pictures of celebrities accompanied by quote bubbles. Greatest hits include a picture of Creed frontman Scott Stapp's hairy chest peeking out of his button-down shirt and him "asking," "Can anybody recommend a good pomade for my chest hair?" In another image, Justin Timberlake and Pharrell flash the Vulcan sign and Timberlake's bubble reads, "May my solo career live long and prosper!" This magazine really was ahead of its time.
3. The Confessions/"Ouch" Section
Aside from the light-as-cotton-candy back page, my next-favorite section was the confessions. I could always count on these to make me smile or grimace — sometimes simultaneously. Gems include one girl whose priest caught her making out with her boyfriend in the church parking lot, and the girl who clogged a toilet after flushing a tampon when she was at her guy friend's house.
4. The Features
As fun as this magazine was, it wasn't afraid to delve into serious issues, too. Stories about body image, sex, suicide, alcoholic parents, and even the death penalty graced these pages. CosmoGirl! excelled in supplying teens with a balanced mix of light and serious features. The editor in me can't get enough of the Body Beautiful story in the August 2002 issue. The service piece is broken down into three sections: one about dealing with family members, another about handling men who make inappropriate comments, and one about dealing with toxic friends.
You could reprint this verbatim in any teen or even women's magazine today, and the advice would still ring true. Although it makes me sad (will female bodies ever not be subjects for debate?), I'm also filled with a deeper appreciation for this magazine that was always relevant.
5. The Boy-O-Meter Column
CosmoGirl! wouldn't have been a teen mag without the boy features. My favorite was the Boy-O-Meter feature. Each one included a picture of a gorgeous guy alongside his stats; height, weight, and a box filled with answers to questions about his personal style and how he got his "bod." Alongside that, three girls would rank his hotness with flames. It's objectifying and kind of terrible, for sure, but also kind of refreshing for its time. If women are subject to this constant scrutiny, why not turn that lens on men? OK, fine, I really can't justify it — but I loved it.
6. The Music Coverage
Sifting through these issues reminded just how much this magazine was tuned into the music scene. One issue recommend acclaimed girl power albums like Patti Smith's Horses and Alanis Morissette's rage-filled Jagged Little Pill. And I must thank this magazine for reviewing one of my favorite albums, Death Cab for Cutie's Plans. After reading the "we peeled the freckles from our shoulders" lyric, I knew I had to hear the record.
Of course, many boy bands graced these covers, too. My all-time favorite issue features 'NSYNC. For starters, they're all holding dogs on the cover — a winning recipe. Although I wasn't a fan of the band, I must have read this interview 100 times. They seemed so real and hilarious. Justin Timberlake peed his pants intentionally in kindergarten when his teacher wouldn't let him use the bathroom. One time Lance covered up a bug that flew into a snow cone he was making. Boy bands, may you never change.
7. The Quizzes
Before Buzzfeed made quizzes an industry, CosmoGirl! made them great. Quizzes with headlines like "unleash your inner dog!" still make me giggle. Apparently, I'm a Cockapoo that's clever and respected. These quizzes weren't totally accurate, but they sure were fun.
By embracing teen life in all its facets — from the embarrassing my-crush-saw-me-buying-tampons tales to stories of teens struggling with their parents divorcing, college rejections, and falling in out and out of love — CosmoGirl! gave its teen readers the content they deserved. I hadn't flipped through these issues in years, but the stories still resonate, and yes, the high-quality content has always inspired me to be a better writer.
I'm constantly reorganizing my mag pile, but I will never be able to toss these back issues out. I simply can't. Even though it's been nine years since I left high school, it's comforting to know that my adolescent memories are always just a few page turns away.
Images: Teresa Traverse; CosmoGirl