Ryan Gosling Has Finally Eaten His Cereal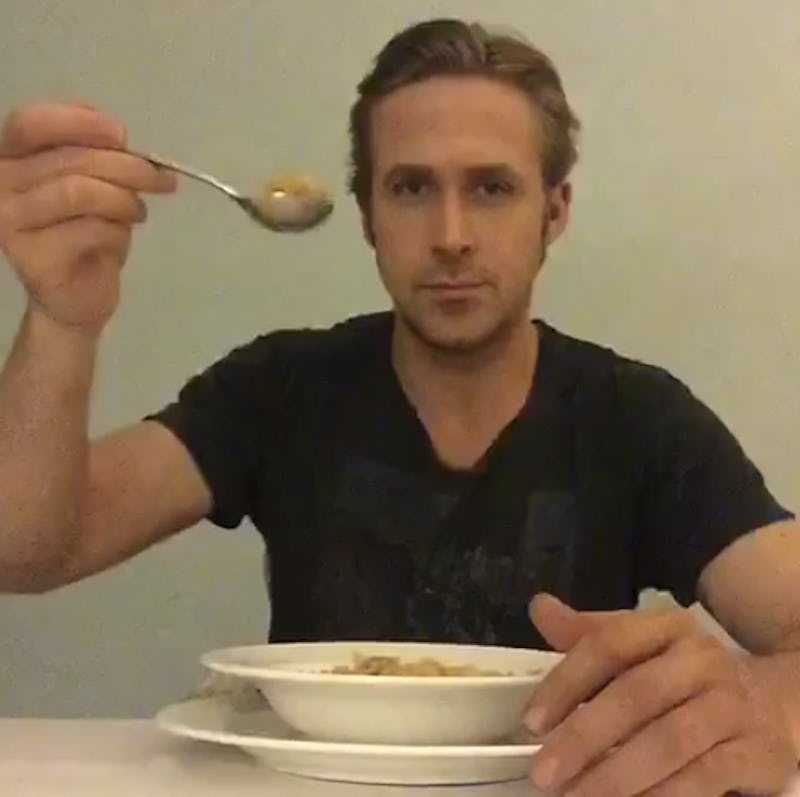 Sometimes I discover that there are still people out there in the world who don't consider themselves irrevocably in love with Ryan Gosling, and I feel it is my great calling in this world to show these people that they are wrong. On Monday, Ryan Gosling ate his cereal. Aside from the Feminist Ryan Gosling meme, one of the many memes surrounding the actor was the Ryan Gosling Won't Eat His Cereal Meme by Ryan McHenry, who would film himself pushing a spoonful of cereal toward a TV screen of clips from Gosling's movies, timed to make it seem like Gosling or his characters were vehemently refusing to eat it. Sadly, McHenry passed away on Sunday at the age of 27 after a battle with bone cancer, and Gosling finally ate his cereal to honor the Scottish filmmaker.
Yes, that's right. Gosling knew about the meme, because celebrities have access to the Internet, too. (Do you feel self-conscious yet?) In fact, he and McHenry had an exchange in April 2015 in which Gosling cleared up the fact that he actually really does like cereal and playfully refused to accept McHenry's apology for portraying him as such a passionate cereal-hater. That might have been why McHenry was fresh enough in his mind for Gosling to feel genuinely saddened when the meme creator passed away.
In the simple Vine he posted, we get a look at the bowl of cereal, the milk Gosling poured into it, and then the man himself finally, finally, finally putting that spoonful of cereal into his mouth. Even more heartwarming, he lifted the spoon as if giving a toast to McHenry before he finally ate it, because Gosling has a heart of gold and sunshine and kittens. (So, basically, he's like a male Taylor Swift — yeah, that's right, I said it.)
However, Gosling did not let his touching tribute end at a Vine response to the meme. Oh, no. He next took the Twitter in order to use his words to give McHenry the best send-off that he could:
I repeat: Gosling considers himself lucky to have been a part of McHenry's life... by being the subject of a meme McHenry created about him. I can't with this man, you guys. There are many celebrities who wouldn't have noticed the loss of a fan like McHenry, not out of maliciousness but due to being busy, due to having many fans to divide their attention between, due to, I don't know, being a celebrity and a parent and filming a movie simultaneously. Gosling proved in a single Vine and tweet that he is not one of those celebrities, and if that's not a reason to fall in love with him, then I don't know what is.
Image: Vine