'Weird Loners' Might Stay A Loner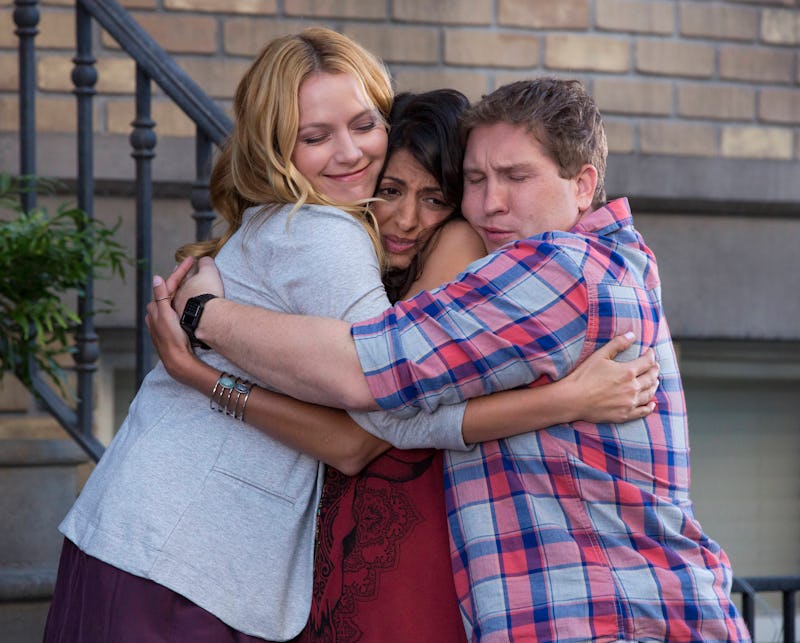 Ah, the 30-something ensemble sitcom. It's always kind of a crapshoot, isn't it? Sometimes, the cast totally gels and the show can last for seasons and seasons, like How I Met Your Mother. Sometimes, the cast totally gels but the show gets canceled anyway, like Happy Endings. Or sometimes the show never really comes together and it gets canceled, like Perfect Couples. So, where does Fox's Weird Loners — which features Happy Endings refugee Zachary Knighton — fit on that spectrum? After it airs its finale on May 5, Weird Loners may be canceled instead of renewed for a second season. Sorry, folks.
It's looking like the show is headed for a weird, lone season. TV Watch U.S. tries to look on the bright side. "Weird Loners premiered with a 0.7 adults 18-49 rating last week. It has managed not to drop in the ratings this week, which usually is a good sign," it reported. But there's a catch: "Unfortunately, a 0.7 rating is so low that it really doesn't matter. There is no way FOX will decide to let this failing project take up a timeslot next season. Therefore, it is now a Certain Cancellation." Yes, that is a low, low, low, low ratings number — one that's really hard to overcome. I bet looking at those ratings kind of feels like this:
TV By the Numbers was even stronger about its confidence that Weird Loners won't return for another season: " Weird Loners is certain to be canceled. It will be written of no more." Such finality! While I agree that there is only the tiniest, slimmest possibilities that it will return, sometimes networks do wacky things, you know? You can never be that certain of anything.
Still, Weird Loners' fate is looking grim. To be fair, it's not like Fox really gave the show much of a chance. The series didn't premiere until the end of March — that weird zone when the shows back from their winter hiatus are all wrapping up, but the summer season hasn't kicked into full swing yet. It wasn't quite a midseason replacement, but it wasn't quite a summer staple. The network just shoved it in wherever it could squeeze it, at a time when a good lead-in like New Girl was often in reruns. That feels like a total burn-off to me.
Oh well. Looks like Weird Loners is headed off into the sunset this week. But if there's one thing I know about television, it's that every time one gets canceled, a network is always willing to try another ensemble sitcom about 30-somethings. We just have to wait.
Image: Fox