11 Beauty Tips That Southern Belles Swear By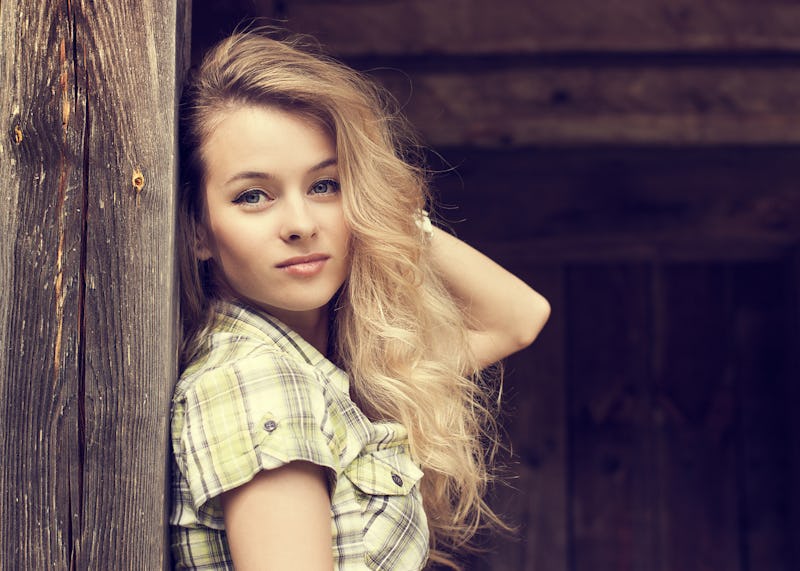 As the weather gets warmer, it's time for the adjust our beauty routines, because, dang, is hot outside, and our makeup is seems to be preparing to abandon ship. Before you think about throwing in the towel, I highly advise researching some southern girl beauty tips. These women have you covered when it comes to preventing makeup meltdown.
As someone who grew up in Georgia, I can assure you that anywhere below the Mason-Dixon Line is an unforgiving place. The sun fries your hair, and the humidity takes no prisoners. With weather like this, Southern women have to take their beauty routines seriously. It's hard keep your makeup on fleek in 90 degrees, but these women have mastered it.
From BBQs to tailgating, outside gatherings are unavoidable in the South. For us, no makeup is not an option, so when it's time to look our Sunday best, it's go big or go home. Sorry Drake, but we happen to believe in having our hair done, nails done, chilling with our makeup on.
Oftentimes, living in the South means that every occasion can be seen as a social event. Even going to the grocery store involves a bit of mascara. Being flawless in the heat is a hard task, but someone's got to do it. Wondering what these women do to look great during the warm weather? Here are a few tips that most Southern women swear by for their beauty routines.
1. The higher the hair, the closer to God.
We don't mess around when it comes to hairspray. Southern women literally have different hairsprays for different events. However, there is one thing most Southern women agree on, and that is that hairspray has to HOLD. The humidity in the South is brutal. If you don't take proper precautions, your hair will turn against you. It will flatten, frizz, and kink all while you're waiting in line for your sweet tea.
2. Blotting papers are EVERYTHING.
90 degree weather is a mild day here in the South during the summer time. We are so used to sweating that we treat blotting papers like gold. Most women I know have a pack in their vanity, handbag, and car at all times. Sweatiness is unavoidable, but shine is combatable.
3. Use the right sunscreen every single day.
Tarteguard, $32, Sephora
It's hard to find a Southern mother who will not tell you to put on sunscreen no matter what the weather is. However, they have their ways about sunscreen. Never apply sunscreen meant for your body to your face. Splurge a little and grab the bottle meant for the delicate skin on your face. Face sunscreen is thinner and less likely to clog your pores. Tarte has an amazing new face sunscreen that'll look super pretty on your vanity, too.
4. No wearing makeup to the beach.
Some southern women don't leave the house without at least a smidge of makeup, but we know when to ditch our beauty arsenal. One of those places is the beach. Just don't try to wear makeup to the beach. Wear a hat and large sunglasses and enjoy!
5. Bronzer is a year-round product.
Too Faced Pink Leopard, $30, Sephora; Too Faced Sun Bunny, $30, Sephora
Southern women are very big into their year-round glow. We don't believe in ditching bronzer just because the seasons have changed. Whether sparkly or matte, southern women always love bronzed skin.
6. Scented lotions mean more bug bites.
Be careful of overly-perfumed lotions. Mosquitos and gnats are insane here past April. To avoid itchy bites, stick to scentless or quick drying lotions.
7. Oil makes the best shaving cream.
It's typically warm in the south from April to late September, which means that shorts and skirts are our go-to uniforms. However, for most of us, this brings in the constant hassle of shaving your legs. Many women who swear by using oils instead of shaving cream in order to keep legs smoother for longer.
8. One layer of mascara just won't do.
Benefit They're Real! Mascara, $24, Sephora
We like our eyelashes the way we like our hair – bold and beautiful. Wide eyed, fanned out lashes are always on trend in the South. We don't always reach for falsies, but we do pile on the mascara. Simply applying a single coat of mascara will not do for a southern lady.
9. Use hairspray on your face, too.
TRESemme Hairspray, $5, Jet
Did I mention we love hairspray? There is a trick that some women do in the depths of the summer that they SWEAR keeps their makeup lasting all day. Spraying a bit of hairspray on makeup after your beauty routine. Think of a facial spray, but with a lot more punch.
10. Vaseline reigns supreme.
Eye makeup remover? Check.
Lip balm? Check.
Bug bite solution? Check.
Yep, Vaseline officially does everything.
11. Lipstick makes everything better
Lipstick Queen Lipstick, $17, Amazon
Lipstick is an instant confidence booster and perfect final touch to a makeup routine. However, we don't tend to rock dramatically dark lips. Don't get us wrong, we love to rock bolder reds, but it's rare to find a dark purple or burgundy lip. Neutral lips reign supreme, while bright colors such as coral and magenta are more prominent during the summer time. We just like a good pucker.
Images: Maryia Bahutskaya/Fotolia; Getty Images (4); MTV (1)