5 Hopes For 'The Big Bang Theory' Season 9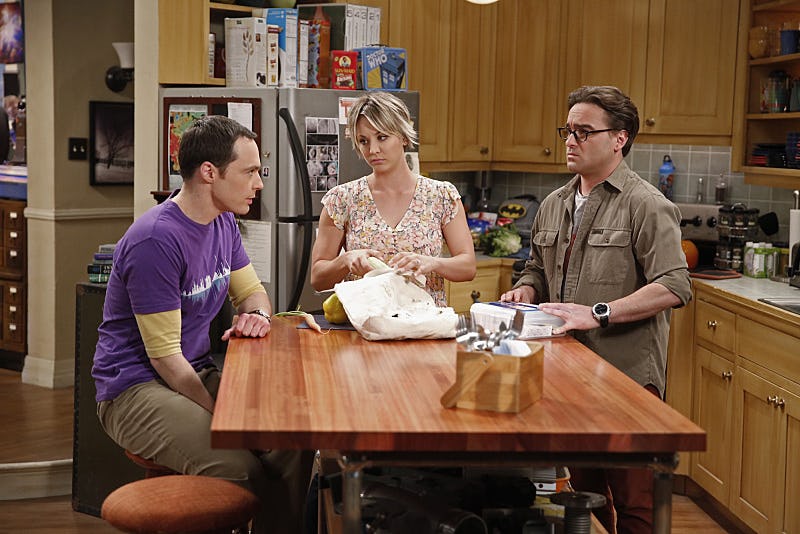 While summer is almost upon us and most people are in a better mood than they were through the winter, The Big Bang Theory fans can't be too happy. We are getting ready to say goodbye to our beloved nerds and even though it happens every year, we still hate having to wait months for new episodes. While we don't have a specific date to look forward to just yet, The Big Bang Theory Season 9 will likely premiere in September, towards the end of the month, as every new season has since the show's very first in 2007. [UPDATE: Deadline reports TBBT will return Sep. 21.]
On Thursday night, the big Season 8 finale will air and fans have been promised some major developmental changes from showrunner Steven Molaro. The episode, titled "The Commitment Determination," will focus on the relationships of the characters and according to Molaro's interview with The Hollywood Reporter, something major is going to happen. "It is a cliff-hanger, and, when you see it, I think it'll be pretty obvious where, in some way, season nine will be headed," he said. "As someone who is also a fan of the show, I'm experiencing a range of emotions. There are a lot of things that I have feelings about that go down in this episode."
What does that mean? Will Penny and Leonard get married? Maybe they will just set a wedding date? No one knows for sure, but there are concerning rumors that Sheldon and Amy will end their five-year relationship and I am not OK with that. When The Hollywood Reporter asked Molaro if fans should be worried about the couple, he said, "I think fans should watch and decide how they feel." Not a good sign.
While it all depends on the crazy cliffhanger in store for us, here's what I am hoping happens when The Big Bang Theoryreturns for Season 9.
Leonard & Penny Get Married
Now that we know something will happen with Penny and Leonard's relationship, this looks very likely. If they don't just get married in the Season 8 finale, we need to see the wedding next season.
Stuart Moves Out
It's time for Howard and Bernadette to get to live as a married couple without Stuart crashing with them and making a mess all the time. Although, Molaro did tell THR that we would be seeing a confrontation in the finale, maybe it will be between these three.
Bernadette Gets Pregnant
A baby for Howard and Bernadette would be awesome, mainly because it would probably wear baby turtlenecks. How could The Big Bang Theory deny us of that?!
Amy & Sheldon Move In Together
Supposing they don't break up, I would like to see these two move in together. It will probably be a disaster, but when Leonard finally moves out with Penny, Amy should move in with Sheldon. However, if they do break up, I would just like to see them get back together next season.
More Beverly & Mary Episodes
Beverly Hofstadter and and Mary Cooper should be cast regulars. They are amazing.
Images: Monty Brinton, Sonja Flemming (2)/CBS; Michael Yarish/Warner Bros. Entertainment; Wifflegif (2)