You Must Donate to McSweeney's Kickstarter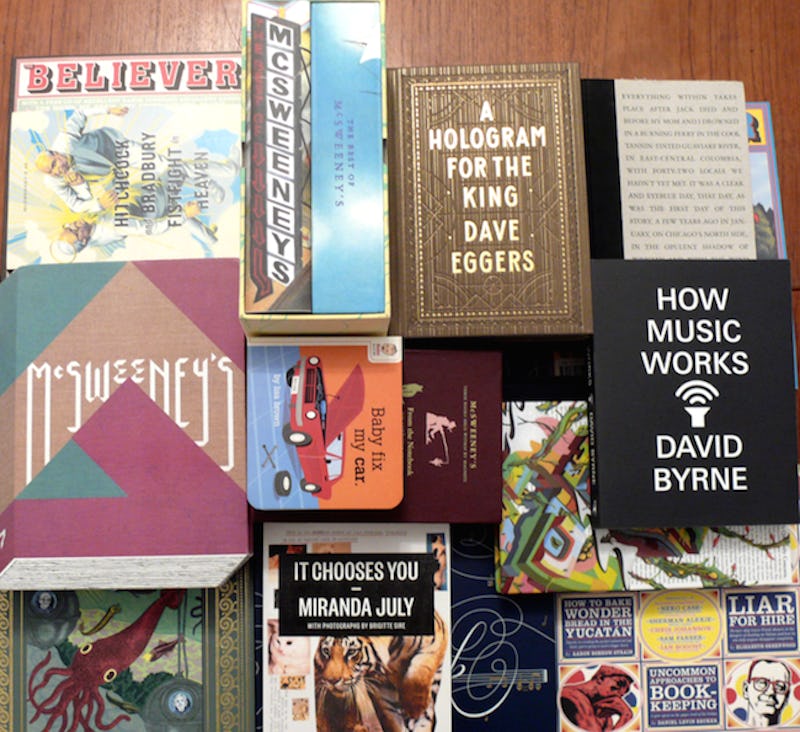 Many writers and independent publishers have turned to Kickstarter to fund their projects, but none with quite as much clout as McSweeney's. Founded by Dave Eggers back in 1998, San Francisco-based McSweeney's has escalated into a hugely respected and widely recognized purveyor of wit and literature, via its publishing house, literary magazine, quarterly magazine, website, and podcast. McSweeney's Kickstarter campaign has grown out of its decision to register as a nonprofit last year, hoping that literary and humor lovers can get a little something for their donations to the organization.
Jordan Bass, editor-in-chief of McSweeney's, told BuzzFeed News that the decision to become a nonprofit was about looking into the future.
Ultimately the transition is really about a long-term vision for making this sustainable and making this place really really stick to its ambitions and keep pursuing the big projects that we've made our name on.
And your donations can be a big help toward sustaining that future, he added.
We've always been pretty open about that over the years, the viability of an independent press. Trying to publish an experimental literary magazine is never going to be a blue chip enterprise.
If enough money is raised through the Kickstarter campaign, it will support the summer issue of the Believer, the 49th issue of McSweeney's literary journal Timothy McSweeney's Quarterly Concern, its humor website Internet Tendency, and a new season of its arts and culture podcast The Organist. In addition, the funds will support the production and publication of two books released under McSweeney's: David Shields and Samantha Matthews' That Thing You Do With Your Mouth; Michelle Tea's YA book Girl at the Bottom of the Sea; and Dave Eggers and Tucker Nichols' new picture book This Bridge Will Not Be Gray.
But, as Kickstarter's Maris Kreizman said to Buzzfeed, these donations don't have to be purely out of the good of your heart; there's a whole lot in it for you.
"This isn't a tip jar," Kreizman said. "It's a place where you can go and get something from the organizations you love while still benefiting them."
For example, for just $10, McSweeney's will send you gorgeous book art postcards.
If you want to up it to $35, you can carry all your McSweeney's stuff around in this tote bag, designed by Sunra Thompson:
If you want to splurge a bit, for $100 you'll be added to the guest list of an invite-only summer party at Green Apple Books in San Francisco, complete with live music, food and drinks, and duh, books. If you want to get really crazy, Dave Eggers will draw you a personal animal portrait, where you choose what animal, and he'll adorn it with something out of his creative brain, like this one:
Big spenders, for $8,500 contemporary NYC artist Marcel Dzama will gift you an original (seriously) ink and watercolor framed work titled "Untitled (We Love New York)," which I'm certain will look fabulous in my apartment if anyone is feeling generous.
And seriously, I estimate a million other cool things you can donate for (though I'm bad at math, so let's even it out around a dozen or so).
"We'll be biting our nails then for sure," Bass told BuzzFeed about the end of the Kickstarter campaign on June 5.
Images: McSweeney's/Facebook; McSweeney's Kickstarter