7 Ways To Get Rid Of Acne At The Very Last Minute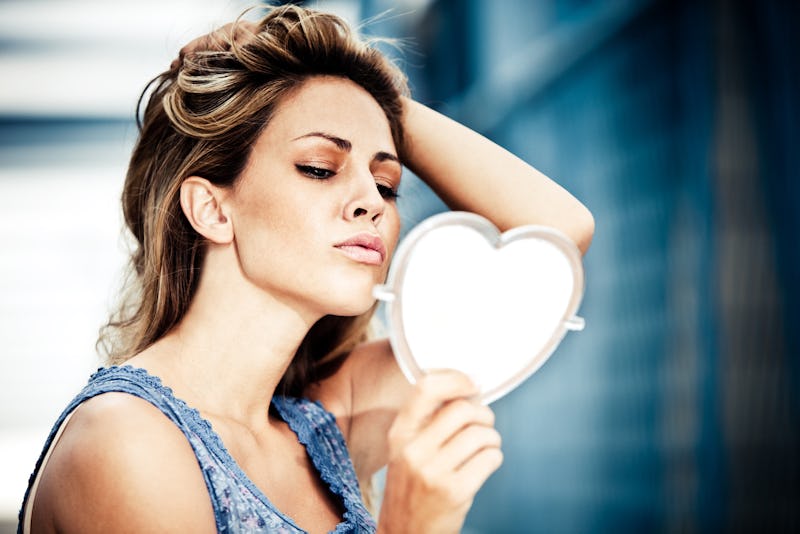 Having acne can be the absolute worst, especially when it pops up right before a big event. Those giant zits always seem to appear at the time that you need them the least (not that there ever is an opportune time), such as a big birthday celebration, interview, or even wedding, which means getting rid of acne fast is a common mission amongst humans.
While hormones and skincare play a factor in whether or not your skin is clear, sometimes it just comes down to stress. And we all know that preparation for major life events that we have very little control over is bound to be stressful. But when you're stressed, your skin is more likely to produce too much cortisol, a hormone that produces excess oil and clogs pores to create blemishes. C'est la vie.
As tempting as it is to pop that sucker, sometimes that just isn't the way to go, as it will only make the problem worse. I struggled with acne as a teenager and learned a thing or two about putting those pimples in their place. At first, I would resort to popping anything that appeared on my cheeks or forehead, but this led to scarring and took a toll on my confidence for a while.
There are plenty of other things that you can do to keep your acne at bay that are much less painful whilst still effective. Plus, most of these can be done overnight — which is one of the best times to treat acne. While you're sleeping, your skin has the chance to regenerate and recharge, after all.
Mario Badescu Drying Lotion, $17, A mazon
Having a spot treatment on hand to avert a major acne crisis is an absolute must if you have a lot of big events coming up. A treatment, like Mario Badescu's Drying Lotion, uses potent acne-fighting ingredients like salicylic acid and sulfur to shrink pimples right up, not to mention dry them up.
Just take a cotton swab and dip it into the product, then apply it to the affected area. You'll definitely see results in the morning using this and will notice that the pimple's size has been reduced.
Colgate Fresh Mint Toothpaste, $3, Amazon
Similar to a spot treatment, toothpaste can dry out your pimples in a matter of a few hours. Use classic white toothpaste instead of a gel formula and apply it to the pimple, leaving it on overnight. Fair warning: If you have sensitive skin, I would skip the toothpaste and go for a more gentle treatment, like the one above, since it can be harsh and irritate skin.
3. Egg Whites
Eggs aren't just for eating, they also make a great last-minute fix for acne problems. Separate an egg white from the yolk and whisk it. Apply the whisked egg to your face using clean fingers and leave it on the pimple for 20 minutes, or if it's very swollen, leave it on the pimples overnight and wash it off in the morning. Bonus: If you have scarring like I do, egg whites are also a great solution because the enzymes in egg whites acts as a source of lightener for the skin.
Bigelow Organic Green Tea, $9, Amazon
Whether you're a tea drinker or not, there's not doubt that there are major benefits to using green tea in the battle against acne thanks to its anti-inflammatory capabilities. For a quick overnight fix, boil a pot of green tea and take the tea bag out. Once it's cooled, dab it onto the affected area or swipe it onto the pimple with a cotton ball.
5. Honey
As bizarre as it may sound, honey can actually prove to be the perfect solution to curing acne overnight. Although it seems sticky (and like it can probably do more harm than good by clogging pores), honey actually has anti-bacterial properties that help it reduce the size of pimples. Dab a small amount of honey onto a pimple and leave it on the area for an hour; then rinse off since this shouldn't be left on overnight.
Hollywood Beauty Tea Tree Oil, $10, A mazon
This is probably one of the best things that you can put on your face to reduce acne. The benefits of tea tree oil are well known, which is probably why it's an ingredient in so many acne products on the market. It is a solvent that helps eliminate clogged pores! In a cup, mix one teaspoon of tea tree oil with nine teaspoons of water to thin it out. Dip a cotton swab into the solution and apply it to your pimples.
Walgreens Aloe Vera Replenishing Body Gel, $16, Amazon
If your problem with acne is that it's making your skin swell up like crazy, aloe vera gel could do the trick. This is especially great to use for people who have sensitive skin, since its antibacterial properties reduce swelling and make for a soothing treatment. You can purchase aloe vera gel at the drugstore and use it as a spot treatment for any pimples that have appeared, and leave it on overnight.
Images: Fotolia; Getty; Courtesy Brands