How To Keep His Beard Bacteria-Free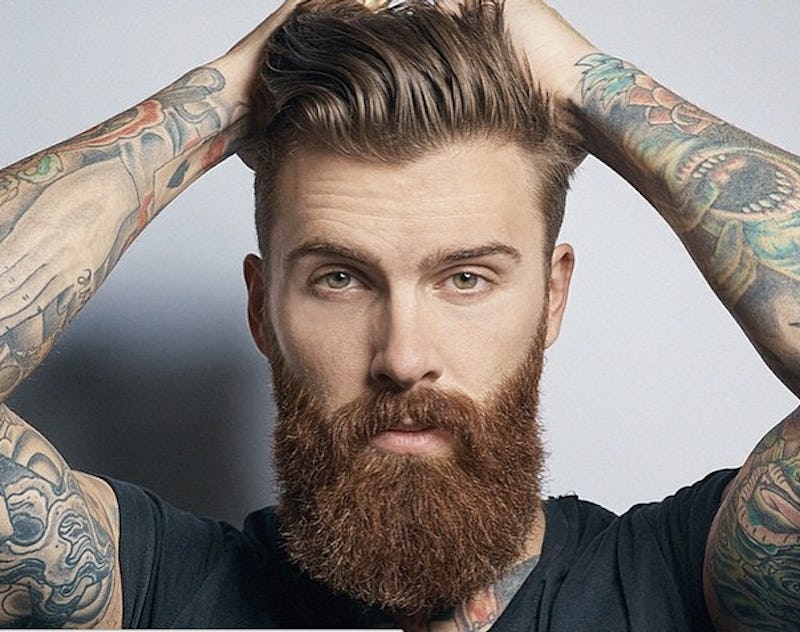 By now, it's no secret that beards can be kind of gross. A study from 1967 informed us that the environment of beards can harbor some unpleasant bacteria, but a more recent swab test gives us even more unpleasant news. Collected by KOAT news anchor Royale Da and tested by Quest Diagnostic microbiologist John Golobic, the test revealed that some beards harbor the same kind of bacteria you'd find in poop. Yes, poop.
After swabbing a few bearded volunteers, Da found that all the beards contained a lot of bacteria, which is to be expected. Most of the bacteria found was the regular type that collects on most surfaces, but when Da pointed out that colors of the petri dish looked different from any she'd seen before, Golobic explained why. "These are the kind of things that you find in feces," Golobic said in the news clip.
Yeah, not exactly what all you facial hair fans wanted to hear. But considering just how dirty pretty much every surface we come into contact with is — our computer keyboards and cell phones, for example — this isn't all that surprising. But the good news for beard owners and beard lovers is that there are a variety of products to keep beards clean and bacteria-free. Just also make sure to keep your and your significant other's hands out of them.
Sussex Beard Oil, $23, Sussex Beard
This earthy blend contains a mixture of antibacterial and anti-inflammatory oils such as tea tree, mint, rosemary, and coconut oil. If these don't keep his beard clean, at least it'll smell nice.
Smooth Viking Beard Conditioner, $13, Amazon
This conditioner will both moisturize beards and alleviate the itchiness that comes from beard growth, which should be pretty helpful for keeping guys' hands out of their facial hair.
Natural Man Original Unscented Beard Oil, $10, Amazon
This oil contains both sesame oil, which is anti-inflammatory and antibacterial, and jojoba oil, which helps promote hair growth. It has the added benefit of being unscented, for those who don't want to deal with any additional smells.
Boasting natural oils such as jojoba and argan oil (and a lot of hyper-masculinity) this beard oil promises to relieve beard itch and dandruff for a healthier, softer beard. It's also fragrance-free.
Herbivore Beard Tonic, $25, Amazon
This tonic is 100 percent natural and contains argan and jojoba oil (I'm seeing a trend here). It comes in two light scents: vetiver and sage (for a herbal touch) and cedar and bergamot (which has a hint of citrus).
Urban Beard Shampoo Bar, $11, Amazon
Notable ingredients in this shampoo bar are hempseed oil, grape seed oil, coconut oil, rosemary, frankincense. While the oils provide antibacterial components, the glycerin helps soften skin.
7. DIY beard oil blend
Most of these products are natural and made of oils that you can purchase yourself, so if you're not interested in purchasing an already created oil blend, you can always make your own.
Images: BeardsandTats/Instagram; Sussex; Smooth Viking; Beard Care Products; The Real Man Company; Herbivore; Always Bearded Lifestyle; Giphy