9 Cool Ways To Make Your Space Feel Brand New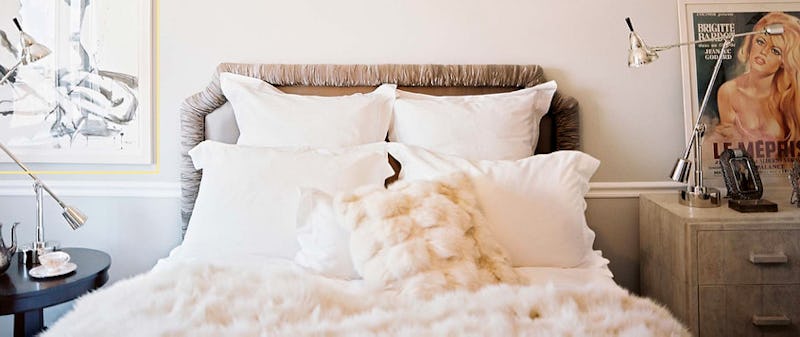 It's always fun flipping through those fancy mail-order home goods catalogues — until you realize just how crazy expensive everything is. Luckily, the DIY geniuses at Hometalk are sharing a few brilliant DIY decor knock-off ideas so you can get the home of your dreams without throwing down wads and wads and wads of cash. Whether you're looking to give your furniture a quick upgrade, want to find a few new cool lighting options, or you just need to repurpose some old and tired looking home accessories, there's a project here for just about everyone. Congratulations — your space is going to look brand new.
How fun is it to browse the decor section of your favorite, high-end home goods website? We all know that envious feeling of looking at a perfectly laid out display and wishing it was our own backyard. And, of course, we all know the disappointment of seeing that high-end price tag. Oof! It's fine to dream, but most of us can't afford that magazine-worthy home. These DIYers, however, have found a way around that.
If you recognize these gorgeous designs, it's because they look like some of your favorite designer pieces, but they're totally DIY! These nine projects are a beautiful and budget-friendly way to get that dream home, so what are you waiting for? Browse away! These ones aren't just a decor tease.
1. Stacked Wood Slice Lamp
The best part about having the skills to DIY is knowing that you've got the power to make some truly fashionable pieces, like this sweet neutral toned lamp. Make your own to add some rustic charm to your nightstand or sofa table.
Project via Tasha @ Designer Trapped in a Lawyer's Body
2. Wooden Knife Block
Those magazine kitchens are absolutely swoon-worthy, so why not attempt some of their more basic pieces? This wooden knife block gives your familiar kitchen a brand new touch of gourmet, for less than a third of the original price!
Project via Ashley @ Bigger Than the Three of Us
3. Rope Wrapped Chandelier
There are tons of chandelier upcycles out there, but turning one into a piece of designer decor? That's just awesome. And so simple, with some inexpensive rope and sea-worthy knot-tying.
Project via Lauren @ Bless'er House
4. Door Mat Wall Decor
With a cheap rubber door mat and some white paint, this DIYer created beautiful wall decor that's even nicer than what she saw in the magazine. Turns out, you can have it all.
Project via Melissa @ 2 It Yourself
5. Elegant Sharpie Rug
One of the oldest budget decor tricks in the book just got a little bit cooler. Almost everyone knows that if you're not planning on splurging for a fancy area rug, a plain, low-cost one is perfectly upgrade-able with some paint. But this upgrade took a high-end look and made it using sharpies!
Project via Katie @ Upcycled Treasures
6. Stylish Orb Chandelier
This orb chandelier looks pretty intricate, but that didn't stop the designer of this glorious knock-off from getting the look she wanted for so much less. Check out how she did it if you're craving your own (and how could you not).
Project via Roxanne @ The Honeycomb Home
7. Copper Pendant Light
With pretty copper pipes and wires, you can create a pendant light that will blow your guests away with its sophisticated style. A $2,000 look for $50? Yes, please!
Project via Brynne @ The Gathered Home
8. Colorful Wooden Bowls
Decorative bowls make such a beautiful display, but it can be hard justifying the purchase of a coffee table decor item with a price tag this high. Of course, if you can make your own like this artistic DIYer, you wouldn't even consider it!
Project via Becky @ Beyond the Picket Fence
9. Plastic Spoon Hurricanes
Alright, not only is this a cool decor idea, but it's an incredible upcycle too! If you've got some extra plastic spoons lying around, give them a brand new illuminated life, by turning them into a dramatic decor statement.
Project via Melissa @The Happier Homemaker
And that's only our knock-off selection! Take a look at the DIY decor pieces that Hometalkers dream up all on their own, over on our DIY page on Hometalk!
Images: Maegan Tintari/Flickr; Hometalk