Analyzing The New 'Magic Mike XXL' Trailer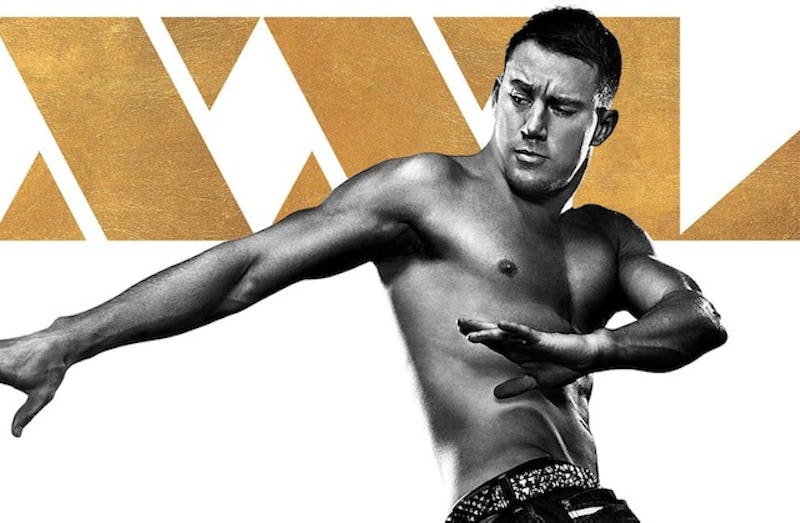 Do you believe in Magic? Maybe not, but I'm sure you believe in Magic Mike. And here on this Wednesday, May 6, Channing Tatum hath bestowed upon us a new trailer for Magic Mike XXL, and it is definitely XXL. Tatum co-wrote the film, which is based on his own life, and if God hears our prayers then Magic Mike will be the next Fast and Furious saga of our time. We clearly need to delve deeper into a close analysis of this two minute and eleven second masterpiece of a trailer, and I am willing to take on that task for the benefit of us all.
First things first, GREAT use Ginuwine's "Pony" in this trailer, the ultimate sensual healing song. Best use of the song since Ginuwine himself played it in Pawnee, dedicated to Lil Sebastian. Which begs the question: shall Ginuwine grace the screen in Magic Mike? That would definitely make it extra XXL. The trailer open with a very tan Channing Tatum staring out into the distance on the beach, all reflective-like. He has since retired from his stripping days, as we know, and he seems to be struggling with his decision. Did he do the right thing? Is he really being himself? Apparently nay, because he joins the rest of the Kings of Tampa for one big blowout (innuendo intended) as they travel to Myrtle Beach for a a male stripper convention in a food truck/bus. Because why not?
There are a few questions I have from this set up in the trailer. Why must they quit stripping? Where is Matthew McConaughey? Who will play the bongos when he's gone? Actually, it will be Jada Pinkett-Smith, probably delegating the task of bongo tempo to some lucky plebe. It's encouraging to see a lady-boss wrangling these bros. Talk about subverting the idea of male body objectification. Whether or not it was Channing's artistic intention to flip the idea of commodification of the body from male to female, he done did it. Art is both the product of the artist and the consumer.
Though the sassy text from the trailer says "We didn't want to show the best parts... but it was very, very hard to resist," those teases intercut it with a totally gratutious scene of Joe Manganiello rolling into a convenience store and getting intimate with a Pepsi freezer case. There is humping and bumping and grinding and a Metallica muscle tee and a big ol' Pepsi pop. Does anyone else want a Pepsi right now? Because I do.
I know you are wondering about the safety and sanitary aspects of cramming a bunch of half-naked men into a food truck where the Canola oil is flying from the fryer, but this is the land of Magic Mike. By the end of the trailer, you know in the very depths of your soul that you should be prepared to go into Magic Mike ready to see some washboard abs and the celebration of the novelty of male strippers. Also, Channing Tatum.
Check out the trailer again below.
Image: Warner Bros.