Penny, Bernadette & Amy Have Sartorially Evolved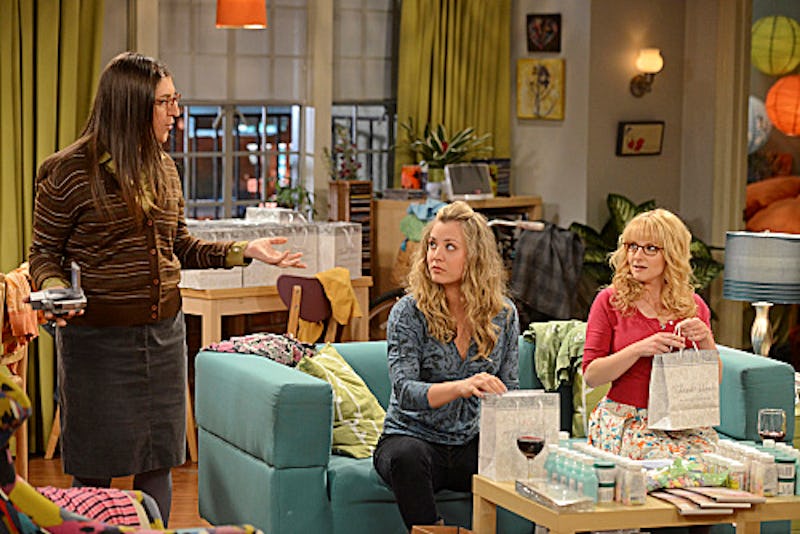 For eight years, we've been presented with the utmost pleasure that is The Big Bang Theory, so I think it's only appropriate to take a look at and appreciate the Big Bang Theory fashion that has captivated so many fans along the way. Because nerdom and sci-fi are not the only reasons to watch this show, don't ya know?
The characters on Big Bang each have their own iconic look (shout out to every Sheldon tee in history); and while at first glance, their styles seem to have changed very little through the almost decade-long run, you'd be surprised by the metamorphoses that have occurred under our noses. As with all good film and television, each character's style has helped echo so many of the quirky characterizations we have come to love.
Although the men's fashion choices season after season have stayed true to their original looks from the pilot, there have definitely been more changes in Penny's, Bernadette's, and Amy Farrah Fowler's outfits. It makes sense, when you think about it. Penny's character evolution has been the most intense of them all, so it's only fitting that her style would go through a bit of a re-vamp, too. And while we could get into a bigger discussion on "why the men get to stay the same and the women have to change," that's a whole other conversation (albeit an important one).
Through the wardrobes of characters, we can outwardly see the inner changes they've gone through, and I think Big Bang's costume designer Mary T. Quigley should be applauded for her work. The ladies on the show have become some of the best characters of the entire series (even though Penny is the only original female character), so let's take a look at each of these charming women's clothes.
Bernadette
Bernadette Rostenkowski-Wolowitz first appeared on the show as a co-worker of Penny's who was later introduced to Howard, and subsequently became his love interest. She is almost always seen in floral-patterned dresses or skirts paired with a cardigan. Her signature style also includes leggings or thick tights under her dresses, wearing short-heeled pumps, sometimes with a collared shirt and vest. She has always worn her hair long and curly with bangs, and her brown, slightly cat-eyed glasses are a stylistic feature that always accompany her.
Her clothes characterize her usually sweet and cheery disposition, and seem to match perfectly with her high-pitched, squeaky voice. Though Bernadette's style hasn't changed much since she made her debut on the show in season three, there have been some slight adjustments. Her hair was originally more loosely curled but has been curled into tighter ringlets from time to time, for instance.
As she and Howard's relationship continued and she got to know his friend's better, it seems to me she appeared to dress more relaxed. We began to see more scenes with her and the other women having ladies' nights in Penny's apartment, during which Bernadette's slight high-maintenance, on-edge-ness slowly began to dissipate. But for the most part, she's always had a well put together look that's easy to adore.
Amy Farrah Fowler
The eventual love interest of Sheldon actually has a similar style to Bernadette's, in that she's usually in long skirts with her legs covered in tights. Add to that glasses and a penchant for sweater vests, of course.
But where Bernadette makes the look cute and modern and very ModCloth-esque, Amy's preference for plaid and stripes over floral along with the training from her mother (as she tells us in her first episode) to only wear "modest and acceptable" clothing comes across as almost prudish. Her sense of style is minimal in that she's only interested in function and not so much form. She wears simple cuts and patterns that don't call attention to or highlight her body. Which is fair enough — she has a lot more going on than style alone!
However, her undying affection for Sheldon and the effort she has to put in for him to reciprocate those feelings give her inspiration to try new things on occasion. She's desperate for a prom/dressing up experience, and her budding friendship with Penny — who is, in her own words, far more "feminine" than Amy — entices her to try to look "more sexy."
As the seasons progress on the show, we even see Amy experiment with makeup and add her own version of femininity to her style. Note the basic clip in her hair and the lipstick in the photo below. Hopefully we'll see the fruit of her stylistic attempts to lure Sheldon into an expression of the physical relationship she's always wanted soon.
Penny
By far the most versatile character in terms of clothing on the show is Penny. As the "hot" next door neighbor of a pair of science geeks, she's introduced to us as a beautiful, socially affluent Midwestern girl who's moved to Los Angeles to pursue a career in acting.
Penny is used to getting attention from those around her, and she knows how to dress to highlight and show off her body with confidence. In the beginning of the show, we often see her wearing low cut tank tops and skirts or shorts, and lots of revealing loungewear (as she was notorious for failing to do her laundry). Ironically, in the first season, we often see her interacting with her neighbors in the laundry room, where Leonard strategically tries to arrive at the same time as her.
But as the show continues, we see her start to scale down on the more overtly sexy clothing. The nerds next door are presumably the first men who, although they find her very attractive (apart from Sheldon), don't base their entire friendship with her on her looks.
Penny also finds herself having to become more responsible in order to keep up with her job and bills, and therefore her lifestyle begins to have more order to it. This maturing is evident in her clothing, as she begins to appear more traditionally professional. Her friendships with Bernadette and Amy no doubt influence her newfound sense of sophistication while she still holds onto her undeniably good taste in and love for trendy clothing.
Penny is also the only character to ever undergo several different, drastic hairstyle changes. She always remains a blonde, but she goes from a super light blonde to darker shades as she's adapting to her new and more grown-up lifestyle. Her hair was long and wavy for the large majority of the show, but she eventually debuts a sleek pixie cut at the beginning of season eight, describing it as a needed change to represent her shift from aspiring actress to full time sales position.
Penny's style evolution was probably my favorite on the show, as the transition to more academic, traditionally professional, yet incredibly quirky apparel represents her growth and evolution as a character.
So here's to celebrating the leading ladies of the Big Bang Theory as they continue to inspire us all with their wit, charm, cleverness, and, irrevocably, style.
Images: CBS