Zoom Interiors Lets You Decorate On The Cheap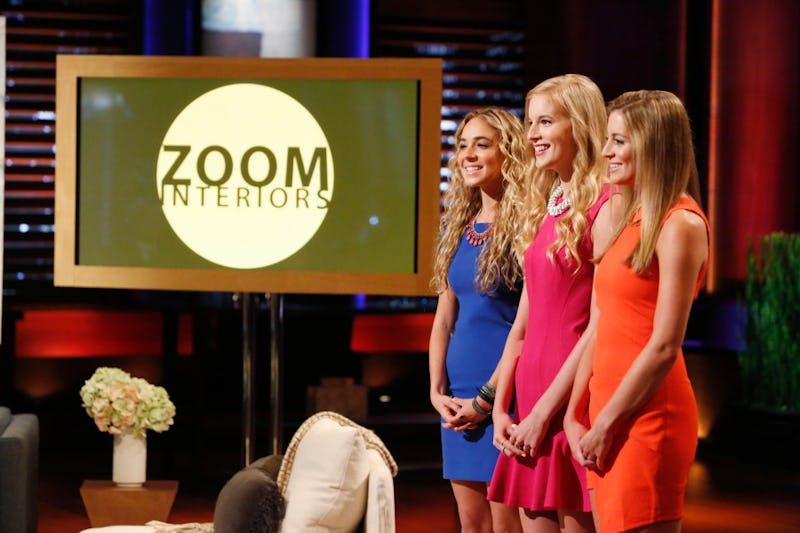 If you're curious, you can see inside the homes of several of the sharks on Shark Tank without ever leaving the comfort of your own home. Viewing the interiors of Barbara Corcoran's swanky Upper East Side apartment, Robert Herjavec's Toronto mansion, and one of Kevin O'Leary's condos are all just a Google search away. While you're gawking at these gorge residences, you're not going to help but wonder how Zoom Interiors, one of the companies featured on Shark Tank this week, would decorate these digs. Well, after you actually get to know them, that is.
Zoom Interiors is an affordable, online-only interior design service targeted at Millennials. All of that being said, the Sharks' personal styles may not jive too well with what Zoom Interiors has cooking, in terms of age and budget.
Lucky for Zoom Interiors, the Sharks' favorite color is green, so if this company is making money, these millionaires will be sold on the idea whether they're looking to redecorate or not. Zoom Interiors is trying to disrupt the way people decorate their homes and offices, but it has yet to be seen whether consumers are responding to this room revolution or not. Take a look at these eight facts about Zoom Interiors, and judge for yourself.
1. Zoom Interiors Is Interior Design Meets Uber
Technically Philly compared the company to Uber for its ease and accessibility. That's because it's an on-demand, completely virtual interior design service that pairs you up with a designer to transform any room of your choosing for whatever budget you have. All of the shopping is done online too, so, ironically, calling an Uber is totally unnecessary when using Zoom Interiors.
2. It's Just Like Playing The Sims
You know how decorating your home in The Sims with the most expensive king-size bed, a super-pricey work of art, and that heart-shaped hot tub was basically the best part of the game? Well, Zoom Interiors is kind of the adult version of that. To start switching things up in your home, you just head to the Zoom Interiors website and fill out a Style Survey that gets a sense of your preferences and personality. You then have a free consultation with your designer over the phone or Skype, and he or she sends you your own personal Zoomboard, which is basically just a mood board that shows you the overall visual direction of the room. If you'd like, Zoom Interiors will also send you a Zoomcart for an additional charge, which is a list of everything you need to buy to make that Zoomboard a reality. Of course, if you already own The Sims, just playing the game would be a much cheaper option.
3. Get Your E-Design On Now
When I said everything about Zoom Interiors is online, I meant it. Just head over to the company's official website to get started on your free Style Survey and schedule your free consultation. After that, it's gets pricey but not exorbitant. The Zoomboard costs $199, and the Zoomcart is $99 plus the cost of all of the items you need to purchase, which are also available through Zoom Interiors' website. Then, there's all of these other add-ons you can get for additional fees, such as a board revision for $49, a floor plan for $89, and an elevation for $39. You can save some money by going the bundle route, but to be honest, even though this is cheaper than hiring an interior designer IRL, it'd be even cheaper if you just did it all yourself, which is the fun part anyway.
4. The Founders Are Just Like You, Except They Know How To Adult
Zoom Interiors was founded by the aforementioned Fischel-Bock, Madeline Fraser, and Lizzie Grover, all 24-year-old George Washington University alumni that majored in interior design. They started their business two years ago before they even graduated college, and now they're on Shark Tank. NBD.
5. They Want To Be "The Martha Stewarts For The Millennials"
The ladies' grand vision is to become "the Martha Stewarts for the Millennials," Grover told Technically Philly. That definitely shows. Zoom Interiors targets the youngin's that don't mind buying their furniture online without seeing it in person first, as long as prices are low, that is. One look at their Instagram filled with drool-worthy food pics, pop culture references, and Internetspeak, and it's easy to see exactly who would most appreciate the company's services.
6. They're Giving Back
A newly decorated room can not only lift your spirits on the daily but also when you need it most. That's why Zoom Interiors partnered with Elizabeth's Canvas, a non-profit for cancer patients and survivors, to start Zoom My Room. This initiative aims to redecorate the living spaces of low-income cancer patients. Zoom My Room hopes to raise $50,000 in order to complete five projects by 2016.
7. There Will Soon Be An App For That
Right now, Zoom Interiors only has a website. However, a mobile app is on its way, according to Technically Philly. It is strangely getting more and more like Uber all the time.
8. They Have Some Competition
Though Zoom Interiors is a relatively new start-up, the space it is in is already getting a little crowded. As Technically Philly also points out, Zoom Interiors has some competition in Homepolish, which charges for an interior designer by the hour, and Laurel & Wolf, which, like Zoom Interiors, lets you design your space virtually with the help of a designer. Zoom Interiors does seem to have a casual and youthful point-of-view to help differentiate it, but it's going to need a lot more than that to stand out to consumers.
The real question is, can Zoom Interiors spruce up the Tank set just a little? If it snags an investment from one or more of the Sharks, that should definitely be the company's first challenge.
Images: Kelsey McNeal/ABC (2); Giphy (2)