Red Carpet Gowns Without The High-End Price Tag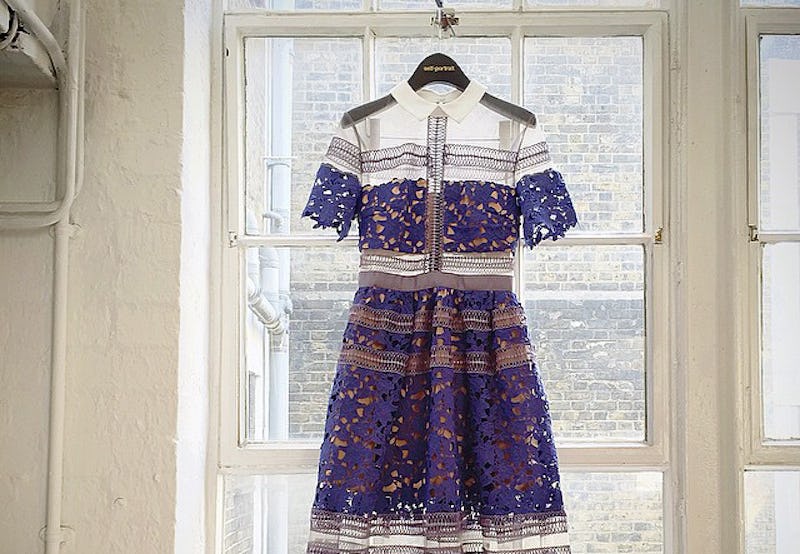 At Met Gala 2015, it was pretty clear that not very many celebrities followed the theme of "China: Through the Looking Glass," but that didn't mean their outfits weren't dazzling. From Kim Kardashian's sheer dress to Kate Hudson's glittery gold gown by Michael Kors, I was super jelly of all the stunning dresses out there — that is, until I found out that Self-Portrait designs red carpet-worthy dresses with a not-so high-end price.
The London-based clothing label released its pre-fall collection, filled with light and beautiful dresses. Creative director and founder of Self-Portrait, Han Chong uses a mixture of laced and sheer fabrics in all his clothing pieces, which give them that fashion-novelty/high-end feel to them. Some pieces, like the Panelled Midi Dress and the Lace Peplum Tee, look like they could potentially even be reproduced through 3D printing because of their unique looks.
All his clothes are definitely statement pieces that'll turn heads and have people coming up to you and asking who you're wearing. Chong's inspiration and his novel approach to clothing stemmed off from the environment he began designing in. He attended Central Saint Martins in London which had a positive environment where, "you can do anything you want there; there's no restrictions. They don't tell you, 'You cannot do this, you cannot do that,' and I think that's very good at a very young age to experience that," Chong told Fashionista. Check out all the unique, red carpet-worthy pieces on Self-Portrait's website. Oh and if you have a wedding to attend sometime in the fall, Self-Portrait's Pleated Check Midi is seriously perf.
Images: mrselfportrait/Instagram (2)