10 Sexting Tips From A Professional Sexter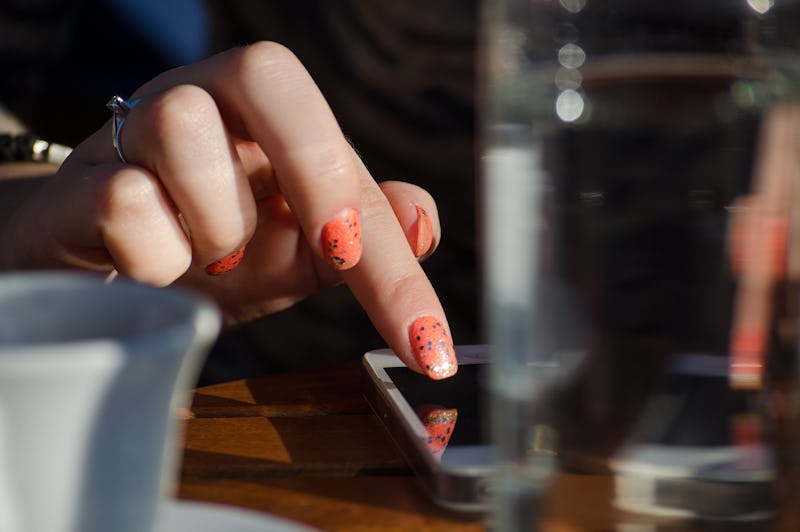 Think about it: sexual culture has evolved so much that physical contact isn't even required to orgasm. Sure, we've have classics like dildos and Fleshlights for some time, but now we're being introduced to even more, less intimate orgasm providers like: porn-streaming and live sex websites, apps like Tinder, and probably the most prevalent: the sext message. This aforementioned technology has become so popular that hundreds of thriving businesses have been amassed as a result. Take Arousr, for example. The app serves as a sexting, phone and video sex forum for users looking to have personal and erotic conversations with beautiful women. And, unlike less reputable websites and apps that tout similar services, Arousr requires a government-issued photo ID to ensure their business is totally legal.
Earlier this week, I chatted with one of their most successful "chat hosts". Emmanuelle, a 25-year-old brunette of Russian and German descent, who resides in sunny Florida. Though she initially believed me to be a client ("hi sweetheart, what are you up to?"), I quickly assured her I wasn't, that I was in fact a journalist, and we started to chat about her unorthodox career. "Working at Arousr, every chat host chooses her own schedule," she says of her standard workday. "The company likes to see a model log in for at least 20 hours per week, and so does the customer – especially one who is expecting his favorite model." Meaning, in a sense, Emmanuelle is a freelancer for the company; her association with Arousr could be compared to a writer's with a publication, just with less nudity. Presumably.
"I work pretty much every day during the day, and sometimes late evenings – this includes weekends," she mentions. "My basic rule is to only log on when I feel flirty, because if somebody logs on to just make money and isn't in a sexting mood, customers will notice and leave. So when the mood hits, I go online, make myself visible on the Arousr page, and clients will text or call me."
Arousr's average demographic, according to the 25-year-old chat host, are professionals between 35 and 55, and tells me her strangest client request to date happened over the phone, where she was asked to bark like a dog. After this humorous admission, I then asked Emmanuelle to provide some tips for sexting, assuming there's no better person to ask seeing as this woman makes a living off off of her mobile talents.
1. Be in the mood
Feel sexy and have fun, don't think of sexting like it's something you just want to get over with. If you're not in the mood for sexting, don't sext!
2. Listen (or, well, read)
Take their sexts seriously. Try to discover their secret erotic fantasies and fetishes, and build on them through your sexting session.
3. Be yourself
Yes, it's cheesy, but believe it or not, the other person can read your emotion through texting. So use nicknames, smile emoticons, little breaks between the lines, and tease him/her by reacting as you would in person.
4. Build trust
Don't judge. If you don't like a certain sexting subject, don't say you think it's weird. Instead, gently steer away from it.
5. Get creative
Picture yourself in a fantasy and play it out! Don't opt for the same thing. Come up with new, fun sexting ideas.
6. Be funny in between
Don't be afraid to get funny. This makes the conversation a lot more flirty and often leads the conversation in a very sexy direction.
7. Spice it up with sexy pictures
Assuming you're sexting a trusted partner, start the sexting session with sexy pictures to tease, just don't just give everything away right away – flirt. Top it with naughty pictures at the end.
8. Incorporate what he/she likes
When you're sexting, mention their favorite things. Whether it's you in lingerie, a bubble bath, going at it in public, etc. build these sexy situations into the conversation.
9. Come up with things to catch them off guard
Surprise them with a new hot idea (example: "Baby, I'm laying down here naked all covered in strawberry massage oils.)
10. Use the special lingo you have with your partner
Couples tend to have their own little intimate language sometimes, use it! This helps make them feel closer to you.
11. Use sexting as foreplay
Send them a suggestive text like "baby, I'll be there at 8. I'm coming commando." Keep these texts short, and spice it up with just a few juicy details, they will love it, trust me!
12. Always chat after
After all is said and done, tell him or her how great it was, and how much you enjoyed it. Don't just stop conversation after the sexting is done, make your partner feel special.
Images: Flickr; Giphy