Louis Vuitton Put A Stylish Twist On The Claw Game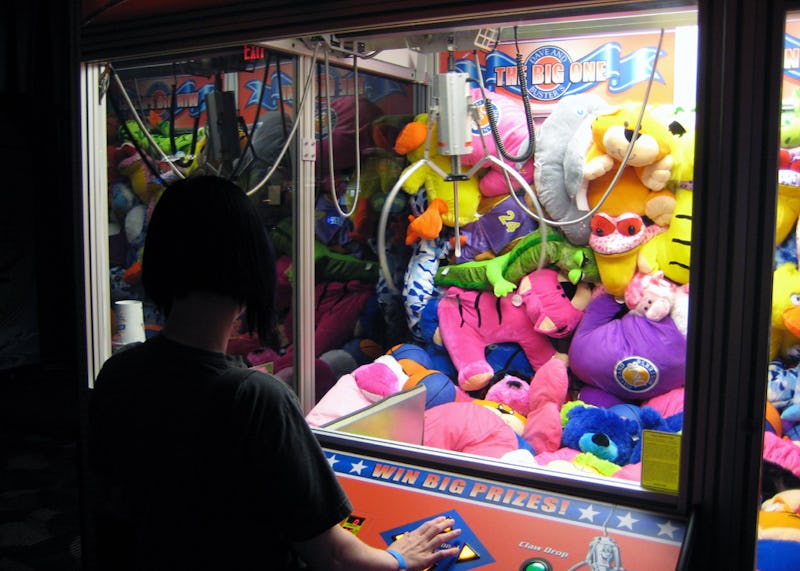 Remember those claw games outside of diners and in the arcade section of Chuck E. Cheese? Well, those boxes of childhood amusement just got the high fashion makeover of a lifetime — Louis Vuitton unveiled a claw game attraction, chock full of LV purses, wallets, and wristlets at the debut of their 2016 resort collection. I wonder if this thing accepts 50 cent coins...
The Louis Vuitton cruise show after party on Wednesday night featured this state fair staple with a very expensive twist. A claw game full of gorgeous leather goods was just one festival attraction at the carnival-themed after party, which also included LV-monogrammed bumper cars (of course). Sounds just like your hometown's yearly carnival, right? Except instead of stuffed teddy bears, there was thousands of dollars worth of LV swag to win.
You might have begged your parents for more spare change in hopes of eventually beating the impossible claw game, but this one might send me into bankruptcy with my determination to win. I mean, it's a Louis Vuitton claw machine, guys! You know you'd spend all your quarters on that too.
Check out these other fantasy claw machines and let's see if we can make 'em happen.
Puppies
I would never stop playing and eventually live the above dream.
Tequila
When you can no longer win, it means you've had enough.
Pizza
Gross, but after all that tequila I doubt anyone would really care.
MAC Lipsticks
With exclusive claw game shades for the ultimate in frenzied frustration
Cartier Bracelets
When the people start revolting and the claw machine gets tipped over, I take no responsibility.
Chris Hemsworth
A girl can dream.
Images: spookyamd/Flickr, harpersbazaarkorea/Instagram, Giphy.com(5), Getty Images