#DogsAtPollingStations Are Voting In The UK Today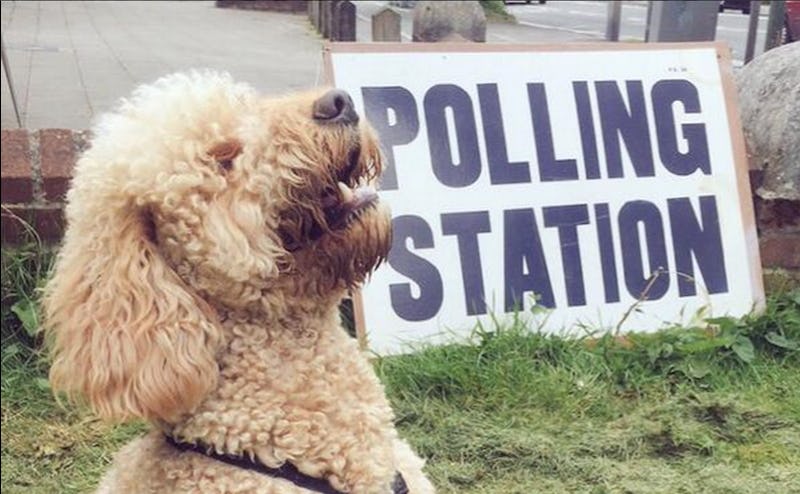 Although making voting mandatory seem a little counterproductive, a little cuddling incentive sure couldn't hurt. The UK holds a general election today and in a new wonderful hashtag, many Brits are taking their dogs to the polls with them. If you suspected #DogsAtPollingStations would be a good hashtag to scroll through on this slow afternoon, you'd be 100 percent correct.
Thinking about voting makes me think of the 2016 presidential candidates, which makes me think of Waka Flocka Flame's scrolling list of promises in his parody campaign speech on Rolling Stone. Among other upcoming restrictions—including "no one with a shoe size over 13 being allowed in public"—Flocka prohibited dogs in restaurants. "I don't wanna see no f-cking animal in a restaurant," he says. "Ever." Well, despite the fact that Flocka is too young to actually run (and the fact the video announcement was shot and published on April 20, which I shouldn't have to explain), this rule would still thankfully not apply to the UK—or their polls. As such, Brits bound to cast their own votes brought along their cuddle companions.
Maybe the doggy presence helps the voters focus on the issues at hand. Or maybe they're just being economical with their time and sneaking in a dog walk with their civic duty. Regardless, the photos on Twitter are aaaa-mazing.
You know what this seems very similar to? #CatsAtVotingPolls, clearly. Let's show a little feline love now with a quick review:
Into this. All of it. Each bit.
Image: JonathonUtracik/Twitter