'The Simpsons' Tribute is Sad and Perfect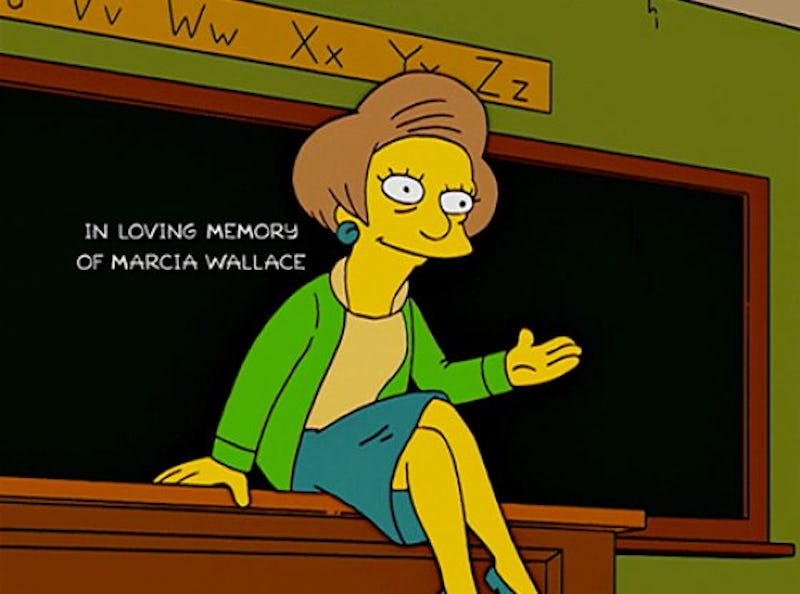 I hope you're prepared to feel a lot of feelings early on a Monday morning, because Sunday night's episode of The Simpsons caused a lot of 'em with this: During a re-airing of their classic Emmy-winning 1992 episode, "Bart the Lover" — which focused on Edna Krabappel — The Simpsons aired a tribute to Marcia Wallace, who passed away last week at the age of 70 due to complications of pneumonia.
It was a small tribute, but perfect nonetheless. Instead of the usual opening credits featuring Bart writing lines on the chalkboard about something he's done wrong, he writes a single, tearjerking sentence while he looks up sadly: "We'll really miss you Mrs. K." FEELINGS.
Wallace voiced Bart's 4th grade teacher at Springfield Elementary School since the show began in 1990, having first appeared in the second episode of the first season, "Bart the Genius." Her character went on to become a fixture on the show, with her signature laugh and desperation to find a husband though she's been left jaded from years spent in the public school system. Eventually, she ends up marrying the Simpsons' next-door neighbor, Ned Flanders.
Producers have previously stated that they'll be retiring the character of Mrs. Krabappel in the wake of Wallace's passing. It's not clear if a specific reason will be given for her departure.
R.I.P., Marcia Wallace.
Image: FOX