20 Lazy Girl Hair Hacks You Need To Learn Now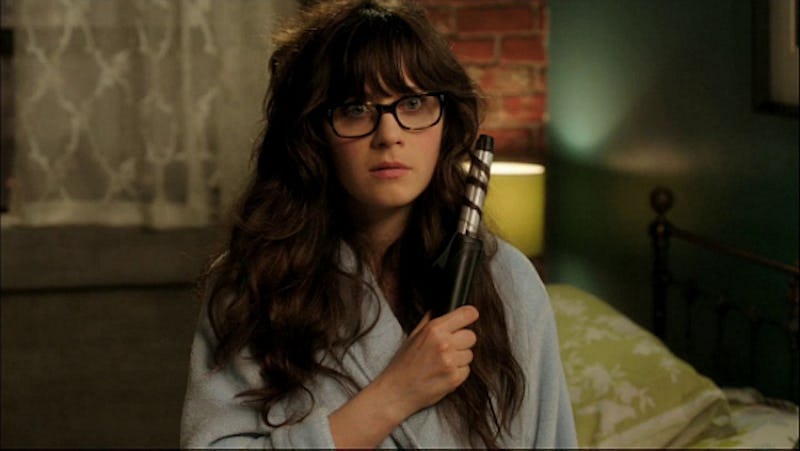 I am a morning person and I don't usually have a hard time waking up (once I've got coffee in hand), but the whole getting ready process is quite annoying to me. By the time I've decided what to wear for the day and put on what little makeup I can manage, I really just don't have time to fuss much with my hair. They say, "You have as many hours in the day as Beyonce," and I do, but I don't have her hair stylist. Until it's acceptable to leave the house looking like a wild animal, I will forever be on the search for lazy girl hair hacks.
I have done some research on doing as little as possible when it comes to doing your hair and it seems like it can be done with a few tools and some good preparation. I have also discovered that there are definitely some hairstyles that are super cute and with practice, can be achieved in less than five minutes or while multitasking and accomplishing other things (which is exactly what a busy twenty-something holding down two jobs and a blog needs). It's not that I am lazy in all aspects of life; however, if I am going to choose to be lazy about something, my hair seems like a good choice, particularly if I can make it look fabulous in a hurry.
Here are 20 lazy girl hair hacks that are hopefully going to change my life and yours.
1. Make Flyaways Go Away
This is a really quick and easy way to make sure that you are looking polished, even if you do absolutely nothing else to your head before leaving the house.
Aussie Aussome Hairspray, $6, Amazon
2. Keep Your Ponytail Perky
A ponytail is a pretty boring, standard way of telling the world, "Hey, I really just didn't care that much today," but I never thought of this little trick. Using bobby pins to keep your pony from sagging is a great way to maintain polish without really trying at all.
Conair Tub of Bobby Pins, $7, Amazon
3. Dry Shampoo is Everything
I use Not Your Mother's Clean Freak dry shampoo on the daily. If it were up to my real life mother, I would wash my hair every day, but that's not real life, mom! Dry shampoo is the next best thing.
Not Your Mother's Clean Freak Dry Shampoo, $8, Amazon
4. If You've Run Out Of Dry Shampoo, Cornstarch Will Do
Yes, I swear this is apparently a thing. In a jam, when I have run out of dry shampoo (because, yes, I use it a lot), Google has told me that it is OK to use cornstarch.
Argo 100% Pure Cornstarch, $6, Amazon
5. Triple Twist Ponytail
Believe this blogger when she says how easy this triple twist ponytail. I promise it really only takes two seconds.
6. Messy Buns Will Never Go Out of Style
I was always familiar with the messy bun, but I did not realize that there were at least three different styles of messy buns. It seems like such a boring thing, but as you watch this video, you will learn that all the variations are super chic and stylish.
7. When In Doubt, Throw Your Hair Into A Low Chignon
There are a few really good hair hacks in this video and it was literally made for lazy girls who still want to look cute. My favorites are the way she does a low chignon and the way she curls her hair quickly.
8. Don't Be Afraid of A Little Side Braid
This is a perfect second or third day hairstyle. If my hair was longer (I am lobbing it right now), I would totally wear this every day. So cute!
Oscar Blandi Pronto Braid Paste, $20, Amazon
9. Beach Waves (Because You Can Multitask)
All you need is a little mousse, and then scrunch it into your hair, and wait for it to dry. While you are waiting for it to dry, you can accomplish other things that are a part of your morning ritual, such as preparing your daily dose of caffeine.
Oribe Surfcomber Mousse, $38, Amazon
10. Tuck & Cover
My hair is at a lob-length right now, so it's hard to do a low chignon but this seems like it could be accomplished with an even shorter bob as well.
11. Tie a Turban
This is a cute, trendy way to cover your head, and it's a step up from throwing a hat or a beanie on.
Hair Scarf, $10, Amazon
12. Ponytail Perfection In A Pinch
This ponytail is a little more elevated than your average pony, but it is still so simple to do.
13. Half-Up, Half-Down With Braids
The half up, half down hairdo is having a resurgence in popularity. Throw some braids in there for some extra fabulousness.
14. Sock Buns Over Messy Buns
This is easy if you prefer a more put together look over the messy bun thing. I think its totally weird that it involves a sock, but trust me, this hack is going to change your life.
15. Contouring For Your Hair Is A Thing
This is a precaution to never having a bad hair day. Think of it a preventative method. Theoretically, with the right cut and color, you won't ever have to do anything to your hair because it will always look good. Congratulations! You have achieved ultimate laziness in the most fabulous way possible.
16. Put Your Bobby Pins In Right
Did you know there was a wrong way? You do now.
17. Healthy Hair Doesn't Need That Much Styling
Like hair contouring, think of this as a preventative method so that you can be lazy with your hair, always.
18. Use Hand Lotion In Place Of Anti-Frizz Serums
Anti-frizz serums can be a lazy girl's best friend, but so can hand lotion when said lazy girl forgets to buy more anti-frizz serum.
L'Occitane Shea Butter Hand Cream, $12, Amazon
John Frieda Anti-Frizz Serum, $8, Amazon
19. Triple Braid Bun
This look complicated, but its just three non-french braids twisted up into buns.
20. Use A Shot Of Vodka To Add Extra Shine To Your Hair
This sounds insane but I can't wait to try it.