Officer Kicks Black Suspect In Face — VIDEO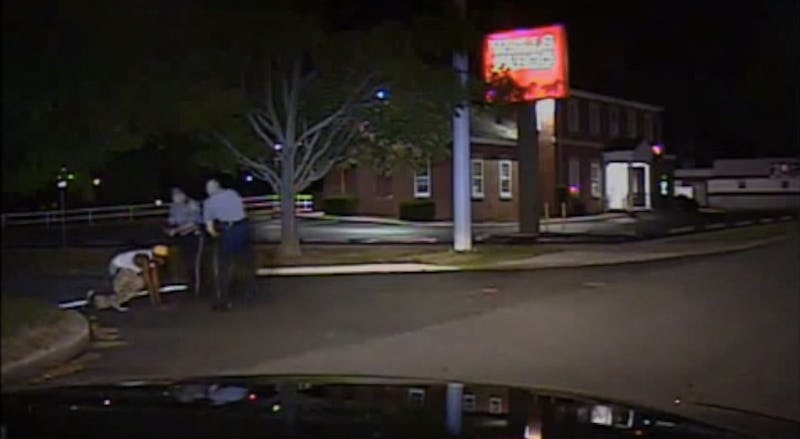 Another video of another black man's violent arrest has made its way online. The Dover Police Department on Thursday released video of a Delaware officer kicking a black suspect in the face after a federal judged ruled it was no longer considered confidential, authorities said in a statement that accompanied the YouTube video. The officer, Thomas Webster IV, was charged Monday for second-degree assault for the arrest, which took place on Aug. 24, 2013. The shocking footage has become yet another example of police violence against black men captured on tape.
The dash cam video begins as a police cruiser responds to a "large fight/assault" near a local gas station. Over the radio, an officer reports that a man in a yellow shirt has a gun and is running westbound. After some minutes, the police car pulls up to a black man, identified as Lateef Dickerson, walking along the road. Dickerson, 30, is wearing a white tank and yellow hat. An officer yells at Dickerson to "get on the f****** ground." Dickerson puts hands up and submits to the arrest.
As Dickerson puts his knees and hands on the ground, Webster approaches from behind and kicks Dickerson in the face, causing his yellow hat to fly off. The kick left Dickerson unconscious and with a broken jaw, authorities said in a statement. Webster then handcuffs Dickerson while the other officer moves the car.
According to the statement, Webster, 41, was put on paid leave in November 2013 pending an internal review by the Delaware Attorney General's office. In March 2014, a grand jury did not indict Webster. The statement said the U.S. Attorney's Office for the District of Delaware also reviewed the case and determined there was no civil rights violation. Dover police then concluded its own investigation and determined Webster's actions were "outside Dover Police Department policy and the department took the appropriate actions." What actions were taken remain unclear. Webster returned to full duty in June 2014, according to the statement, and was reassigned to the patrol division.
On Monday, nearly a full year later, a second grand jury indicted Webster on the charge of second-degree assault. Dover police said Webster was placed on leave without pay. According to the statement, Webster turned himself in and was later released on a $5,000 bond.
The American Civil Liberties Union filed a lawsuit against Dover police on behalf of Dickerson. Kathleen MacRae, the ACLU executive director in Delaware, said in a statement:
We believe that the video demonstrates the need for large-scale reform of the Dover Police Department, specifically improvements to their use of force and internal affairs practices, and supervision of their officers
According to court records obtained by the Associated Press, Dickerson had several previous weapons charges, including carrying a concealed deadly weapon and receiving a stolen weapon. James Liguori, Webster's attorney, said dash cam footage from his client's car will show that "no crime was committed."
They've only seen half the movie.
Fear of civil unrest caused the police department to preemptively warn businesses and local schools of the video's release. Dover Mayor Robin Christiansen said at a press conference the city would allow its residents to exercise their First Amendment rights to protest.
But I must assure the members of our community that lawlessness and violence will not be tolerated.
Why charges have been brought against Webster now, nearly two years since the incident, is a logical question. You can't help but wonder whether what's happened in New York, South Carolina, and as recently as in Baltimore had some influence on changing attitudes toward police violence. But once again, video is proving to be a powerful tool in monitoring police. Let Dover become the scene of peaceful justice and not the next grounds for violent protest.
Images: Dover Police Department/YouTube