'Bling Ring' Muse Alexis Neiers' 6 Wildest TV Moments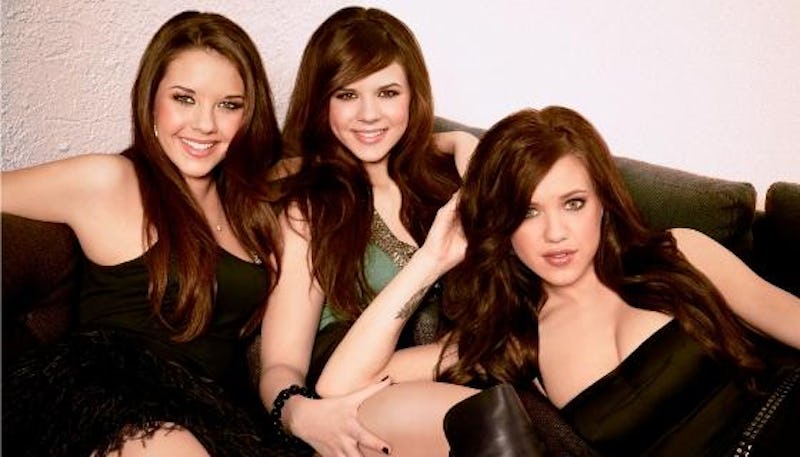 If Alexis Neiers' name sounds familiar, it's because she's made headlines for being the inspiration for Sofia Coppola's The Bling Ring, a film based on the true story of teens who robbed celebrity homes in the Hollywood Hills. Neiers is being portrayed by Emma Watson in the film — lucky girl, right? (Of course, had she not gone to prison for the robberies before she could enjoy the luxury.)
But before Alexis Neiers was a convicted felon, she was the star of E!'s Pretty Wild. This completely ridiculous (and fantastic) reality show revolved around the lives of the Alexis, her adopted sister Tess, her younger sister Gabby, and her former Playboy model mother Andrea. The show — which just happened to recruit the family for a reality series prior to Neiers' legal troubles — is totally bananas, and only lasted one season in 2010. But, thanks to Watson and Bling Ring, the series is suddenly enjoying renewed interest. So, in case you missed it, here are 6 of Pretty Wild's wildest moments. They aren't pretty.
Vanity Un-Fair...
Any press is good press, right? Unless, of course, you're robbing the homes of the celebrities you so desperately want to be. When a biting Vanity Fair article about Neiers' crimes came out, the reality star was angry to find that the reporter – whom she had spoken to about the burglaries – had "misquoted her" and printed "lies" about her involvement in the scandal. While leaving the reporter an emotional voicemail, Neiers broke down over a very specific fact that the reporter included in the Vanity Fair piece. As a sobbing Alexis tells it, "She said I was wearing six-inch Louboutins to court with my tweed outfit! I was wearing little brown kitten heels, fucking bitch!" Journalistic accuracy – it's so important, guys. And, lucky for you, there's video:
Bowling With Ryan Cabrera
Hey, remember that song "On the Way Down"? Only vaguely? Well, back in 2010, Ryan Cabrera was still clinging on to relevancy and ended up going on a bowling date with Tess Taylor. Taylor loves singers, and since she vaguely remembered that Cabrera once dated a singer, she was stoked. Of course, the "date" was less of a date and more Taylor being an awkward third-wheel to Cabrera and his random friend. Taylor and Cabrera did not work out and Cabrera went on to date big personailities like Audrina Patridge of The Hills.
Playboy Mom of the Year
Taylor has quite the confusing family background. Alexis and Gabby's mother Andrea Arlington adopted her from her best friend when she began having drug issues. Of course, a confusing family past doesn't quite live up to the weirdness that is having your adoptive mom take naked photos of you in the shower so you can send them to Playboy – which also happens to be your mom's former workplace.
Girls, Come Get Your Adderall!
Some moms serve breakfast in the morning, others serve psychiatric drugs. Arlington is the latter kind of mom, and doles out Adderall with the same enthusiasm as calling girls down to open presents underneath a Christmas tree.
Little Dog Lost
Each episode of Pretty Wild is only about 20 minutes long, but that didn't stop the show from having a good six minutes devoted to finding Taylor's "lost" puppy. While younger sister Gabby would probably be thrilled to have the dog gone for good (somehow the puppy ends up leaving little "presents" whenever it finds itself in Gabby's path... ), it turns out that the dog isn't lost at all, but has been barking outside along the side door. To shoehorn a message into the show, Taylor has to give away her puppy because she can't be responsible for it — which everyone is kind enough to point out is exactly what happened to her when her own mother gave Taylor away.
Birthday Bashed
If you and your friends decide to rob celebrities, it would be a great idea not to hire them for your little sister's Sweet Sixteen. When Neiers hires DJ Paul Oakenfold to play at Gabby's party, the DJ is quick to ask if she's part of the ring that stole from his house. While Neiers could have just answered with, "No, we only robbed the homes of celebrities... " she, instead, had a mini-breakdown and hid in her room for a bit. Not her finest hour.
Image: E!