15 Tattoos To Get With Your Mom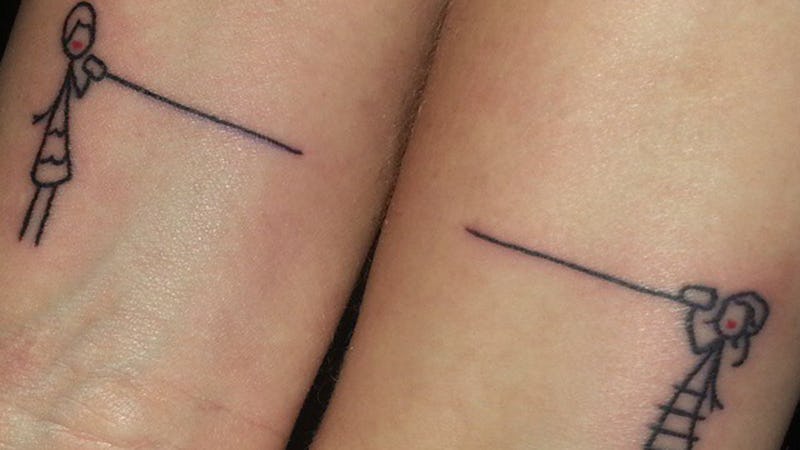 Though bouquets and perfumes are considered perfunctory Mother's Day gifts in some circles, there is nothing quite like a mother-daughter tattoo to declare your unerring love for an avant-garde parent. If you feel flowers are too staid and a card is far too conventional for your taste, a bit of ink can create a Mother's Day memory no one is likely to forget. Though saying yes to ink is an undeniably dramatic manner of expressing gratitude to your mother, sometimes a smaller gesture isn't quite enough to convey exactly how you feel about the woman who inspired your sense of confidence and self-worth, and who set you on the path to become the best version of yourself, whoever that may be.
Simply dedicating a single day to the parent who coached you through the perils of puberty and the trials of your teenage years seems remarkably inadequate, so why not tattoo a daily reminder of your mutual devotion? If you're under the impression that a plain banner-adorned heart emblazoned with the name of your mother is your only artistic option for a Mother's Day tattoo, scroll through for 15 edgy ideas you can share with mom — no matter what day of the year it is.
1. A Bouquet Of Your Mother's Favorite Flowers
Throw the traditional Mother's Day bouquet by the wayside and have a floral design inked instead. Kim Saigh of Memoir Tattoo creates beautiful floral motifs ideal for celebrating mom.
2. A Calligraphy Initial
Shamrock Social Club's Dr. Woo artfully imprints calligraphy initials, a graceful yet impactful design for mother-daughter duos who favor simplicity
3. The Portrait Of A Favorite Family Retreat
Los Angeles tattoo designer Lisa Orth offers consumers beautifully rendered landscape designs, a perfect choice for celebrating a location particular to your family history.
4. A Mother-Daughter Portrait
Belgium-based artist Sven Rayen presents the creative notion of a skillful mother-daughter portrait.
5. A Quirky Shared Obsession
Super Timor's Yoda tattoo is the ultimate insider joke for a mother-daughter duo who share a relationship to rival Gilmore Girls.
6. A Family Crest
Relic Tattoo's Amy Tsui possesses many talents, among them the ability to fashion a beautiful — and Mother's Day appropriate — family crest.
7. A Continuous, Climbing Vine
Alice Carrier practices her craft in Oregon, where intricate climbing vines are one of her many enticing designs. Embrace Mother's Day with a shared vine design.
8. A Baby Picture
If your mother adores showcasing your baby pictures, why not suggest a tattoo to commemorate your most charming infant photos?
9. An Ode To Your Mother's Talent
Take after Jaya Suartika and inscribe an ode to your mother's talent or career path on your arm or wrist.
10. Meaningful Song Lyrics
New York-based artist Stacie Ray tattooed a mother and daughter with meaningful song lyrics to the sentimental tune, "You Are My Sunshine."
11. A Set Of Matching Idioms
Keep your sentiments towards your mother on display with a favorite idiom expressing why the relationship is so dear to you both.
12. A Sweet Cartoon
Keep the quirk alive with an offbeat cartoon like this mother-daughter ink depicting a tin can telephone.
13. A Customized Infinite Symbol
Give a shout-out to your close relationship with a customized infinite symbol.
14. A Mismatched Set
You and your mother likely have your differences, so a set of a non-matching tattoos can be just as lovely.
15. A Set Of Wings
But, then again, a perfect pair can be incredibly touching.
Want more beauty tips? Check out this video (and subscribe to Bustle's YouTube for even more awesome tutorials!):