9 Books To Keep You Cool On A Long, Steamy Commute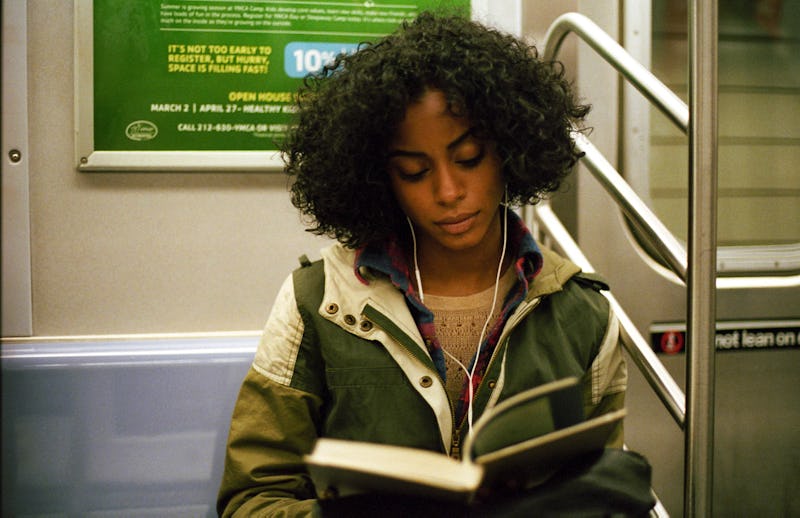 As a subway loyalist in a city of cyclists and drivers, I frequently find myself defending a daily commute spent sandwiched underground between strangers, hurtling through tunnels. Of course, as the temperature shoots up, and packed train cars transform into stifling incubators of smells that simply should not exist, the lure of a cool breeze does make a case for traveling some other way.
Then again, if you don't actually know how to ride a bike (guilty as charged) and you can't splurge on Uber (also me), then despite the heat (and the noxious fumes) there's just no getting around a long commute. There is, however, one quick and easy way to brighten up a long commute — the right book.
Now, I know what you're thinking: Is there such a thing as the wrong book? The answer is yes — yes there is. Your summer commute is no time to be proud — leave Proust at home, and don't even consider jamming in another few pages of Joyce. A long, steamy commute calls for a very specific form of literary entertainment if you're going to stay calm, engaged, and blissfully ignorant of the sweat beading along your upper lip. Make a note of these nine books that are sure to keep you chilled out during a long commute.
2666 by Roberto Bolaño
In some parts of the world, it's common practice to drink tea when the temperature outside rises — the idea being that by raising your internal body temperature your brain gets the message to cool down quickly. I have a hunch the same might be true of literature and a long commute. The next time you're facing an interminable amount of time underground, settle in with 2666, and let this sprawling narrative of murder, misogyny, and more than a little mystery South of the Border cool you down and speed up your commute through the breathtaking heat and truly lengthy odyssey of this modern epic.
The Pale King by David Foster Wallace
I find that in times of crisis nothing cheers me up like a prolonged consideration of those poor souls worse off than myself, and trust me — if you're hot, bored, and ready to get the hell home, you're still better off than a worker at the IRS. With David Foster Wallace's brilliant, brooding, breathtakingly funny tale of a summer processing tax returns in hand, time on the train will positively fly by (although you may never again feel comfortable filing for a somewhat dodgy deduction).
Accordion Crimes by Annie Proulx
When I commute, I have to change trains... a lot, and there's nothing more jarring then spending minutes winding your way back through a tightly knit plot only to find yourself at your stop, again. Annie Proulx's Accordian Crimes offers you all the luxury of a sprawling, multi-generational, transnational narrative with none of the hassle. This sumptuous tale traces the life of one accordion through generations of owners, all in beautifully digestible, transit-friendly morsels of sweet story.
Snow Crash by Neal Stephenson
When the world of public transportation is simply too much for you to bare, leave it all behind with a dip into Neal Stephenson's taut, genre-bending thriller Snow Crash. Ride along with Hiro as he's delivering pizzas for Uncle Enzo's CosoNostra Pizza Inc., or living out a legend in the Metaverse — whatever page you find yourself on, I guarantee you'll regret when you've finally arrived at your destination.
The Odyssey by Homer
There's nothing that says you can't use your daily grind to get caught up on a few of the classics you may have glossed over in the haze of a misspent youth, and if you're going to get serious with your time on the subway, you can't do better than The Odyssey. Although Ancient Greek poetry might not seem like the perfect antidote to boredom on the bus, the story of this epic journey across the wine-dark sea through monstrous mythic mayhem and home again belongs at the very top of your reading list.
Midnight's Children by Salman Rushdie
Beginning at the stroke of midnight, on August 15, 1947 — the exact time when India finally gains her independence — Salman Rushdie's masterclass in magical realism weaves together the tale of one boy born on the very moment of India's reincarnation and the fate of the nation state itself. Odd, poignant, and magnificently powerful, Midnight's Children is original and captivating enough to drown out even the large group of chattering tourists who inevitably seem to step onto the train right when things are getting interesting.
The Collected Stories of Lydia Davis by Lydia Davis
Lydia Davis' daring, evocative short stories are like literary truffles — delicious, delightful, and beautifully bite-sized. When you need to dive into something more than unusually divine but you simply don't have the time to give a full-blown novel your attention, you cannot do better than Lydia Davis.
Rebecca by Daphne du Maurier
I've tried the traditional guilty pleasure fiction, and it simply doesn't work for me — I find myself so distracted by the stultifying prose and stock characters that I rarely get beyond the first chapter. But that doesn't mean I don't need a little indulgence in my life. With romance, intrigue, and even the occasional ball, Rebecca is everything you could want in terms of escapism, and so much more.
A Constellation of Vital Phenomenon by Anthony Mara
Every so often you find a book so good that while reading it you quite literally lose track of time and space. While making my way through Anthony Mara's exquisitely woven story of a man, a girl, a nurse, and a town destroyed by war, I was late for three appointments and walked into a flagpole as I tried to get in one last chapter before work. So, take it from me — if what you need to make it home in one piece is total and complete captivation, A Constellation of Vital Phenomena is the book for you.
Image: Matteo Merzi / Flickr