Exactly Why Summer Is The Worst For Wearing Makeup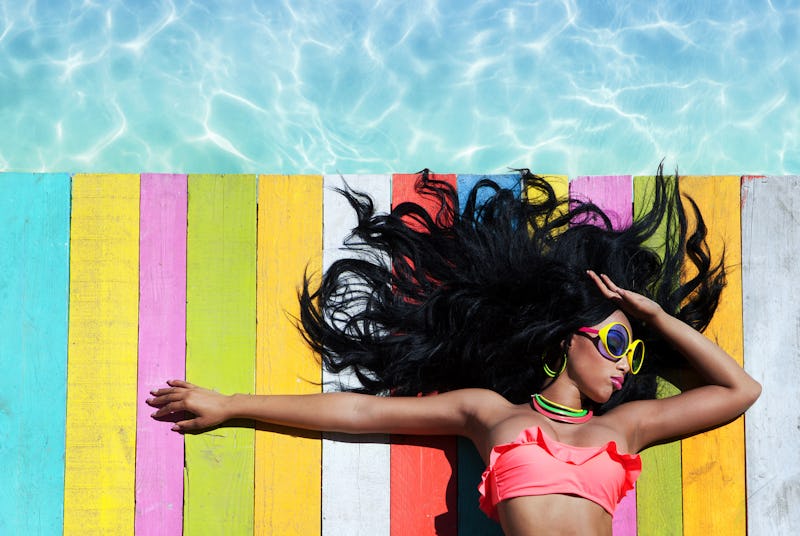 Summer is hands down my favorite time of year, except, of course, when it comes to wearing makeup in the summer. Everything from hitting the beach to stocking up on summer wardrobe essentials makes it the best season, though. There's never a shortage of things to do, and since being outside in the light of the sun is a mega mood booster, what's not to love?
Everything about the months between May and September seems exciting and fun — until you have to wear makeup for the first heatwave of the season, and then all hell breaks loose with your beauty game. Before you know it, sweat and humidity are thrown into the mix and getting ready in the morning becomes no easy feat.
During the winter (or really any other season), you can layer on makeup like nobody's business, but summertime is tricky because your skin can only put up with the heat for so long! It's actually the worst for the makeup obsessed because no matter how many hours you spend on scoring the perfect look, it can all go downhill as soon as you step out of your air-conditioned house. The results can be embarrassing, to say the least. One second you feel flawless in your foundation and the next you're staring at yourself in the mirror wondering how it ever disappeared. If you've ever attempted to get glam for a night out in the middle of some 80+ degree weather, you know the struggle.
1. Ridiculously Oily Skin
Having oily skin in the summer can be one of the biggest battles you'll face in your beauty regimen (because even though there are benefits to having oily skin, the upkeep can be tough).
Even if you're someone who has dry skin for most of the year, summer has a way of making everyone look oily. At first — before things truly heat up in the summer — your skin has a glowing radiance, but by the end of the season, it probably just looks greasy. Even when you're not sweating, you find yourself reaching for blotting papers or touching up with powder every five seconds because you can't get rid of the damn shine taking over your T-zone.
2. Makeup Transfer
No matter how many times your favorite products promise they're transfer resistant, somehow they always manage to get on your clothes in the summer. One minute you're sitting at brunch or at picnic in your new crisp white outfit, and the next your foundation is all over your shirt's collar. It feels like everything you put on your face will just melt right off in a matter of seconds so you constantly find yourself having to reapply your whole face.
3. Searching For SPF Makeup
Whether you burn easily or not, SPF is an essential part of any summer beauty routine, and before you know it, it makes its way into every crevice of your makeup collection. Finding the perfect SPF makeup can be difficult, but it is a must to protect your skin from harsh weather.
4. Needing New Shades In Everything
Being out in the sun all the time will inevitably make your skin tanner than usual, and while it feels great to look like a bronzed goddess, it also means needing to replace the majority of your face makeup. Everything from foundation to concealer to powders may have been a good match for your pre-summer skin, but can look noticeably different in the summer.
5. Death To Heavy Makeup
Full coverage makeup can look amazing for a night out, but during the summer, heavy makeup doesn't fly. Despite the urge to try to layer on as much as possible for maximum coverage, less is more when it comes to a summer beauty routine. The thought of retiring your favorite full coverage winter foundation is devastating, but summer requires us to try new things, even if it means going for a sheer formula.
6. Irritated Skin
If you love going on vacation in the summer or hanging out poolside, you're no stranger to sunburns. Not only can they wreak havoc on your skin and hurt like crazy, but to add insult to injury, putting on makeup in the midst of getting over a sunburn can seem next to impossible. As your skin attempts to regenerate and compensate for the lack of moisture, it can appear flaky and completely mess up the look you were going for.
7. Pulling Off Lipstick Trends
Experimenting with beauty and taking risks is fun, but summertime brings the most daring products out there — especially when it comes to lipstick shades. I love a good lippy as much as the next gal, but certain neon shades like pastel coral or electric pink are tough to pull off, even for the bravest lipstick hoarders.
No matter how many times you try to layer on the perfect summer neon shade, the truth is that it might clash with your complexion. And no, it won't make you look any tanner. If you can rock even the brightest of summer lipsticks, my hat's off to you.
Images: Fotolia; Giphy (7)