Will 'The Returned,' Well, Return?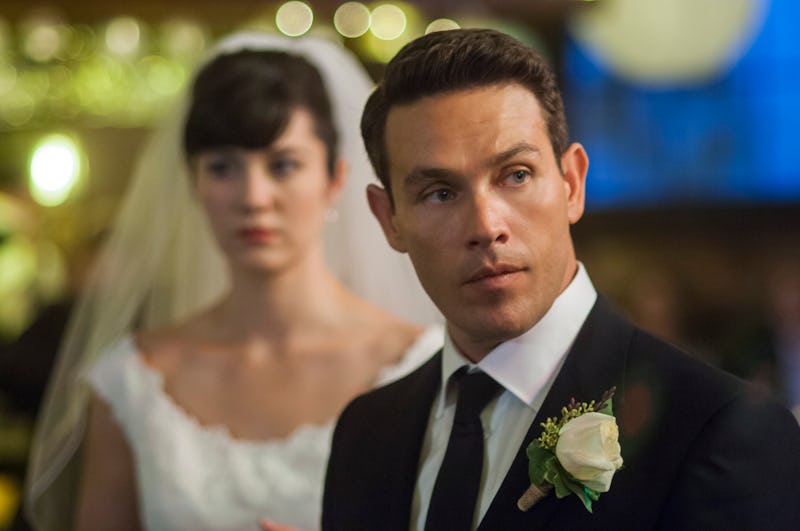 Sometimes they come back again — and again, and again, and again. In the case of shows about the mysterious return of dead relatives, it's an idea that TV refuses to let, well, die. First there was NBC's Resurrection, which did well at the start and then crashed and burned in the second season. Then there was France's Les Revenants, which aired on the Sundance channel with subtitles. Then this year came The Returned, an English-language remake of Les Revenants, which debuted on A&E. Is TV ready for all of this morbid drama? Will The Returned come back for Season 2, or will it its finale on May 11 be the last we see of the series?
Let's start with the bad news: The first season of the show, which debuted on March 9, didn't have blockbuster ratings (to say the least). "The Returned had its bow on Monday and pulled a 0.6 rating in the 18-49 demographic based on the overnights with 1.5 million total viewers," Cancelled Sci Fi said. "Those aren't terrible numbers for a basic cable series, but they are on the low side and its not a great start since shows typically drop off after their premiere."
And guess what? The Returned did drop off after its premiere. The series never hit 1.5 million total viewers again — it averaged just over a million viewers each week — and the last three episodes dipped under a million each. Dead show walking?
Not necessarily. There is one, big powerhouse on The Returned's side that might tip the scales towards renewal: Netflix (our savior for everything). "The streaming service and FremantleMedia International have sealed an exclusive, landmark deal for Carlton Cuse's 10-episode suspense series to launch as a Netflix original beginning March 10 in all regions outside the U.S. and Canada," Deadline reported. "Episodes will be available weekly for Netflix members to stream within 24 hours of the U.S. broadcast and Netflix will add the series to its North American portfolio next year." That means the show has more viewers than the U.S. numbers alone reveal. If the deal is that sweet, it could be profitable for A&E without the network having to worry to much about its own ratings, knowing it has the built-in Netflix audience.
If The Returned does get another season, at least one person is ready: executive producer Carlton Cuse (of Lost, so you know he knows how to string things along). "I think we have a really good game plan for how to expand the show," he told Seriable. "I think it's an endlessly fascinating idea to explore. You know, Jeremy Sisto is a guy who was on a show, Six Feet Under, that explored death in a really compelling way for a number of seasons. I think that's something we can effectively do on our show as well." Six Feet Under ran for five seasons, so it looks like Cuse is in it for the long haul.
Image: Joseph Lederer/A&E