7 Plus Size Bralettes — Because They DO Exist!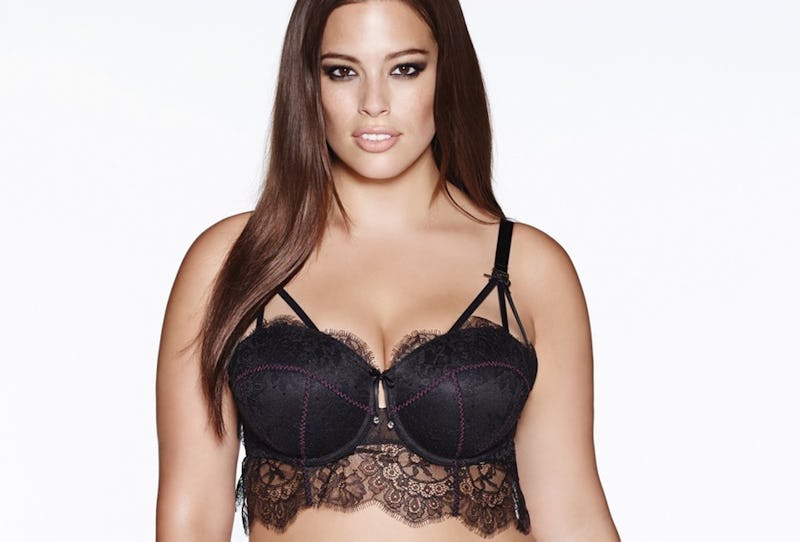 As the weather gets warmer, I stand in front of my lingerie drawer with a mixture of anxiety and disdain: I'm exploring its nether reaches, hoping to find something light and cool. I always end up pulling out one thing: a breezy, lacy plus size bralette. On hot days, I find myself wishing I had more than one bralette to pop on under an oversized button-down. Unfortunately, it's hard enough to find inoffensive bras in plus-sizes — let alone good bralettes. Fed up and over-cupped, I went on a mission to track down some of the best plus-size black bralettes in the game. And like so many previous plus-size clothing missions, I wasn't exactly pleased with what I found.
But before you stop reading for fear that I've crushed your dream of wearing a sexy black bralette while sipping wine on a chaise lounge, let me start at the beginning.
After some fruitless searching, I enlisted the help of bra luminary Kim "Kimmay" Caldwell, a 10-year veteran of the bra fitting industry. Caldwell started her career at the famed Linda's in Soho, moving on to work for luxury brand La Perla, before finally starting her own marketing agency for lingerie brands and doing some one-to-one bra consultations on the side.
When it comes to bras, Kimmay Caldwell knows her shit. Though she's not plus-size herself, she's fit thousands for bras, ranging in sizes from 28AA-56N. After talking to her for a few minutes, I was convinced she'd be able to help me find the plus-size lacy black bralettes of my dreams.
"Typically in the lingerie world, 'plus-size' means 'full bust,'" Caldwell said. "That's how the lingerie industry looks at things, even though it's not necessarily true. The market for full band, small bust bras is not as served, and usually (plus-size) gets basics that are functional but not pretty."
I asked her why finding sexy black bralettes seemed so simple for smaller sizes — you can easily purchase affordable ones from H&M, Forever 21, Neiman Marcus, and American Eagle offshoot Aerie — but when searching for plus versions, I came up short. Her answer left me disappointed.
"Bras have a function, and in the eyes of brands and fitters, the most important function is to support the bust. A bralette is not very supportive. When you have a fuller bust, bralettes make it hard to give you the round, smooth bust shape that most women want."
In other words, bralettes are simply too small and too weak to support the often ample bust of the plus-size woman. Plus-size women who have smaller busts may be able to find bralettes with cups that suit them, but then there's the pesky issue of band size, a factor that Caldwell chalks up to simplified sizing.
"Bralettes usually come in small, medium, large, and maybe extra large," she explained. "Bralettes are also not super adjustable."
At this point, it seemed like all was lost. The luxurious, delicate black bralette I sought in my size seemed to be a myth that only existed in my head. In reality, the options are too small and not supportive enough. As such, manufacturers aren't interested in producing bralettes in size fat.
But then, Caldwell offered an unexpected ray of hope.
"Women who have come to me often find out that wearing a bralette isn't everything they hoped it would be," she explained. "But some of the non-underwire or wireless lace bras often offer great support and give you the effect of a round, smooth bust. They're sexy, light, look delicate, and feel feminine — and give you that 'no fuss' look you want."
Instead of Googling "black lace plus-size bralettes" and getting crabby, maybe I could search for well styled real-deal bras: Bras with the light, sexy visual effect I want, but that actually feel good on my body.
With some tips from Caldwell, I tracked down seven amazing black lace bras that will have you feeling super-sensual and ready to lie provocatively on your sofa all summer long. They're so hot, you won't even notice that you're sweating profusely.
Cosabella Never Say Never Sweetie Bra, $42, Amazon
This cute wireless bra is sheer and comes in dozens of fun colors if you're bored of basic black (unlike me), including an olive "Dynasty Green" and peachy "Bellini." The only drawback of this bra is that Cosabella's plus-size line only runs to a 38C-DD, serving only a small part of the plus market.
BestForm Modern Comfort Wireless Bra, $35, Amazon
This wireless bra's longline silhouette might make it seem a little too heavy duty for to be considered "delicate," but the sheer lace at the top of the cup adds the necessary levels of sexiness. Sizes range from 38D-44F.
Savoir Fair Lace Bralette , $35, H ips & Curves
Behold! A plus-size black lace bralette that is actually called a bralette! You thought it couldn't be done but here we are, basking in its loveliness. This gem is from popular plus-size lingerie site Hips & Curves, which seems to be ahead of the curve when it comes to making sexy duds for the plus-size woman. This bralette runs from a 1X-4X (about a size 22), and works best for women with a cup size between C-DD. However, if your cup size is slightly larger and you'll just be wearing it around the house, you might feel comfortable letting them spill out a bit. I know I am.
Black Hi Shine Lace Non-Wired Bra, $15, Amazon
This comfy bra has zero wires, and therefore shapes to your natural bust. Available in all sizes ranging from 38C-46G, and it's totally affordable.
Ashley Graham Convertible Lace Crop Bra for Addition Elle, $75, Addition Elle
See similar: Ashley Graham Phenomenon Halter Bra, $70, Addition Elle
Alright, full disclosure: This bra has wires. And padded cups. However, that eyelash lace at the bottom makes it seem less like a bra and more like a lovely, sexy, slippy lounge item. In fact, I'd argue that you could just wear this around the house as a top. Comes in sizes 36DD-44DD.
Black & Pink Floral Lace Non-Wired Soft Cup Bra, $15, Amazon
While I'll admit that the pink bows aren't really my thing, there's something about the floral, semi-sheer lace on the cup of this bra that makes it look super lounge-able and relaxed. Most of the sizes of this bra are sold out, but I included it because there are still large sizes in stock — how often do you 50F-50H ladies get to actually find something that's still available in your size?
Lace Bralette With T-Back, $40, Hips & C urves
Hips & Curves went and did it again with this beauty, which is not only constructed like a classic bralette, but has a T-back for added support. Images: Addition Elle; hurraykimmay/Instagram; Giphy; Courtesy Brands