15 Girly Girl Bloggers Who Are Totally Empowering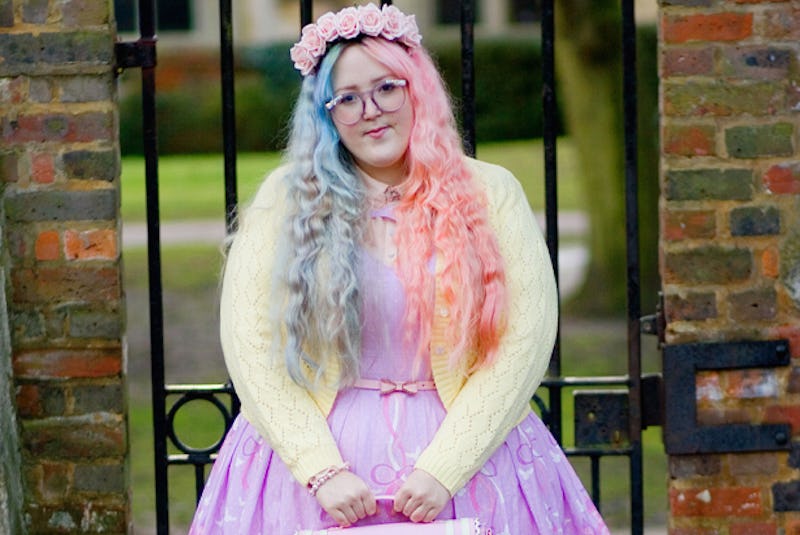 If you are a floral fanatic like me, or just love the color pink, these 15 feminine fashion bloggers are about to be your best friends. From super girly Atlantic Pacific to demure and darling Ragini Nag Rao, these women will remind you that there's nothing wrong with embracing more traditional aspects of femininity. They remind us that choosing to dress like a "girly girl" or embodying '60s style á la women of Mad Men can be just as empowering as any other sartorial choice — because it's on their own terms. Whether you want to go all-out girly or just add a bit frilly femininity to your wardrobe, these bloggers will show you just how to pull off polished and classic style.
Summer is a great time of year to soften up your wardrobe, after all. But don't throw out your black basics; just add in some floral fit-and-flare dresses, a few pastel accessories, and maybe even a bow or two. While I can't wait to unleash my inner girly girl, I know others aren't so gung ho on the trend. That's why I've compiled some of the best bloggers with feminine style for every type of personality. If your style is more quirky, peruse the site Mode and the City; if you like to dress preppy, there is Classy Girls Wears Pearls; and if you just want to dip your toes into feminine style, check out Song of Style.
Scroll down to see 15 of my favorite feminine style blogs, and embrace your girly self.
1. Making Magique
Haleigh's romantic style is almost dreamlike. Her blog, Making Magique, is a mix of cream-colored clothing, delicious pastries, and scenery from her hometown of Paris.
2. A Curious Fancy
Ragini of A Curious Fancy is nothing short of ethereal. She expresses her strength through her femininity (and many impeccable headbands) and the inspirational vibes are simply abundant.
3. Atlantic Pacific
Blair from Atlantic Pacific is both girly and edgy. While she loves a good floral outfit, she often mixes it up with funky shoes and accessories. Also, her collection of midi skirts is amazing!
4. Framboise Fashion
Sarah from Framboise Fashion expertly mixes girly silhouettes with menswear-inspired pieces. Her style is both ladylike and downtown chic.
5. Tanesha Awasthi
Style guru and epic designer of Girl With Curves, Tanesha takes uber femme to gorgeous new levels. A fan of daintiness and demureness but in bold, empowering fashion, she mixes sartorial genres like there's no tomorrow.
6. Mode And The City
Daphne from Mode and the City is another blogger from France, so you can expect some awesome Instagram pics. Her girly style is reminiscent of Zooey Deschanel on New Girl — colorful and a bit quirky.
7. Cupcakes And Cashmere
Emily's blog, Cupcakes and Cashmere, is the holy grail of girly girl blogs. She not only covers feminine fashion, but she also has delicious recipes and adorable home decor ideas.
8. Song Of Style
Aimee's blog, Song of Style, is perfect for the girl who wants to add a touch of feminine style to her summer wardrobe. A lot of her outfits are soft and sweet, without being too in your face girly.
9. An Autumn's Grace
Isha's girly girl blog is always filled with precious gem. Bringing in some retro, demure, prim and proper vibes with modernity's twist, Isha never disappoints. Just look at her in Nicolette Mason's polkadot dress for ModCloth!
10. Margo And Me
Jenny from Margo and Me is famous for her Brigitte Bardot bows and fabulous dress collection. Her '60s style is a must try this summer!
11. Gal Meets Glam
Julia from Gal Meets Glam is a polished cutie. While she likes a good bow now and again, she never goes too costume-y.
12. Cupcake's Clothes
Cupcakes's Clothes' Georgina is, perhaps, the epitome of traditionally feminine style. There's never too much pink or lace or frill for her. And the kitschiness of it all is pure utopia. Plus, she often hand-makes and designs her own ensembles. Amaze.
13. Gary Pepper Girl
Nicole from Gary Pepper Girl is both simple and sweet. Her blog doesn't scream girly, it just is.
14. Classy Girls Wear Pearls
Sarah from Classy Girls Wear Pearls is the prepster of the group. Her ladylike style is reminiscent of Kate Middleton's, which is reason enough to check out her site.
15. Rach Martino
Rachel's blog, rachmartino.com is filled with great inspiration for daily outfits. She keeps it real with practical yet pretty pieces.
Images: Cupcake's Clothes; makingmagique, kittehinfurs, blaireadiebee, srhmikaela, girlwithcurves, daphnemodeandthecity, emilyschuman, pic_pixie, songofstyle, margoandme, cupakesloveme, juliahengel, garypeppergirl, sarahkjp, rachmartino/Instagram