9 Ways To Make A Marriage Last... And Last...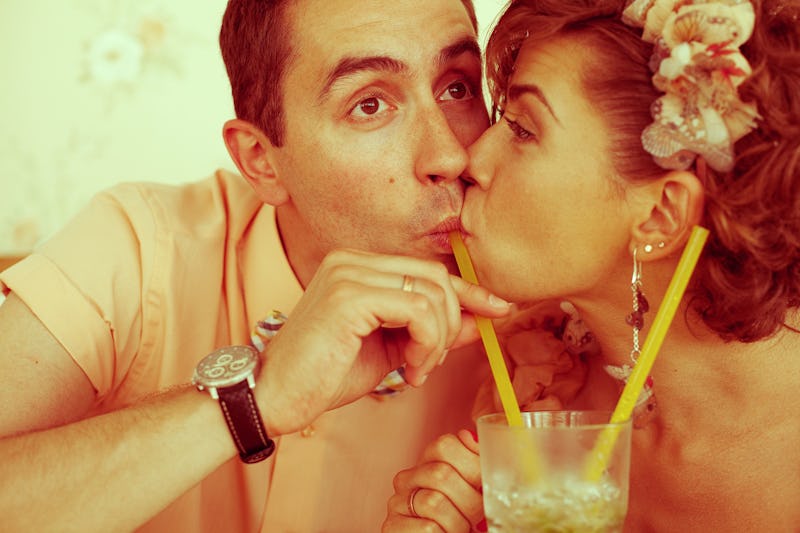 We all kind of know how traditional marriage vows work at this point. Marriage is for richer or poorer, in sickness and in health, for as long as you both shall live. But "as long as you both shall live" is a hopefully pretty long time, so how do you make your marriage last without driving yourself crazy? What's the secret to a successful marriage? How do you stay happy in a long-term relationship?
You can take these questions to The Marriage Book: Centuries of Advice, Inspiration, and Cautionary Tales from Adam and Eve to Zoloft, which is meant to be an encyclopedia of marriage. As authors Lisa Grunwald and Stephen Adler write, "it is an attempt to capture the myriad ways in which marriage has been experienced and explained" by some of the wittiest, smartest, funniest, and most famous people of our time. (Grunwald and Adler have been married since 1988, so they know something about making a marriage work and staying happy... even after working on a book together that's more than 500 pages long.)
And the people they excerpt in this book are on it. These people know some things about marriage, both from their successes and their failures, and eloquently share their knowledge. It quickly becomes clear that most relationship problems have been hanging around for decades, if not longer. Here are nine tips on how to have a happy marriage, which is really just a small sampling of all of the wonderful advice you can pull from The Marriage Book:
Admit When You're Wrong
Ogden Nash was a 20th century American poet wrote this catchy poem to help remember a basic rule of communication between a husband and wife (or husband and husband or wife and wife, whatever the case may be):
To keep your marriage brimming, With love in the loving cup,Whenever you're wrong admit it;Whenever you're right, shut up.
If you're wrong, that's fine. It happens. Just admit it and move on. The flip side of that is not to rub it in if you're right. Make it easier for your partner to be humble, and the marriage will be much easier, too.
Make Sure You Don't Run Out of Conversation Topics
Friedrich Nietzsche described marriage "as a long conversation.—When entering into a marriage one ought to ask oneself: do you believe you are going to enjoy talking with this woman up into your old age? Everything else in marriage is transitory, but most of the time you are together will be devoted to conversation." So make sure you can talk with each other if you want to make the marriage last.
Keep Some Mystery...
Roman poet Ovid was married three times and wrote "four popular volumes, all about love." He reminds the reader, "You must sometimes keep your lover begging and praying and threatening before your door. Sweet things are bad for us. Bitters are the best tonic for the jaded appetite... So shut the door and let your surly porter growl, 'There's no admittance here!' This will renew the slumbering fires of love." I wouldn't recommend employing this tactic regularly, but playing hard to get can sometimes be fun and rekindle those embers.
...But Know What to Expect
Nena and George O'Neill wrote a book Open Marriage: A New Life Style for Couplesback in 1972, arguing for "more communicative and flexible relationships, and room for individual experiences and growth," as Grunwald and Adler (another married couple who wrote a book about marriage) write. The O'Neills give a list of unrealistic expectations for marriage, which include "most important, that the person you marry can fulfill all your needs, economic, physical, sexual, intellectual and emotional." That is a myth. The person you marry cannot do all of that, so don't expect them to do all of that.
"Stand By Your Man" (or Woman)
Tammy Wynette was a 1960s Nashville superstar (who was married five times and wrote a song called "D-I-V-O-R-C-E") penned a wonderful song about sticking with your husband, though good times and bad with one simple refrain:
Sometimes it's hard to be a woman.Giving all your love to just one man.You'll have bad times and he'll have good times.Doin' things that you don't understand.But if you love him you'll forgive him,Even though he's hard to understand.And if you love him oh be proud of him,'Cause after all he's just a man.
Stand by your man...
Things happen, but marriage is a commitment, so do as Tammy says, and stand by your spouse through thick and thin.
Remind Your Partner That He or She Is Special
Paul Newman was asked in an interview with Playboy how he managed to stay married despite the temptations of being a famous Hollywood actor. Newman responded, "I know this is going to sound corny, but there's no reason to roam. I have steak at home; why should I go out for a hamburger?" Maybe comparing your partner to different cuts of red meat is a little gross, but the point is well taken. Don't forget to remind your spouse that he or she is a premium filet mignon in your eyes, and make his or her evening.
Remember That Passion Is Not Love
In an essay he submitted to the New Orleans Item-Tribune as part of a contest, William Faulkner smartly answered the question of "What is the matter with marriage?" The answer is pretty simple: "The first frenzy of passion, of intimacy of mind and body, is never love... If people would but remember that passion is a fire which burns itself out, but that love is a fuel which feeds its never-dying fire, there would be no unhappy marriages." Remember the difference between passion and love, and you'll be OK.
Don't Take Your Partner for Granted
Back in 1891, the Detroit Free Press doled out some advice for husbands (which could also be applied to wives, for the record). First and foremost? "Don't think your wife is a servant." Further down the list is, "Don't grumble at your wife and the work she does." Each spouse works hard to keep the relationship, the household, the finances working, so take some time to remember that you're both in it together, and create some harmony.
Remember You're an Individual Who Happens to Be Married
Austro-Hungarian poet Rainer Maria Rilke wrote in a letter to his friend, "A joint life for two people is an impossibility, and, where it seems to exist, it is a limitation, a reciprocal agreement which robs one or both partners of his or their fullest freedom and development." This FOMO isn't a reason to avoid married, because there are some beautifully unique things that come with that status and with sharing your life with another person, but never forget that it's your life. Getting married doesn't mean forgoing what you want to do all of the time, so be yourself! That's why your spouse fell in love with you in the first place. And you'll be much happier if you're doing what you really want.
Images: Fotolia; Giphy