The 'Grey's Anatomy' Cast Is Making Serious Cash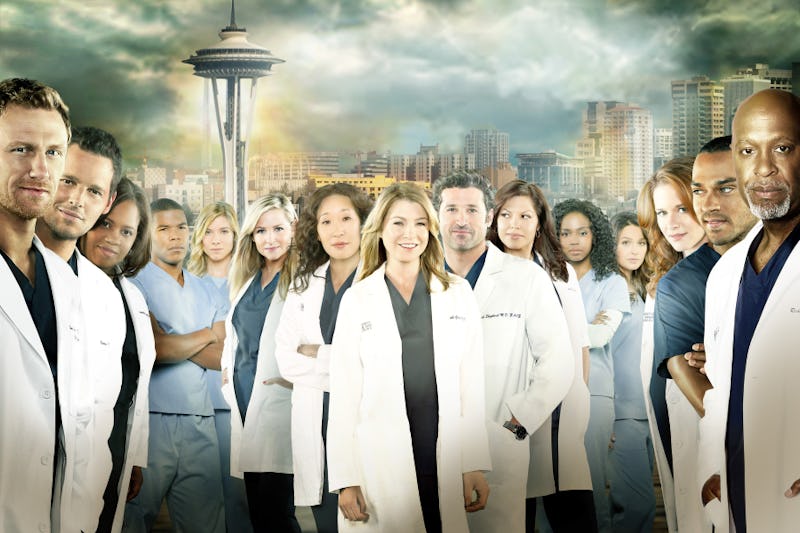 There are a lot of reasons I want to join the cast of Grey's Anatomy — like hanging out with Ellen Pompeo and her adorable children, giving Shonda Rhimes a piece of my mind about killing off every character I've ever loved, and seeing Jesse Williams walking around set shirtless on a regular basis, to name a few — but mostly, it's because of that sweet paycheck they must be getting. After 11 years of being one of the most popular dramas on TV, anyone on Grey's is probably being paid pretty well, right? After a little bit of research, I've discovered that the Grey's Anatomy cast's salaries are pretty hefty, though the paychecks definitely vary from actor to actor.
In fact, according to Time, Ellen Pompeo and Patrick Dempsey's salaries effectively made them two of the top five highest earning TV actors in 2013. And now, two years later, they're making even more, especially when you consider that a new contract negotiation has happened since then. The Hollywood Reporter said earlier this year that Dempsey's exit from the show would end up saving ABC nearly $10 million, since Dempsey was making $400,000 an episode when he left the show. I can't imagine Pompeo being paid any less, especially since Forbes listed her per-episode salary in 2013, so before those negotiations, at $350,00. Plus, the show is called GREY'S Anatomy.
As for the supporting cast? They make considerably less, though they pull in paychecks that we non-celebrities can only dream of. Recent numbers aren't available for anyone who isn't Pompeo or Dempsey, but in 2007 Wetpaint estimated that Justin Chambers, Chandra Wilson, and James Pickens, Jr. were making $125,000 an episode. If that number was correct, it's very likely that they've received raises at some point in the past eight years.
Oh, and just to put all of this in perspective, the past four seasons of Grey's Anatomy have each had 24 episodes, with previous seasons (besides the series' shortened first) ranging from 17 to 27 episodes. So yeah, that reported $125,000 per episode salary may have been less than the stars, but it was still pretty damn huge.
Moral of the story: Abandon your dreams and become a TV doctor. The pay is great and you don't have to spend years in medical school.
Images: Bob D'Amico/ABC; Giphy