The Gato Cafe Brings Cats & Coffee To 'Shark Tank'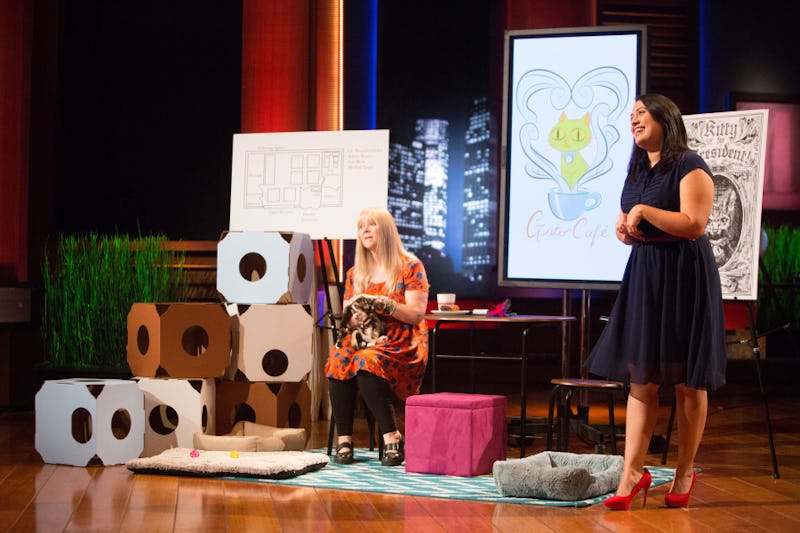 If you stuck around after last Friday's episode of Shark Tank and watched the promo for the Season 6 finale, you probably noticed one feisty woman in the teaser. That was Adriana Montano, and she will be presenting her Gato Cafe business on Shark Tank this week. This awesome business idea combined with what is sure to be an entertaining pitch makes me wish we could watch this episode of Shark Tank right meow.
Yes, you're remembering your 7th grade Spanish correctly. Gato Cafe does mean "Cat Cafe," and that is exactly the kind of clientele that will be hanging out at this establishment, along with some human visitors getting cozy with cappuccinos as well. While the Internet loves it some cats, I have a feeling that Adriana might be laughed right off of Shark Tank. Gato Cafe is somewhat of a novelty, and I think the sharks are too hard-hearted to be wooed by the sight of kitties.
However, the feline toilet training kit CitiKitty got an investment from former Shark Kevin Harrington and was expected to make $1 million in sales in 2011. Mark Cuban also made a deal with Steve Gadlin of I Want to Draw a Cat for You, which grossed more than $200,000 in its first year since appearing on the show.
Clearly, cats can be big business. Here are six reasons why Gato Cafe may actually have the last laugh.
1. It Will Be Florida's First Cat Cafe
Nothing is better than coffee and cats. Gato Cafe knows this, and that's why it has combined the two to create Florida's first cat cafe. That means you'll be able to get the fixings that you can find at any old coffee shop, like coffee, tea, and pre-packaged food, at Gato Cafe. However, instead of people cramming for finals and trying to pen the next great American novel around you, you'll be surrounded by cats. It's just like home, except for the fact that you'll be wearing pants.
2. It's For Your Entertainment — And A Good Cause
Yes, Gato Cafe is literally a dream come true, but it's not all about you. It's about the cats. Gato Cafe has partnered with the Broward County Humane Society to supply the cats for the cafe. The best part is that all of the cats will be up for adoption, so you can give these kitties great homes and all the love they deserve long after you've finished your latte.
3. You Can't Visit Gato Cafe Yet
Now that I have supplied this catnip, I bet you're dying to visit Gato Cafe now. Unfortunately, you can't. Gato Cafe isn't up and running just yet, although when it is, it will probably be located in Palm Beach County. In fact, it still needs funds to actually make it a reality, to the tune of $75,000, and it launched an Indiegogo campaign at the beginning of this month to do so. That also might be a sign that Gato Cafe did not strike a deal with the sharks, but since Gato Cafe doesn't even exist yet IRL, can you really blame them?
4. Gato Cafe Has Nine Lives
This isn't the first time that Adriana has attempted to make Gato Cafe a reality. Adriana seems to have originally tried to establish the coffee shop with her sister Andrea last year, but the business failed to get past the funding stage. Gato Cafe's first Indiegogo campaign only raised $1,210 of its $75,000 goal, so it still has a long way to go before it can serve up some java and snuggles. However, I wouldn't be surprised if Gato Cafe's appearance on Shark Tank helps it successfully fund its current Indiegogo campaign and bring it to life.
5. The Founders Are Cat People
For this incarnation of Gato Cafe, Adriana has partnered with her husband Michael to hopefully finally give birth to this business. Adriana and Michael are the proud owners of two senior cats named Cricket and Simon. Adriana, who is originally from Colombia, loves cats so much that she used to work for the national cat care and protection non-profit Alley Cat Allies. As for Michael, he's in the military, so it looks like Adriana might have to take the helm of Gato Cafe by herself at times. However, if the tiny bit of what we've seen of her appearance on Shark Tank is any indication, I'd say she's more than capable.
6. This Isn't The First Cat Cafe
Gato Cafe may be Florida's first cat cafe, but it's not the first cat cafe ever. You've probably heard about these establishments on the Internet during the past year. In fact, Adriana was inspired by the cat cafes of Japan and Europe to create one of her own in the United States. While you wait for Gato Cafe to open, you can also visit cat cafes in Oakland, Calif., New York, and Denver. Cat cafes are also opening up in Seattle, Washington, D.C., Toronto, and Sydney.
OK, Sharks. Cat cafes are officially a thing. I hope you're ready.
Images: Michael Desmond/ABC; Giphy (3); thetravelingkitty.com; Getty Images; sharktankgifs/Tumblr