Hilary Duff Talks Tinder In Her New "Sparks" Video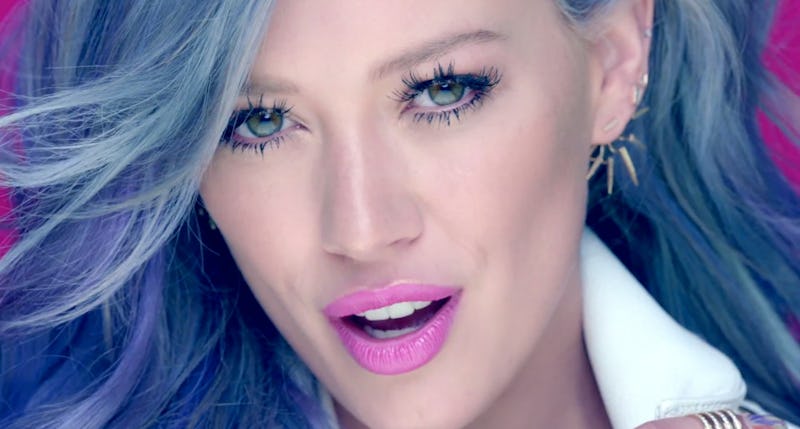 Oddly enough, music and choreography aren't the focus of Hilary Duff's new "Sparks" video — Tinder is. Yes, the Duffster is talking about the popular dating app once again, but it's not just a publicity stunt/perfect example of shameless product placement. Believe it or not, listening to the beautiful blue-haired triple threat open up about the current state of her love life might actually help you see "Sparks" in a whole new light, as more than just a disposable (but catchy) pop song. Well... maybe. At the very least, it gives the track's flirty lyrics some context. During her recent Valentine in the Morning radio show interview (which is featured in the "Sparks" clip), Duff explained her decision to give Tinder a try:
In my life, I've always had really serious boyfriends, I've always met people through work, and I've never been on a blind date. And so... what's the worst that could happen?
So, at this particular moment, Duff's just looking to have a little casual, romantical fun — that's what "Sparks" is all about, right? The beginning of the visual alternates between colorful scenes of Duff gettin' her groove on and scenes of her browsing Tinder with friends. Later, we're shown some footage from two of her recent dates. (TMZ reported earlier in May that Duff was filming her Tinder get-togethers.)
The singer says she wants "to know what it is to connect with someone, and what it is that gives you those 'sparks.'" As we watch her race around a go-kart track with one of her potential beaus (having the time of her life), she urges us to "go do something crazy, go do something you wouldn't do before." At this point, you've no doubt realized that the "Sparks" video is essentially a four-minute-long commercial for Tinder... but I think I'm OK with that. After all, it's waaay better than Duff's last video.
Can we talk about how Duff looks like the most gorgeous mermaid-alien I've ever seen in my whole entire life in the "Sparks" vid?
I'm weak.
That glitter collar!
Stunning. According to MTV, Duff's new album, Breathe In, Breathe Out , is set to arrive in June.
Images: HilaryDuffVEVO/YouTube (6); Alex Kritselis/Bustle