Free People Is Launching A Bridal Collection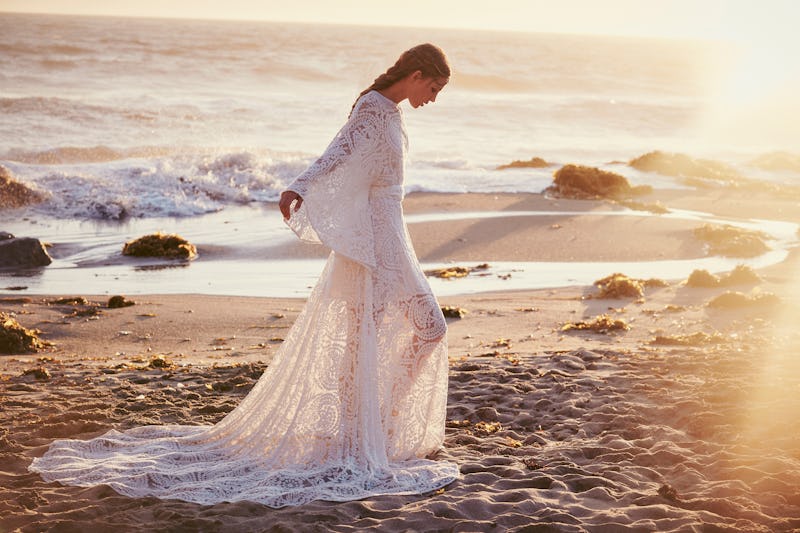 It's no secret that I love wedding planning— I've actually probably scared away my s/o after showing him my Pinterest board dedicated to the day, full of wedding dresses, garters, tiered cakes, and even a beer tap. And my "Wedding" board is about to get a whole new slew of ideas, because Free People's bridal collection "FPEverAfter" is set to launch on May 18. BRB, getting a whole new box of pins (it's a metaphor, get it?).
Free People is collaborating with Grace Loves Grace, plus a number of other artisan vendors. The collab will contain 15 styles, with some limited-edition gowns. And, unlike most wedding dresses, the price range won't break your budget—they will range from $700-$1,600.
According to their press release, the collection will feature "delicate halters, graceful strapless pieces, dramatic long-sleeve gowns, ethereal v- necks, and romantic off-the-shoulder styles alongside distinctive sets, one-pieces, and shorter wears." Materials will include lace and sheer, intricate beading, and details like "utilitarian pockets" and "elegant low backs." I see this collection for the unique bride, one who strays away from the norm and wants to add her own flair to her gown.
To promote the launch of their line, Free People is also hosting a wedding takeover on their blog, BLDG 25. The week of the 18th, the blog will feature wedding-themed posts, with a long list of ideas for hair and beauty, decor inspiration, a killer playlist, and DIY instructions that you can download. To top it all off, one couple has the chance to win a "one-of-a-kind handmade his and hers FPEverAfter inspired Free People denim jackets."
In my mind, you don't have to be a bride to enjoy this collection. What about prom, important celebrations, a gala, or even date night? In true Free People fashion, I expect the collection to fit into their bohemian-chic aesthetic and drift me off into dreamy wonderland. I can't wait!
Images: Courtesy of Free People