Trusst Is Building A Better Bra For Big Boobs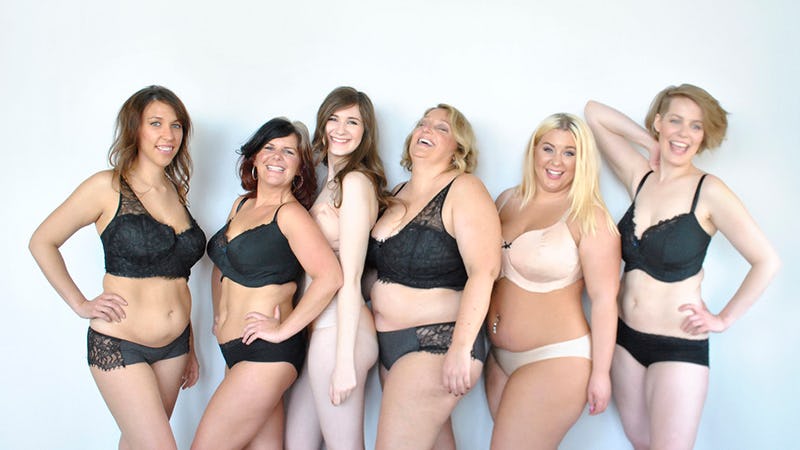 The women of Trusst Lingerie consider "underwire" a dirty word, so they decided to put their design and engineering skills toward building a better bra for bigger busted women. Why no one has done this before now is sort of a mystery to me. "I felt like I was on an eternal quest for something that didn't exist," says Trusst co-founder Laura West in an interview with Bustle. "But women don't really talk about bra problems." She and fellow co-founder Sophia Berman saw first-hand that there was a lack of comfortable, attractive options for large-busted women, so instead of continuing to settle for less-than-effective options in their undergarments, the Carnegie Mellon-trained designers decided to come up with a better design on their own.
Most bras use a basic shoulder strap design, with underwire in the cup, despite that being a notoriously uncomfortable experience for larger-busted women. Since the primary concern for Trusst was that bras relying on shoulder straps and underwire don't provide enough support and lift for heavier breasts, they decided to adapt the architectural engineering principle of a truss. A basic truss in the shape of a triangle provides support for a structure like a roof or a bridge from underneath, so it makes sense that it could do a great job supporting your girls as well. It's somewhat fitting that Trusst Lingerie was founded in Pittsburgh, a city which has more than 400 bridges.
Trusst currently has three prototype designs: The Marjory, the Suzanne and the Jessica — named for the cofounders' mothers — and the team uses 3D printing to work on and refine the design. For instance, on a recent afternoon at their studio in Pittsburgh, the Trusst team was working on refining the seam placement in their t-shirt bra design, to give it a smoother appearance.
As a big breasted lady, I was eager to donate to the Kickstarter, but not all women can identify with the problems of insufficient support from their bras, and men have no point of comparison at all. "That was really the hardest part, to get people who don't have this problem to understand how big a problem it is," Berman tells me. And, with the investment world heavily populated by men, the ladies at Trusst decided part of their campaign to change the way bras are made should include a little bit of education.
Their video "Melon Men" shows men trying on bras with melons in them, and experiencing the discomfort of standard bras for the first time from the wearer's point of view. The men quickly realize how hard it is to lug big melons around in a standard bras, making observations like "Why can't someone make this more comfortable?" and "I don't know how you women wear these things."
The response to Trusst's design idea, which is patent pending, gained the attention of a Pittsburgh-arae incubator program, which provided them seed funding and office space, as well as access to mentors and other resources. And after an appearance on the Today show, support for their $25,000 Kickstarter campaign has raised nearly triple its goal with just under a week to go.
Berman and West and product engineer Britta Ulm are preparing to distribute their product independently, and launch sometime in early 2016. They've become fierce advocates for their product and the problem they believe it solves, with active social media campaign around the hashtag #bigboobprobs. "My go-to dinner party conversation has changed," West said with a chuckle. But, Berman added, "We wouldn't want to put anything on other women that we wouldn't put on ourselves."
Images: Trusst Lingerie (5)