How To Dress Like Juliet Capulet Circa 1996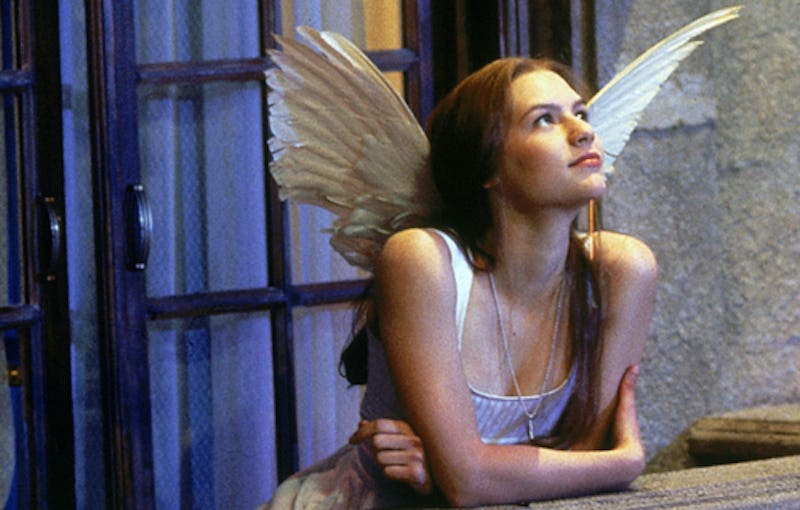 I was 12 when Baz Luhrmann's Romeo + Juliet came out in 1996. Though I hadn't quite gotten to my freshman year of high school (when I would study the character in Shakespeare's dramatic tragedy), I knew I wanted to dress like Juliet Capulet. I mean, who didn't want to be Claire Danes in the '90s?
Back then, when I was introduced to the classic love story, I wasn't actually that far in age from how old Juliet would have been in the play. Yes, that's a little scary to think about considering the whole idea behind Romeo and Juliet is all about an insane, impetuous love affair in which both parties end up killing themselves because they can't be together (in the physical world, anyway). Now that I'm adult, Juliet's actions in her young life are far from anything I want to emulate, but it was the portrayal of her from the movie featuring Danes that I still don't mind admitting captivated me.
The costume designers in Romeo + Juliet were able to dress the characters in a sort of timeless manner that crosses the decades, but there's still enough of that '90s appeal that has made its comeback recently to fascinate and inspire our wardrobes today.
Here are five items to channel the teenager you used to be and make yourself your own contemporary, adult version of the ever-ethereal '90s Juliet. You're still inspiring us, Claire!
1. The Angel Costume
Probably the most iconic look from Juliet in this movie, it's the outfit we first see her in and the outfit Romeo first spots her in at the elaborate party the Capulets host at their home. And it's presumably the outfit that makes him fall in love with her. Because, you know, clothes can do that in movies. But who wouldn't be in awe of those angel wings?! Though you probably won't be sporting wings as a part of your daily wear, you can still wear a dress that gives you this angelic vibe. I found a lovely, long, and flowing piece at H&M.
Beaded Chiffon Dress, $50, H&M
2. Juliet's Wedding Dress
Continuing her penchant for white dresses in this film, here's her halter top wedding dress from the movie. Although you're probably not going for a wedding look when replicating this style, you can still make the look work for a formal occasion or evening out. This particular piece from ModCloth is a little pricier, but hey, it's a special dress.
Austere Your Style Dress, $165, Modcloth
2. Boyfriend Tee
Yet again, we see Juliet in white waiting for her newly-wedded husband to return to her. She's comfortably lounging in an oversized white tee. You can get a baggy tee like this pretty much anywhere, and we all know how perfect they are for basically any non-formal occasion.
Boyfriend V Tee — Mossimo Supply Co, $9, Target
4. The Sailor Outfit
Cute as can be, you can channel this sailor/school girl look flawlessly as an adult in this ModCloth dress.
Savvy Sailor Dress, $70, Modcloth
5. The Pink Silk Top
Nothing says romantic and dainty like silk and pink. It's the perfect top for a Juliet-wannabe. Though the scene in which she's wearing this top isn't the most pleasant (since she's saying goodbye to her mother as she's about to take the potion, which will make her seem dead), it's still a lovely nod to the essence of the character. I found several in a search on Etsy, like this one.
Vintage Pink Satin Chinese Top, $22, Etsy
So go forth: Fall in love, channel Juliet, wear some gorgeous outfits, and re-write Shakespeare's ending.
Images: 20th Century FOX; Courtesy Brands