Getting A Season 2 Of 'black-ish' Is So Important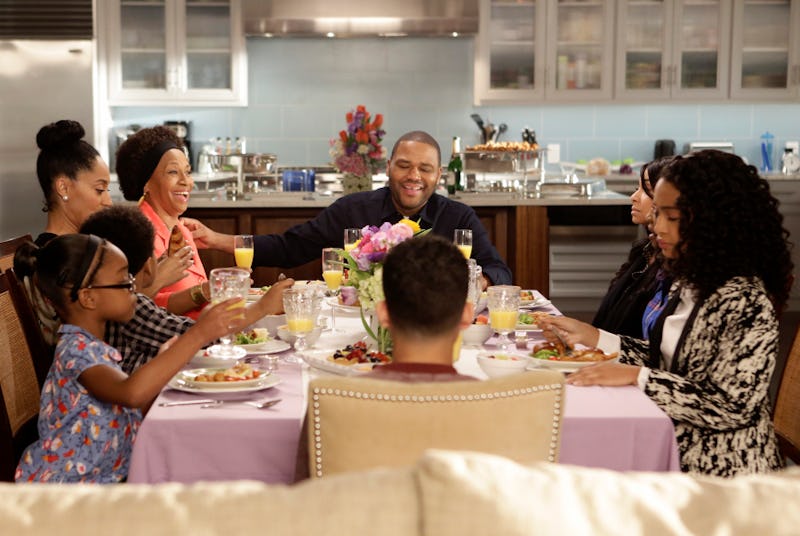 You just never know with comedies. Sometimes they come back, even if they're bad, and sometimes they get canceled even if they're thoroughly amusing. ABC makes me especially worried, since it's the network that canceled my beloved Trophy Wife, and I still haven't quite forgiven them for it (in case you couldn't tell). So, I was nervous for black-ish's renewal odds, considering it's another charming, family-oriented comedy. But my fears were unfounded: black-ish is officially coming back-ish! So, when will black-ish return for Season 2? I know it may seem like a little soon to start talking about the next season, but want to make sure the DVR is cleared and ready when it comes back. [UPDATE: ABC has announced that black-ish will premiere on Wednesday, Sep. 23 ]
Well, it looks like I'm not really going to have to change much. For Season 2, black-ish is staying put. ABC will bring it back in the fall. An exact date is TBD, but it will likely be around the end of September like the first season. It's also keeping its current time slot of Wednesdays at 9:30 EST. Modern Family will remain its lead-in, and it'll be followed by Nashville — as always. Once the summer is over, it'll be like nothing has really changed. You just have to endure the passage of time.
I'm thrilled with the show's renewal, and I wish more people would talk about Black-ish's success. When ABC's hits are touted, they usually come from Shondaland. And yes, the network is adding another Shonda Rhimes drama, The Catch, to its Thursday lineup, which grabbed a lot of headlines. But there have been a few outlets that recognize that Ms. Rhimes isn't the only one to do well there. "Though [ABC is] still expected to round out the year in third place among the coveted 18-49 demo, chief Paul Lee can claim newcomers Black-ish and How to Get Away With Murder as hits, and he is no longer being knocked for the network's inability to produce a solid comedy block," The Hollywood Reporter notes.
It's about time somebody gave the comedies some love, because I'm afraid they're going to disappear from networks altogether if they don't. Just look at NBC. The network, which was once famous for its Must See TV comedies (Friends! Seinfeld!), doesn't have a single comedy on Thursday nights for the first time in 35 years. Yikes! As someone who loves mixing in lighthearted, low-commitment shows with shows that require a slavish devotion (aka most hourlong serialized dramas), this is a bad sign for me.
I hope Black-ish reverses the trend, and we start getting more laughs on the schedule again come this fall.
Image: Nicole Wilder/ABC; Giphy (2)