The Prettiest Homemade Face Mask Ever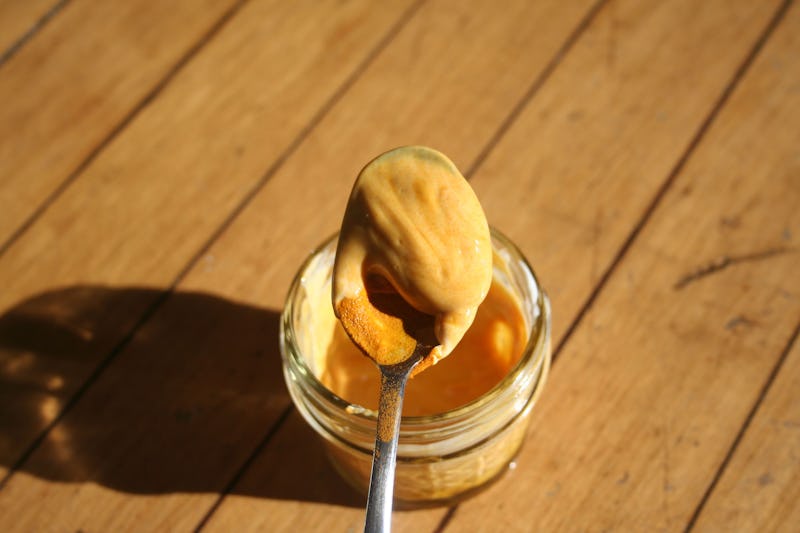 My obsession with turmeric began in tea form. One of my favorite cooking blogs, 101 Cookbooks, posted an intriguing recipe for "turmeric tea" that featured only four ingredients: raw honey, turmeric, lemon, and black pepper. The tea was designed to keep down inflammation in the body, which is something I'm all about, so I went out and bought a jar of turmeric. From there, it was only a matter of time before I was on the prowl for other ways to use the earthy, bright yellow powder.
Turns out you can use it on your face, too. In fact, turmeric has been showing up in facial masks for centuries, and still plays an important role in Indian weddings. It's one of the most beautifying things you can put on your face, and not that beauty is skin deep, but show me an all-natural way to be wrinkle-free forever and I'm yours.
I've been making this mask about twice a week for the past few weeks and I am loving it. I know this sounds intangible, but it really does brighten up your complexion. Take it from the girl who accidentally drank too much punch on a work night and woke up with skin about as lively as Dracula's. This mask works. And let's not underestimate the power of pretty face masks, either, because this one is sunshine-yellow.
The mask is composed of only three ingredients, but each one is a skincare workhorse.
Yogurt: The lactic acid in yogurt dissolves dead skin cells, exfoliates skin, and helps to decrease wrinkles, while the zinc takes care of acne. And it's gentle and smooth enough that it won't dry out your skin.
Honey: ...is basically your skin's soulmate. I've written about using honey on your face before, but suffice it to say that it's antibacterial, anti-acne, moisturizing, super soothing, and anti-aging.
And then there's turmeric: Most of the spice's benefits come from curcumin, which gives turmeric its gorgeous yellow color. Curcumin is antioxidant, anti-inflammatory, antiviral, antibacterial, and antifungal. Translation? It helps with acne, anti-aging, skin brightening, and inflammation.
Put the three of them together, and you have a soothing, brightening mask that prevents acne and wrinkles. In other words, facial nirvana.
No need to stress about measurements here; I went with a heaping spoonful of yogurt and about a teaspoon of both turmeric and honey. Mix everything together to get that gorgeous yellow color.
Pull your hair back, make sure you're wearing an old shirt, and smooth the mask all over your face. Leave on for 30 minutes, or until the mask grows tight, then wash off with warm water. If your skin is looking a little yellow, just gently scrub the color off with a washcloth. It's not permanent, I swear.
Oh, and in case you don't believe me when I say that this mask is the color of your dreams and your future kitchen walls, here's what it looks like in real life:
I'm not about to go to the grocery store with this thing on, but it's just sunny enough to make my day that much better.