Sorry, Fans Of This CBS Show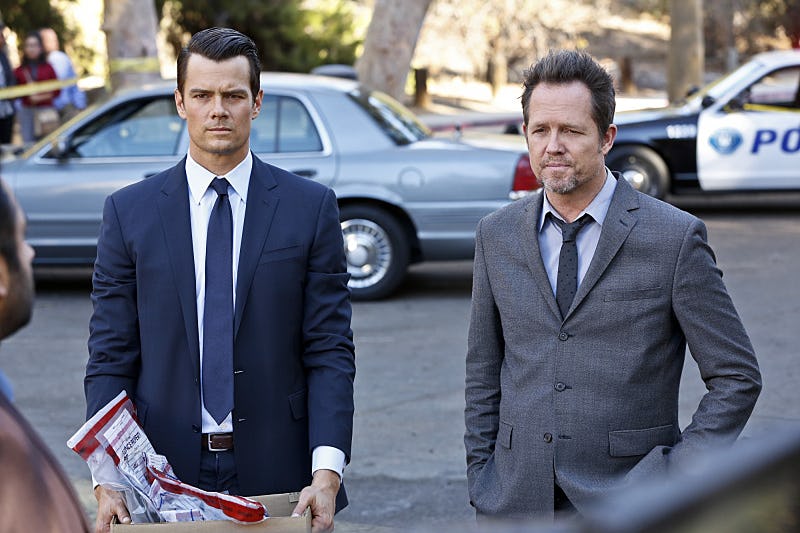 Everyone has that show that they've been meaning to check out, but just don't get around to it. For me, it was Battle Creek. I mean, I love show creator Vince Gilligan because of Breaking Bad (obviously), and I respect his co-creator David Shore because I put in some time with House (though I admit I didn't stick it through to the end because the formula got too tiring). I'm not sure if there was just too much else going on (Mad Men!) or if other shows were scratching my procedural itch (Elementary!), but it completely slipped through the cracks. Should I catch up, or will those efforts not be rewarded? Is CBS renewing Battle Creek for a second season?
Looks like I'm not going to need to check the rerun schedule: CBS has announced that it is canceling Battle Creek . Well, maybe "canceling" is too harsh a word The show is going to finish out its first season, and then it's just going to slip away into the Michigan wilderness. It's not going to return in the fall or anytime after that. If you're a Battle Creek fan, this is where you'll want to break out the tissues.
What's going in its place? Why, another show about law enforcement, of course! Starting in the fall, the Sunday 10 p.m. time slot is going to be taken over by CSI: Cyber. While that may be a bummer for Battle Creek fans, it does mean that the ladies are pretty much taking over CBS Sundays. The schedule will be: Madam Secretary at 8 p.m., The Good Wife at 9 p.m., and CSI: Cyber at 10, which stars Patricia Arquette, a women's hero for all the speaking out she does about wage equality. (Keep it up, Arquette! I love you!)
The girl-power streak rolls into Monday with CBS' new Supergirl series. CBS used to have a reputation as kind of an old-fogey network, but now it looks like it's trying to steal women viewers away from ABC. The more networks compete for a female audience, the more we win.
While that is exciting, it's not exactly helpful to people who really just want to watch TV created by David Shore and Vince Gilligan, like I did. What do they have going on? Shore is apparently working on Sneaky Pete — which, sadly, has no connection to Breaking Bad's Skinny Pete, despite other Breaking Bad connections.
According to The A.V. Club, Giovanni Ribisi will star in Sneaky Pete , which will pair Breaking Bad star Bryan Cranston and Shore behind the scenes as producers. "The show follows a con man who, upon his release from prison, steals the identity of his cellmate to hide out from everyone to whom he owes money," the website explains. Hmmm, that might be worth a shot. But I won't get my hopes up yet: According to The Hollywood Reporter, CBS passed on the show, and there's no word on whether or not it can find a home elsewhere. (Hello? Netflix?)
As for Gilligan, in addition to continuing with Better Caul Saul, he's switching to film. Deadline notes that Disney acquired Beanstalk, Gilligan's "revisionist take" on the Jack and the Beanstalk fable. How that'll differ from Jack the Giant Slayer, Bryan Singer's revisionist take on the Jack and the Beanstalk fable (that I've watched a million times because they kept rerunning it on HBO, and also because of Nicholas Hoult and Ewan McGregor), remains to be seen.
Images: Robert Voets/CBS (2); Giphy (2); ghostfring/Tumblr (2)