More 'Doctor Who' 50th Goodness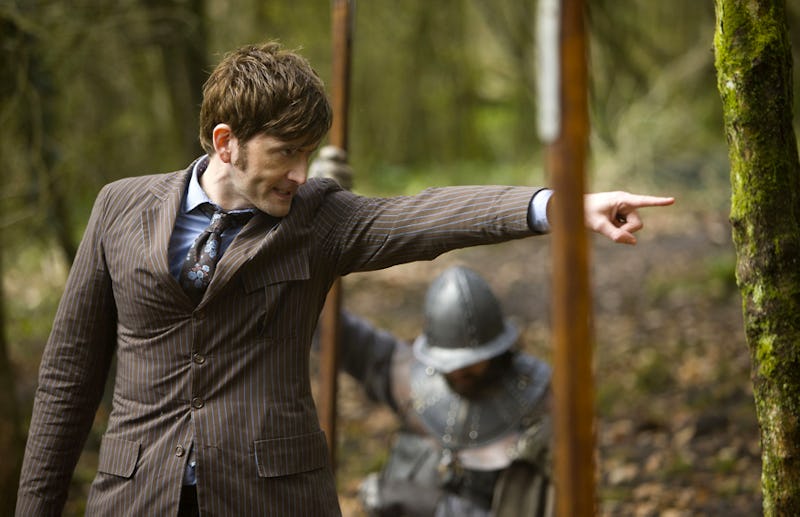 The Doctor Who 50th anniversary special is fast approaching. Fast approaching as in it's actually going to be a thing that happens in a couple of weeks. David Tennant and Billie Piper will be palling around with Matt Smith and Jenna Louise-Coleman and whenever we try to picture this our brains make this loud whirring noise and an error message pops up because we must be dreaming. But now we've got photographic evidence! Kind of. Rather, we have some official BBC photos of David Tennant in Day of the Doctor , as well as Matt Smith and some others.
But David Tennant! As Ten! In his pinstriped suit and with that intent Doctor look on his face! Are we dreaming?! We know we've seen teases of him reprising his role already, but really, we're gonna be freaking out about it until (well after) the credits roll on the episode itself. Ten!
Also pictured: Matt Smith and his annoyingly good hair and his bow tie and his bone structure, standing in front of a girl in a very notable scarf. Also a lady in some fancy Elizabethan garb, being talked to by Tennant.
Doctor Who showrunner Steven Moffat has been going around in all his Moffatness talking about what we can expect from the episode. He's called it "exciting and terrifying," and saying that "this should be the next step on the journey, guaranteeing the 100th anniversary." Boy howdy that's a lotta years from now, so it must be big.
Here's the official synopsis for those who need reminding:
In 2013, something terrible is awakening in London's National Gallery; in 1562, a murderous plot is afoot in Elizabethan England; and somewhere in space an ancient battle reaches its devastating conclusion. All of reality is at stake as the Doctor's own dangerous past comes back to haunt him.
The photos can be seen below (and one above), and another trailer is set to be released on Saturday, so we will see you then for extended squealing.
Images: BBC