When Will 'Law & Order: SVU' Return?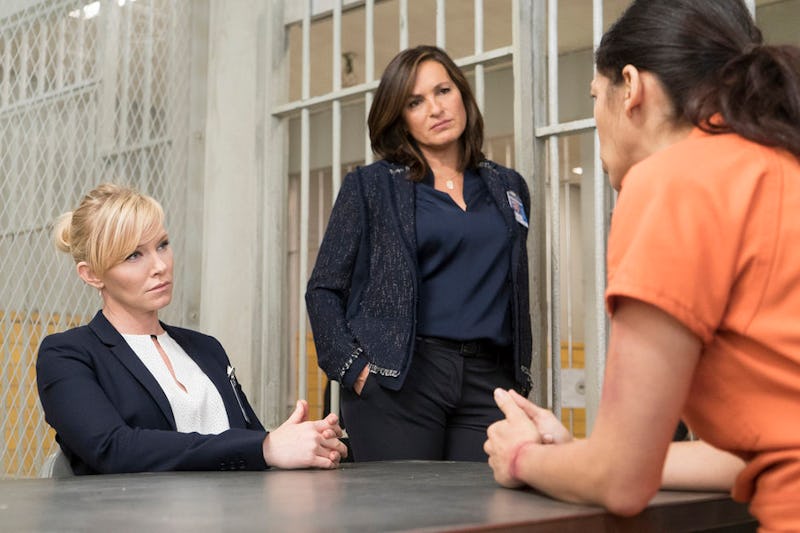 NBC's Law & Order: Special Victims Unit is promising one hell of a Season 16 finale on Wednesday night. Detective Olivia Benson (played by Mariska Hargitay) may be forced to surrender her precious foster child to a sex trafficker — and it gets worse. There will be deaths (yup, multiple). Knowing that, it's going to be hard waiting for Law & Order: Special Victims Unit Season 17 when it comes back in the fall. NBC hasn't announced an exact return date for the beloved cops and lawyers drama series, but the show has already started filming Season 17 in New York City, putting it on track to premiere in late September, just like the past 13 seasons. If the show follows its previous pattern, the most likely return date is Wednesday, Sept. 23, which promises to bring another intense season.
"What will be very compelling going into next season is how the shooting and those deaths (yes, there's more than one) change the course of every life involved," Hargitay told E! Online. And Benson will have to deal with those emotions while solving some of New York's most disturbing crimes. Law & Order: SVU is famous for its ripped-from-the-headlines stories and next season should not disappoint. When discussing Season 17 with Variety, showrunner Warren Leight said, "The world keeps evolving, and there are a lot of dark areas that we need to look at."
So what topics might SVU take on in Season 17? Here are a few of my guesses.
A Deadly Dating App
Young men and women who are users of a fictional dating app start disappearing — and it turns out to be an inside job.
A Celebrity's Brilliant Lawyer Wife
Amal Clooney has been teaching at Columbia Law School and that got me thinking about how L&O can give its signature treatment to one of the hottest couples in Hollywood. Let's say the police need to call in an expert humans rights lawyer to help with a case. Her hunky Hollywood hubby is supportive, but is revealed to know more about the case than he first let on.
An Optical Illusion Dress
Sure, this one might be a little silly, but it could happen. The Dress dominated headlines for awhile and perhaps it'll make an appearance in a case — in either of its forms.
Images: Michael Parmelee/NBC; Giphy (3)