9 Memoirs That Will Keep You Laughing From Memorial Day to Labor Day (And Beyond)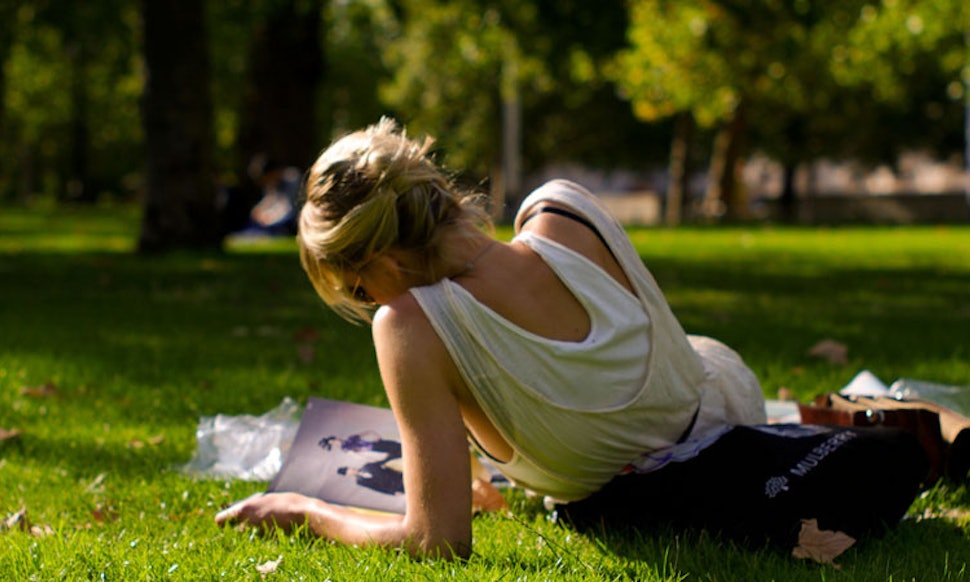 This summer promises to be a great one, especially when it comes to books. There are more releases between Memorial and Labor Day than most of us can even begin to keep up with. Luckily, summer is the best time of the year when it comes to reading (although winter is a close second). 'Tis the season for vacations, so you'll have plenty of time to escape into some of your favorite literature.
If you're looking for something to keep you entertained during a long flight, to make you laugh out loud at the beach, or just something you can share with your book club this summer, a funny memoir will never let you down (something Amy Poehler, Tina Fey, and Mindy Kaling have more than proven). There's definitely no shortage of funny nonfiction this summer, either. Whether you're still missing your favorite Parks and Recreation stars — and trust me, I'm right there with you — or you just can't get enough of your favorite YouTubers, there's something here for everyone.
So, as you kick off your summer, drink in hand and plane tickets booked, grab one of these 9 books, and get ready to spend the summer soaking up the sun with a book by your side.
Image: ulikleafar/flickr
'You Deserve a Drink: Boozy Misadventures and Tales of Debauchery' by Mamrie Hart
You do deserve a drink. You work hard, enjoy your summer! Mamrie Hart (with a forward by YouTube favorite Grace Helbig!) has hilarious tales of her own well-deserved drinking and more with this May release that comes just in time for beach and summer drinking and laughs! (May 26; Plume)
'Gumption' by Nick Offerman
If you're missing your favorite Parks and Recreation mentor, but you've already read Paddle Your Own Canoe, have no fear. Nick Offerman is back and better than ever with Gumption. He has "More Words!" sure to be full of the trademark Nick Offerman insight and snark, and maybe even a little bit of inspiration. (May 26; Dutton)
'I, Justine: An Analog Memoir' by Justine Ezarik
Justine Ezarik is best known for her YouTube channel, iJustine, where she's gained more than 3 million subscribers, beginning with her classic "30 Page Phone Bill" video. There's no doubt that I, Justine is sure to be a fast hit among readers and YouTube fans alike. (June 2; Keywords)
'Modern Romance' by Aziz Ansari
In case Aziz Ansari's Netflix special and Nick Offerman's Gumption aren't enough to fill the void that Parks and Rec left behind, Modern Romance is here for you. Aziz Ansari's look into modern romance in the age of Tinder promises to be full of Ansari's one-liners, and well worth treating yourself to this summer. (June 16; Penguin Press)
'Sick in the Head: Conversations About Life and Comedy' by Judd Apatow
The writer of some of the biggest comedies around took some time and sat down for a chat with major comedy icons, including my personal favorite Jerry Seinfeld, along with Lena Dunham, Jon Stewart, and countless others. The collection is packed full of big name comedians, and is practically guaranteed to deliver some of the summer's best funny conversations. (June 16; Random House)
'Self-Help' by Miranda Sings
I'm not saying it's impossible to keep your laughing stifled when it comes to Miranda Sings… but show me someone who doesn't burst out in LOLs, and I will show you a liar. Am I the only one who hopes Self Help has some tips on lipstick application? No? Good. (July 21; Gallery)
'You're Never Weird on the Internet' by Felicia Day
Felicia Day's You're Never Weird on the Internet wraps up a summer full of wonderful memoirs in the best way possible. Funny, insightful, and Geek Queen Felicia Day offers readers and YouTubers alike a hilarious read and fabulous end to the paryting. (Aug 11; Touchstone)
'Furiously Happy' by Jenny Lawson
Bonus: OK, these books come out after Labor Day… but who's keeping score? Summer might end, but the laughter doesn't have to!
I have one question: Who can really walk past a cover like this one and not stop to take a look? I'm going to guess no one. Lawson's debut, Let's Pretend This Never Happened, which spawned from her much-beloved The Blogess blog, was hilarious (and not to mention wildly popular). If this summer is proving one thing, it's that the Internet and the book world are becoming one. (Sept 22; Flatiron)
'Why Not Me' by Mindy Kaling
Mindy's first book, Is Everyone Hanging Out Without Me?, was such a hit that I'm already dying for this to be out. Why Not Me? isn't out until the end of September, so when you're mourning the loss of summer, just remember: Mindy will have you feeling better in no time. (Sept 29; Crown)