Rebel Wilson's Rumored New BF Does It All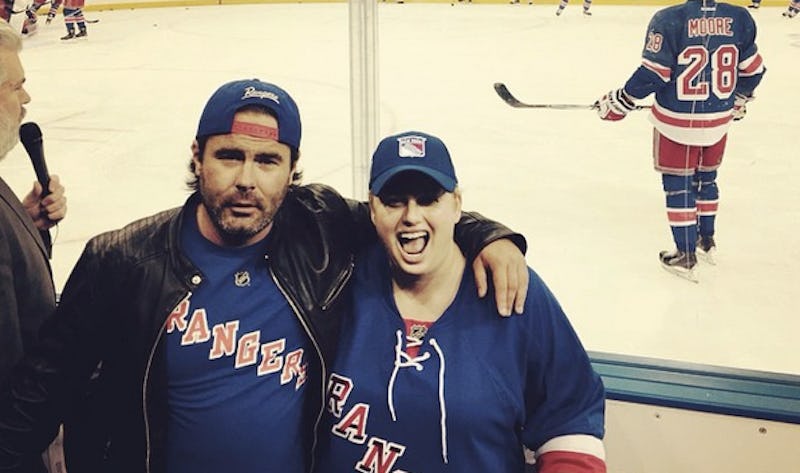 When I heard that Pitch Perfect 2 actress and comedian Rebel Wilson had been spotted all over town being all cute with an actor and comedian named Mickey Gooch Jr., my first thought was: yay, good for her! But my second thought was: wait, who?! Gooch is a fellow actor and comedian and, when you hear more about his accomplishments and life, you'll swoon because he sounds pretty darn (pitch) perfect for Wilson.
Gooch, 29, was born in New Jersey to dad Michael "Mickey Gooch" Sr., who owned The Two River Times, and Diane Gooch, the newspaper's publisher and a 2010 Republican candidate for the U.S. House of Representatives. For many years, Gooch says he struggled with drug and alcohol addiction but, instead of burying his past, he and his mom co-hosted a web radio talk show called, "Radio Lifeboat With DG & Mickey Gooch," in which he spoke candidly about his addiction and invited addiction counselors and medical professions to visit the show in the hopes that they would reach out and touch people who needed help.
Gooch = refreshingly honest. Wilson = refreshing honest. So far, so good.
We know Wilson is a triple threat (actress, writer, and producer) and her new love both shares her ability to multitask and considers sketch comedy one of his first loves. He discovered his fondness for art as a child, when he took up both photography and oil painting. After realizing he wanted to be an actor, Gooch was cast in several short films and films you may not have heard of (his most famous is probably In the Name of God, starring Eric Roberts). Instead of waiting around to be cast in high-budget flicks, he took matters into his own hands and began filming scripted comedies with a team of actors. The shorts are called "Skit Bags," produced by Skit Bags Entertainment, and have received some attention on You Tube.
Here's one that pokes fun at the mafia:
Gooch is a devoted sports fan and attended a Rangers game with Wilson:
He's (possibly?) a Republican:
And he's really cute, isn't he? Although I'm going to need him to remove pics like this one from his Instagram ASAP — though, they could be buddies, for all I know:
OK, I approve of the Gooch! And I look forward to using that nickname as much as possible in future stories.
Image: MickeyGooch /Instagram