5 High-Fashion Plus-Size Designers for Fancy, Quality Clothes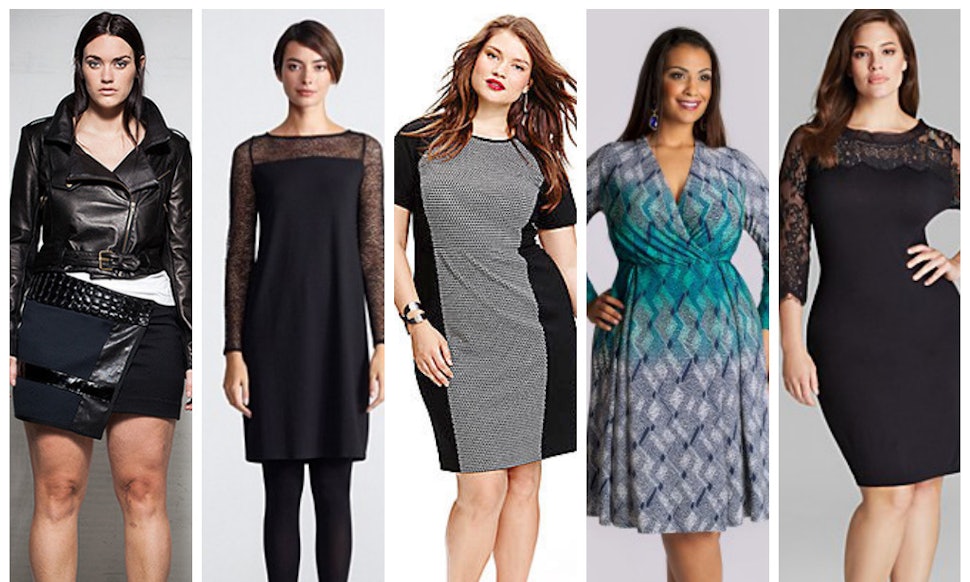 I didn't get into fashion until I moved to New York for college five years ago, but when I did, I really got into it. Any money I made, I saved in the hopes of purchasing an absurdly beautiful (absurdly expensive) dress by Alexander McQueen or Chloe. I would browse saks.com for hours on end, making shopping carts and wishlists, totally oblivious to the fact that everything I so loved didn't love me back.
Most of the brands I was coveting back then maxed out at size 12 or a solitary L. And with time, I've grown to accept that a lot of those designers just don't want to go plus. Personally, I'm not holding my breath for the day Chanel or Saint Laurent decide to make all their clothes in sizes 12 and up. But that's not to say that I think high-fashion and plus-size have to be mutually exclusive.
Maybe the world of haute couture has yet to embrace our curves (as I so sadly discovered at 18, on 5th Avenue in Manhattan), but not all hope is lost. There are plenty of incredible designers who not only have sizes 12 and up, but pride themselves in producing remarkable plus-size apparel of high-quality and high-style. Here are five doing just that.
Lala Belle
I recently discovered Lala Belle thanks to plus-size fashion blogger Gabifresh, who featured their amazing patent leather and crocodile trim skirt on her site. Inspired by high-fashion, Australian designer Charina Warne wanted to create super-glamorous, trendy, and sexy apparel for plus-size women, who she felt were very much neglected in that category of fashion. And she certainly did.
Neoprene Crocodile Skirt, $329, Lalabelle
Lala Belle
Black Sequin Gown, $590, Lalabelle
Lala Belle
Metallic Tee, $90, Lalabelle
Lala Belle
Leather Cropped Jacket, $869, Lalabelle
Eileen Fisher
Eileen Fisher is a pretty lovely example of "less is more." Simple yet classy. Her designs are traditionally flattering, but that doesn't stop them from making a statement.
Viscose Jersey with Recycled Polyester Dress, $278, Eileen Fisher
Eileen Fisher
Short Kimono Jacket in Lightweight Boiled Wool, $298, Eileen Fisher
Eileen Fisher
Bateau Neck 3/4-Sleeve Box-Top in Velvet Burnout, $268, Eileen Fisher
Eileen Fisher
Cozy Viscose Stretch Jersey Dress, $276, Eileen Fisher
Vince Camuto
Vince Camuto has something for every woman. But because their shoes are so flippin' amazing, we often forget they do apparel. And sometimes we even forget they do plus-size apparel, too. VC keeps with modern trends while preserving a kind of Jackie O '60s class to all its fashion.
Short-Sleeve Dot Printed Suiting Dress, $164, Lord and Taylor
Vince Camuto
Short-Sleeve Chevron Dress, $174, Bloomingdales
Vince Camuto
Falling Sequins Short Sleeve Blouse, $164, Bloomingdales
Vince Camuto
Animal Print Three Quarter Sleeve Wrap Top, $69, Bloomingdales
Igigi
Yuliya Raquel of Igigi is all about making "flattering" designer clothes with a twist. She follows traditional, structural styles designed to highlight the fuller figure in a classy way, while adding a modern twist with her patterns and cuts. She's evokes a Marilyn Monroe sensibility.
Hanna Plus-Size Coat in Navy Blue, $275, Igigi
Igigi
Cadence Plus-Size Dress in Teal, $112, igigi
Igigi
Monroe Pants in Midnight Blue, $82, igigi
Igigi
Kandinsky Plus-Size Gown, $325, igigi
Marina Rinaldi
Italian brand Marina Rinaldi is hot right now. Its Women Are Back campaign brought together plus-size beauties from around the world to celebrate curves and high-end fashion. You can tell they really believe in the beauty in the big, and just have to love them for it.
Poesia Quilted Coat with Velvet Detail, $880, Bloomingdales
Marina Rinaldi
Gattino Knit Dress with Lace Sleeve, $420, Bloomingdales
Marina Rinaldi
Ravel Long Pants, $206, Bloomingdales
Marina Rinaldi
Virtuale Top, $185, Bloomingdales