What's Coming To Netflix In June?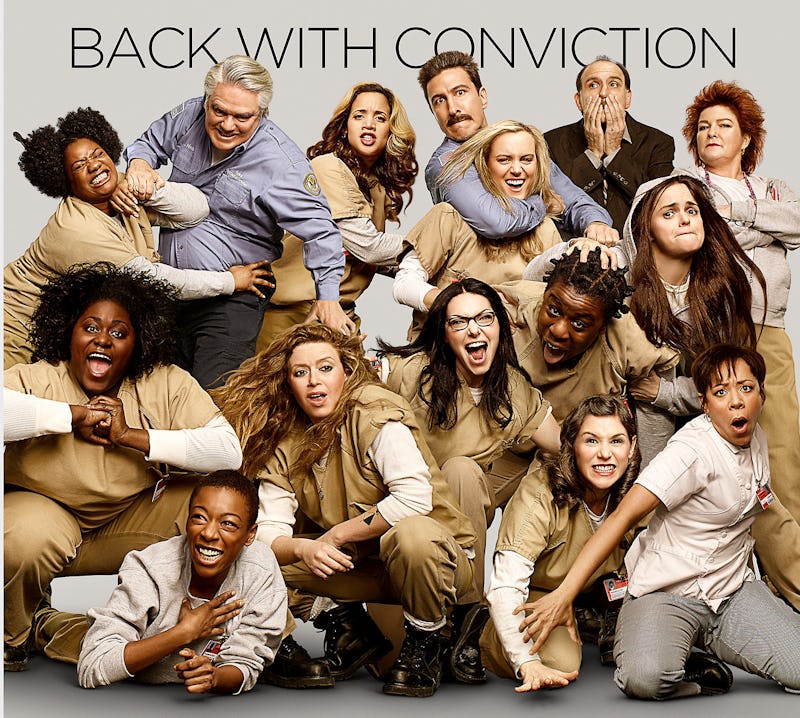 The folks at Netflix obviously know that they are in for some steep competition as summer approaches, and, as a result, the movies and television shows coming to Netflix in June certainly aren't slacking in terms of quality. The third season of Orange Is the New Black is premiering in June, and Marvel lovers can also rejoice. Those who have been feeling withdrawals since Avengers: Age of Ultron hit the big screens can catch up on Marvel's Agents of S.H.I.E.L.D: Season 2. Also on deck is the highly-anticipated Netflix documentary about the life of legendary recording artist, Nina Simone. What Happened, Miss Simone? uses rare concert footage, interviews, diaries, and letters to paint an intimate picture of the music icon and Civil Rights activist.
Netflix has always been loyal to me, especially when I got the flu this past winter. Even after I recovered, I would make my way home through the frigid NYC winds, and hibernate in the luxurious confines of my bed with my beloved Netflix. Though the days are getting longer, and the weather has warmed considerably, we mustn't abandon the very thing that got us through those treacherous winter days and rainy spring afternoons. Take a look at some of the highlights from what's coming to Netflix in June below, and then keep reading for the full list.
Orange Is the New Black, Season 3 (June 12)
I know all of you OITNB obsessives have been waiting with baited breath to be reunited with the ladies of Litchfield prison. Well, the wait is nearly over, and the third season of the Emmy award nominated series is almost here.
What Happen, Miss Simone? (June 26)
Her music is legendary and timeless. And, yet, like many musicians her, life was not always easy. Despite the fact that Nina Simone was a world renowned artist, she also had to contend with the turmoil and upheaval of the Civil Rights movement. This highly anticipated Netflix original documentary will shine light on an artist whose music we could never forget.
Marvel's Agents of S.H.I.E.L.D., Season 2 (June 11)
Marvel addicts, don't fret. You might have to wait until July for Ant-Man's release, but Netflix is making sure you can get completely caught up with Marvel's Agents of S.H.I.E.L.D before then. This addictive series is known to incorporate things from the films.
Cake (June 20)
Here is a chance to see Jennifer Aniston in a way that she's never been seen before. In Cake, Aniston plays Claire, a woman dealing with both crippling pain and insurmountable loss. Anna Kendrick also stars in this gripping drama.
Rosewater (June 10)
Written and directed by Jon Stewart, Rosewater is a stunning film about BBC journalist Maziar Bahari, who returned to his native Iran to cover the the 2009 elections. After smuggling footage back to the BBC, Bahari was kidnapped, interrogated and tortured for 118 days.
Beyond the Lights (June 24)
Gina Prince-Bythewood, director of the cult classic, Love & Basketball, brings us a love story for the 21st century. Gugu Mbatha-Raw (Belle) plays Noni, a superstar struggling with the consequences of fame. Overwhelmed, she attempts suicide, only to be saved by Kaz, a policeman assigned to her security detail. Minnie Driver is also amazing as Noni's mother, Macy.
The Full List:
June 3:
The Best of Me (2014)Hector and the Search for Happiness (2014)
June 5:
Sense8: Season 1
June 6:
On the Road (2012)
June 7:
Words and Pictures (2013)
June 8:
Grace of Monaco (2014)
June 9:
Free the Nipple (2014)It's Tough Being Loved by Jerks (2008)
June 10:
Nightcrawler (2014)Pretty Little Liars: Season 5Rosewater (2014)
June 11:
The Legend (1993)The Legend 2 (1993)Marvel's Agents of S.H.I.E.L.D.: Season 2
June 12:
Champs (2015)The Cobbler (2014)Life of Crime (2013)Orange Is the New Black: Season 3
June 13:
Antarctica: A Year on Ice (2013)Scandal: Season 4Transformers: Age of Extinction (2014)
June 15:
Bindi's Bootcamp: Season 1Danger Mouse: Season 1-10Pussy Riot: A Punk Prayer (2013)Really Me: Season 1-2Rodney Carrington: Laughter's Good Team Toon: Season 1Wizards vs. Aliens: Season 1-3
June 16:
Backstreet Boys: Show 'Em What You're Made Of (2015)Curious George (2006)Lee Daniels' The Butler (2013)Two Days, One Night (2014)
June 17:
Heartland: Season 6Point and Shoot (2014)
June 19:
A Most Wanted Man (2014)Some Assembly Required (2012)
June 20:
Cake (2014)
June 23:
Advantageous (2015)
June 24:
Beyond the Lights (2014)
June 25:
Ballet 422 (2014)
June 26:
Dragons: Race to the Edge: Season 1Katy Perry: The Prismatic World Tour (2015)What Happened, Miss Simone? (2015)Young & Hungry: Season 2
June 27:
The Reluctant Fundamentalist (2012)
Image: Netflix