9 Honeymoon Destinations That Are So Hot Right Now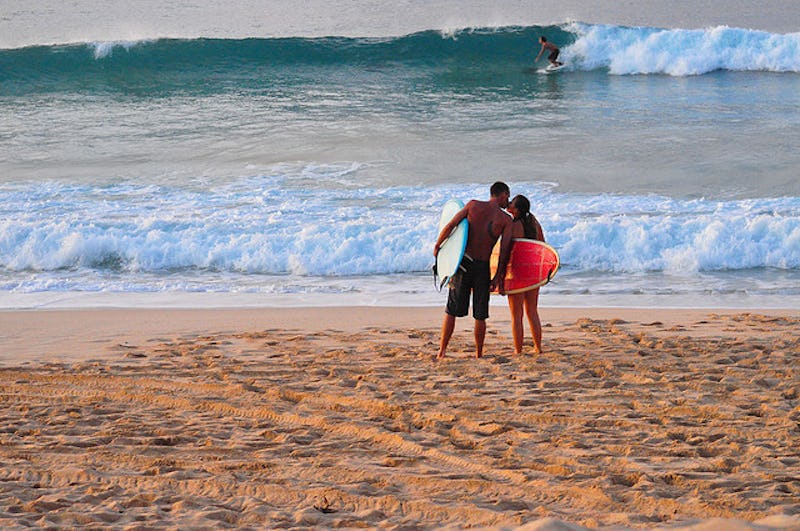 For many people, planning the honeymoon is even more exciting than planning the wedding. While weddings become a sea of confusion — who will sit with whom, finding the perfect dress, trying to please everyone without mortgaging your future home — honeymoons are the gift with purchase, the special reward for you and your honey after all the wedding hysteria has finally ebbed. You have succeeded your trials, you are finally married, and now, you can celebrate. So, what are some of the best honeymoon destinations around the world?
But that's not to say a lot of planning doesn't go into the honeymoon as well. In fact, the idea is to put enough work into the planning process that you can just sit back and enjoy once you get there. A big part of this is doing your research and finding those special details that make it special — for both of you! That means a lot of reading reviews, asking around, and making sure you are doing something you will never forget, but hopefully something that you will also not never pay off!
If you have found your common ground, and know where you want to go, and how to spend your time once you've arrived, you are ahead of the curve. Now sit back, have your beachside cocktail, and enjoy!
1. Italy
"With a strong US Dollar, Italy abounds with affordable luxury accommodations throughout the peninsula. There are many special offers available for travel in the summer and fall. Some suggested areas to visit, Piemonte, Tuscany, Puglia, the Amalfi Coast and Sicily," says Leo Locke, President of Donna Franca tours.
A beautiful spot to honeymoon is the Grand Hotel Tremezzo in Lake Como, Italy. The family-owned hotel is one of Lake's historic resorts, a five-star lakeside property that provides unparalleled views of Bellagio and the stunning Gringe mountains. Or, hit up Bologna and visit Palazzo Di Varignana, a quintessential 17th-century Tuscan country residence elegantly set in 30 hectares of parkland overlooking the hills of Varignana with spectacular views of the infinite horizon as far as the Adriatic Riviera and the foothills of the Alps.
2. New Orleans
Whether your passion is ghost tours, historical streets, or drinking and feasting your way along Bourbon Street, New Orleans is a destination with endless options to savor. Aside from being named a top U.S. romantic destination, the city offers an ideal backdrop for a romantic honeymoon destination featuring a European feel without the cost of traveling abroad. New Orleans is a city where romance abounds all year round. With temperate weather, an authentic and mysterious French Quarter, and the best restaurants and hotels anywhere, New Orleans should top couples' lists when considering honeymoon destinations.
Dancing, dining and romance on the Steamboat Natchez or the Creole Queen. Take a day trip outside New Orleans — just 20 miles away —and go back to the1800s with a historic demonstration at Destrehan Plantation, relish in the lavish and intricate paintings and antique collections of San Francisco Plantation, indulge in the delectable pecan pralines of Oak Alley Plantation or journey back to see the authentically preserved servant quarters, rare steam gin and the inner workings of Frogmore Plantation and Gins' cotton operations. While in New Orleans, there's tons of great places to stay. The International House boutique hotel is located within blocks of the quarter yet on the other side of Canal, so you may actually get a quiet night's sleep. While there, check out their romantic candlelit bar, Loa.
3. Curaçao
Only about a 2.5 flight from Miami or 4.5 hours direct from New York, Curaçao is bustling, yet largely undiscovered island in the Dutch Caribbean that's a great option for honeymooners looking to escape the crowds for much less money than the surrounding nearby islands like Aruba. The island has over 35 beautiful cove-like beaches ideal for snorkeling and diving, adventure options like hiking the island's rugged, mountainous terrain or going ATVing, stunning European architecture, as well as plenty of options for authentic and eclectic food as well as plenty of nightlife to enjoy. Curaçao often has the perception that it's much more expensive than it really is. For instance, some of the top hotels on the island like Avila and Santa Barbara Beach & Golf Resort average under $200 per night.
4. Napa
Plenty of wine tasting, luxury lodging, entertainment, shopping and restaurants are all within walking distance from one another. Park your car and leave it for your stay, it makes for the perfect opportunity to enjoy a moonlit walk along the Napa's Riverfront after a decadent supper. Enjoy a little extra romance with one of the popular romance packages at downtown's premier hotels and bed & breakfast options; there are even hot air balloon rides. Not only is it one of the romantic and beautiful locations in the world,with rolling hillsides, endless vineyards, top-rated restaurants and wineries, etc, but it is also affordable!
For example, the Napa River Inn, overlooking the Napa River, with shops and restaurants and a spa just steps away. Rooms are generally in the $200-300 range, depending on the time of year. That includes breakfast in bed, roses, a bottle of champagne, and access to a concierge who can recommend all kinds of romantic options, such as having a picnic in a vineyard, free wine tastings, a couples massage at the spa, paddle board yoga down the Napa River, local cool restaurants, access wine caves, and more.
5. Oahu
*In comparison to other areas in Hawaii, Oahu is the most affordable. With numerous beautiful beaches to test out and hiking trails that will provide you with stunning views, Oahu is a wonderful honeymoon option. With Honolulu close by, you and your new spouse will be able to tour the beautiful capital of Hawaii as well as get a dose of nature. One very affordable hotel to keep in mind is the Pacific Beach Hotel which offers incredible pricing for a stunning location. Also, take a look at Vive Hotel Waikiki, as it is very affordable for a location rightin Honolulu," says Aviva Samuels, Destination Wedding Planner based in Palm Beach, Florida.
Waikiki is the epicenter of hospitality on Oahu and a center of activity. Couples can enjoy a romantic honeymoon and unwind in the gentle waves of Waikiki. Guests can take a surfing lesson or canoe ride off Waikiki beach, take photos in front of the Duke Kahanamoku Statue, or shop along the main strips of Kalakaua and Kuhio Avenues. At night, newlyweds can experience Hawaiian regional cuisine, experience their first luau or listen to some live Hawaiian music. Plus, you're just a car ride away from some of Oahu's most popular attractions, including Pearl Harbor, Hanauma Bay Nature Preserve and the King Kamehameha Statue.The Hyatt Place Waikiki Beach is located near the slopes of Diamond Head and just a three minute walk to the golden sands of Waikiki Beach. Room rates start at $200 per night during the summer months, making it a surprisingly affordable stay.
6. Greece
Greece, long associated with love via the goddess Aphrodite, is a gorgeous and historical destination for a honeymoon. An icon of hospitality in Greece's Mani region, Hotel Citta dei Nicliani is located about four hours south of Athens by car. The area is known for wild almost otherworldly topography, and Citta sits as the perfect base to explore this area. Owned and operated by the Sepsas family, the matriarch, Tania, is the genius behind the interior design, while her son Panagiotis, manages the property, along with his enviable wine collection, which perfectly pairs with his father's inventive take on traditional regional cuisine.
7. Puerto Rico
"With gorgeous beaches equipped with white sand and blue water, Puerto Rico is a great honeymoon destination. There are beautiful parks and landmarks to visit while you are there, including the San Juan National Historic Site and the El Yunque Rain Forest. There is so much entertainment in Puerto Rico that it will seem like one week is not enough time to spend there. Posada Hotel Colonial is a wonderful option, as it is within walking distance of great restaurants, shopping experiences and museums and even better, it is super affordable. The Parador Costa del Mar is perfect if you are looking for a quiet and tranquil hotel stay with a view of the ocean and stunning landscape and it too is very reasonably priced," says Samuels. Another surprisingly affordable spot is the The Wyndham Grand Rio Mar Beach Resort & Spa, just rolled out its "Summer is Easy" sale, with rates starting at $149 nightly (a savings of up to 45%) on bookings now through December 22, 2015. The package includes a VIP value card and a F&B credit of up to $150, depending on duration of stay.
8. Jamaica
"The area has numerous stunning waterfalls that are a must-see for all visitors, including Blue Hole and Reach Falls. In addition, you and your honey will fall in love with the beaches and bays of Jamaica, as they are absolutely beautiful and exactly what you would expect to see while visiting a tropical locale. With tropical temperatures at an average high of 85 degrees daily, Jamaica is a beautiful honeymoon destination during any month of the year," says Samuels. White Sands Negril is a fabulous option to stay while honeymooning, as it is located right on the beach and is an extremely affordable yet intimate resort in comparison with others in the nearby area, The affordable Xtabi Resort is a unique hotel to stay at because the garden-view rooms are situated on a cliff-side with nearby grottos and shallow reefs, says Samuels. Another great pick is the Trident Hotel in Port Antonio, Once the hotbed of 1960's Hollywood jet set, The Trident Hotel was renovated and features 13 studios, one- and, two-bedroom villas with private, plunge pools and terraces overlooking the sea.
9. St. Maarten
Whether your interests bring you to the French or the Dutch side, there's a whole lot to love about this Caribbean island. It offers an exotic feel but the comforts of the American dollar and language being widely used, and despite the expansive resorts, is surprisingly affordable. Whether your honeymoon calls for frolicking on the nude beaches (yes, you'll find a few on the French side!), enjoying the casinos and nightlife, or just relaxing while indulging in endless shopping and dining options, you'll find it here. This island is only about 40 miles long, but boasts two nations and endless cultures and nationalities. A great option to stay is the luxury all-inclusive Sonesta Ocean Point resort, on the Dutch side of the island. With butler suite options and way more upscale food than you'd expect to find at an all-inclusive, it's an affordable way to take all the legwork out of your honeymoon once you touch ground.
Images: halfthinkery/Flickr; tridentportantonio.com, wyndhamriomar.com, cittadeinicliani.com, palazzodivarignana.com, santabarbararesortcuracao.com, ihhotel.com, napariverinn.com, pacificbeachhotel.com, sonesta.com