International Vogue Magazines Inspire Your Weekend To-Do List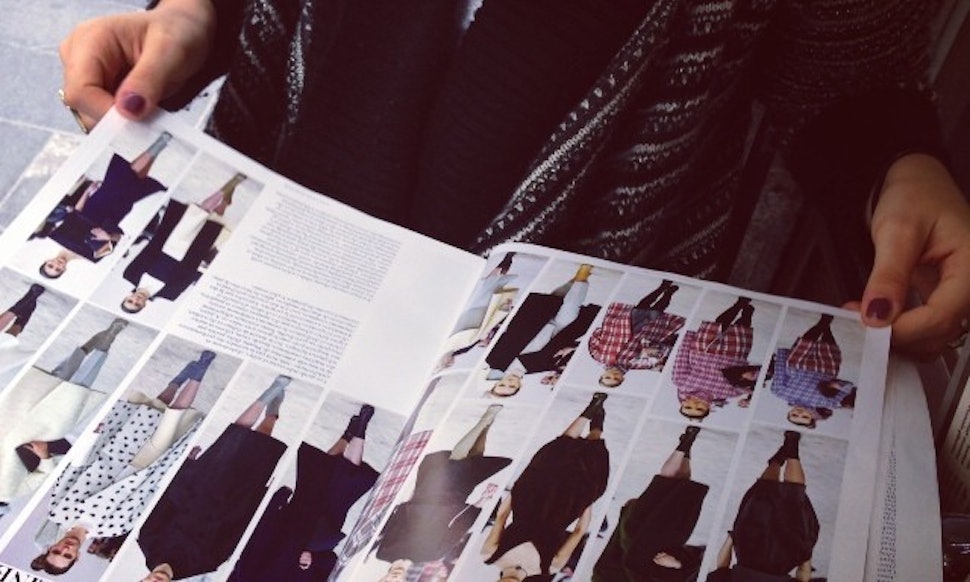 What to do this weekend? You could get drinks at that one bar again... you could wear your little black dress, but you'll need to wash it first... sigh.
When I'm uninspired, I find it's always a good idea to crack open the magazine that Carrie Bradshaw once claimed "fed her" more than real food: Vogue. And not just the original Vogue, but all of its other national and regional editions, like Vogue Brasil, Vogue Thailand, and the euphoric Vogue Australia. A quick trip over to each Vogue's Instagram account provides color and innovation for days, and what month cries out for inspiration more than November? (Maybe February. Point taken.)
Whether you scroll through these photos while wrapped in a blanket, or actually get out there and do something about the gray skies, remember that the only way to do November wrong is to sulk through it. And Vogue just can't have that.
Image: @ula_leban/Instagram
Clash with your hair
Somewhere, somehow, someone probably told this gorgeous girl that redheads shouldn't wear yellow. Or pink lipstick. Thankfully, she ignored them, and the result is an electric fusion between colors that seem thrillingly forbidden.
Image: @vogueaustralia/Instagram
Get started on that creative project
Whether it's plunging ahead on your NaNoWriMo novel or getting the world's sickest manicure, weekends are the time for ignoring the fact that you have a 9 to 5 and dedicating yourself, at least temporarily, to becoming the crazed creative bird of paradise that you know you are.
Image: @voguethailand/Instagram
Minimalize your space
Weekends are for parties, but they're also for serious nesting. And nothing looks better than minimalism (well, except maybe full-fludged maximalism — see next slide).
P.S. Flowers in November? It's necessary for the soul.
Image: @voguemexico/Instagram
Dress for the weather...or not
Some nights, it's all about the puffy vest, the knit scarf, and the heat-generating gloves. But on certain nights, it's all about channeling the Milky Way. We'd completely understand if you chose a jacket like this (and the accompanying cold-reddened nose) over something more practical.
Image: @vogueturkiye/Instagram
Offer to babysit
Everyone parent can use an unexpected break now and then. Also, you'll get to play dress-up — one of life's great joys.
Image: @voguebrasil/Instagram
Mix your lipsticks
If you're sick of all your lip colors, but working a tight budget, try layering different configurations of lipstick, liner, and gloss until you come up with a brand new shade. Who knows? It might become your signature look.
Image: @voguemagazine/Instagram
Escape to the rainforest
One of the most surreal things you can experience during the colder months is the muggy, overgrown plant life of a greenhouse. Walking from the dry November air outside into the tropical heat and over-saturated green is like an out-of-body experience. It's the second-best thing to time traveling.
Image: @british_vogue/Instagram
Pumpkin everything
Chances are you'll be eating pumpkin pie in a few weeks, so it's time to begin training. Pumpkin cheesecake? Pumpkin soup? Pumpkin crème brûlée? You'll need to sample everything pumpkin-flavored that your city has to offer — it's that serious.
Image: @voguemagazine/Instagram