Who Plays Alfred Hitchcock in 'Grace of Monaco?'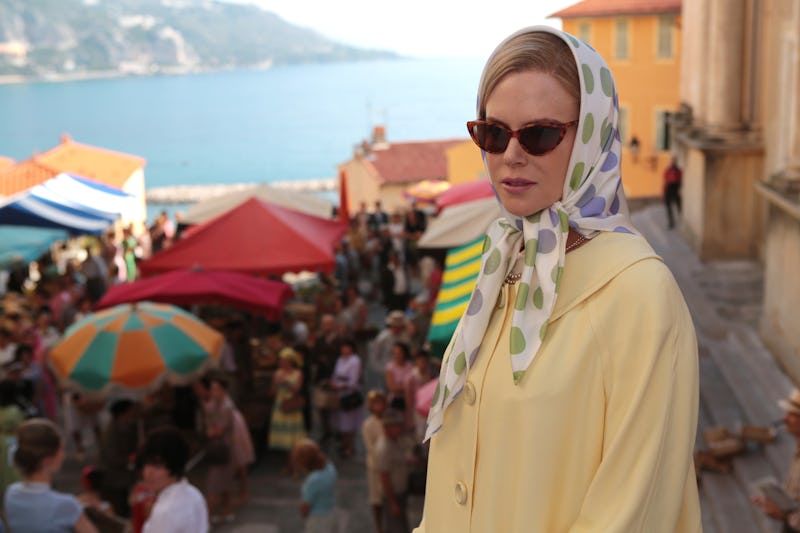 The opening line of the Grace of Monaco trailer that automatically plays on Lifetime's main page for the film comes from Nicole Kidman as Grace Kelly: "I feel I made a mistake. Everything I do or say is wrong." It's a bleak quote that truly sets the tone for the movie, as we watch Kelly struggle to adapt to her new life as a royal in Monaco. As we quickly see in the movie, one of the mistakes Kelly is concerned with is a role in the movie Marnie. Because of the classic film's relevancy to the plot, we get to see Alfred Hitchcock in Grace of Monaco. Well, we actually get to see Roger Ashton-Griffiths as the legendary director, but still, it's pretty exciting.
Ashton-Griffiths is a well known English character actor, the type everyone has seen in something. When you come across a photo of him, you likely recognize him as an old-timey doctor or a priest, the latter of which I can remember him playing in at least three films, including one of his earliest credits, Terry Gilliam's 1985 movie Brazil. Since then, Ashton-Griffiths has gone on to play roles alongside pretty much every single one of Britain's great actors (half of whom now star alongside him in Game of Thrones, as well). In addition to being a trained opera singer and theater actor, perhaps the best thing about Ashton-Griffiths is his habit of almost exclusively posting images of statues and sculptures' hindquarters on his Twitter. Of course, he's also been in film or two, so here's what you might have seen him in before he was trying to lure Kelly back to Hollywood on Lifetime.
The Happiest Man In Westeros
Ashton-Griffiths plays Mace Tyrell on Game of Thrones, bottom man on the small council totem pole and purveyor of dad jokes. He's also pretty much the only guy in Westeros who doesn't know the world is absolutely terrible. He's just happy to think he's being taken seriously as the Tyrell patriarch, and Ashton-Griffiths plays him perfectly puffed up and clueless. Perhaps that's because, as he said in an interview with Dawn, when he first began filming the show, he had never read the books and knew nothing of his character. Ashton-Griffiths was expecting some sort of breakdown once he got to set, but when that didn't come, he just winged it. Thank goodness — he may be more hapless than book-Mace, but that guys is the best.
When Woody Comes Calling
In 2010, Ashton-Griffiths starred in Woody Allen's You Will Meet a Tall Dark Stranger as... not a tall dark stranger. Rather, he was an occult bookstore-owning stranger who becomes the love interest of the female lead (Gemma Jones), ultimately conducting a seance to get a clean slate with his deceased wife in order to be with her.
An Old Bishop
Probably one of the more formative films of my youth, and the reason Ashton-Griffiths is permanently a man of the cloth in my mind, A Knight's Tale features the actor in all his earnestness as an "Old Bishop" who tells Jocelyn (Shannyn Sossamon) in a memorable scene to pray that God may take her beauty so she may worship Him better. She... sort of agrees.
Gangs Of New York
In 2002, Ashton-Griffiths hit Scorsese-levels of acting, playing the real-life founder of Barnum & Bailey Circus in the fictionalized historical drama, Gangs of New York. Even with all these roles under his acting belt, Ashton-Griffiths told Dawn that while he's "had a very privileged career... [he's] always managed to maintain a fairly anonymous profile," but that's changed a bit with the addition of Game of Thrones to his resume.
Fans can only hope Grace of Monaco will lead to more Ashton-Griffiths on our screens, even if it does mean he's not long for the Westeros world... but really, who is?
Image: Lifetime