8 Free Memorial Day Activities To Do In NYC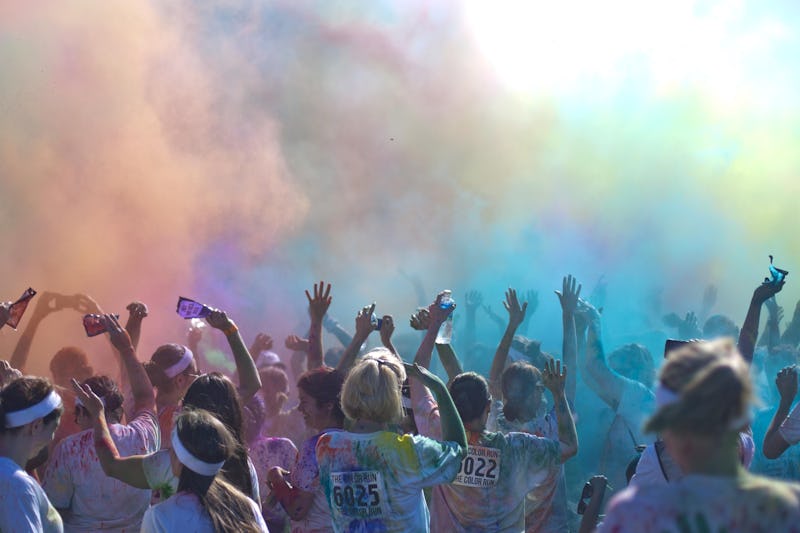 New York City is expensive, but it doesn't have to be — at least on Memorial Day weekend. These free NYC Memorial Day activities will get you out and about in the city without having to spend a single penny. Amazing, right? Right.
Whether you're looking for a Memorial Day-related event, or are interested in simply exploring this beautiful and beloved city, this list of freebies should come in handy all weekend long. Memorial Day weekend signals the beginning of summer, and even if the official start of the season isn't quite here yet (2015's first day of summer will be June 21), that doesn't mean you can't start acting like it is.
Embrace the comfortable weather, strap on your sandals, and start delving into all that New York City has to offer. If you're paying an arm and a leg for rent, you might as well be getting the most out of the city that you can. It's surprising (and exciting) how many free events you can get away with attending over this weekend on the beaches, islands, parks, and downtown areas of Queens, Brooklyn, and Manhattan — and it's time to take advantage! Now go grab your day planner, and start penciling in events, ASAP.
1. Governors Island Family Festival
If you've never been to Governors Island, you need to make a visit, stat. The island reopens this Saturday, May 23, kicking off with the 11th annual Family Festival on Sunday, May 24th. Explore the island, take your kids to the festival, and enjoy the spectacular view of downtown Manhattan at the water's edge. Ferries to the island are free at 10 a.m., 11 a.m., and 11:30 a.m. over the weekend from Manhattan, as well as at 11 a.m. and 11:30 a.m. from Brooklyn.
2. Memorial Day in Prospect Park
There's never really a bad day to visit Prospect Park during the springtime, so pack up your blanket and some snacks to enjoy while laying out on Long Meadow. On Monday, May 25, Prospect Park will also be allowing kids to ride the carousel, plant potatoes, and feed animals at the Audubon Center from 12 p.m. to 5 p.m.
3. Color Run 5K
It's too late to sign up (and it's not free to run), but it is still free to watch the Color Run 5K. And really, with a color run, it's totally worth standing on the sidelines. Bring your camera and dress in all white — it's going to be like Holi, but in Queens and with a whole lot of runners amping up the energy. Held at Citi Field on Saturday, May 23, get there before 9 a.m. to witness the "Happiest 5k on the Planet."
4. Brooklyn War Memorial Honors
Cadman Plaza Park in Brooklyn will be hosting the first ever Brooklyn War Memorial Honors this year on Sunday, May 24 at 10:30 a.m. Commemorating the end of WWII on its 70th anniversary, this special event will begin with a 5K run and continue with an award ceremony celebrating a number of Brooklyn's own veterans. The United Sates Air Force Honor Guard and the United States Navy Ceremonial Band will be making appearances as well.
5. Green-Wood Cemetery Annual Memorial Day Concert
The Green-Wood Cemetery annual Memorial Day concert will be featuring the ISO Symphonic Band this year, sponsoring young and talented students from the NYC area. The concert itself is free, you only need to register for a ticket online (again, free) to ensure your entry.
6. NYC Public Beaches
New York City's public beaches officially open this Saturday, May 23. With 14 miles of combined beachfront, there's plenty of space to share for sunbathing New Yorkers. In particular, Queens' Rockaway Beach is one of the best.
7. Fleet Week
NYC's Fleet Week has already officially begun and runs through Tuesday, May 26, making this weekend the perfect time to check it out. Ship touring, multiple concerts, and live aviation demos are all part of the weeklong event, and best of all, they're all free!
8. LES Annual Lower East Side Festival of the Arts
This Pulitzer prize-winning Festival of the Arts in Manhattan's Lower East Side takes place Friday, Saturday, and Sunday, May 22 through May 24, and it's 100 percent free. With theater, dance, music, comedy, and films filling this artistic event's schedule, everyone is bound to find something they're interested in while attending.
Images: maxwell arnold, gigi_nyc, Adam Kuban, Scooter Lowrimore, Douglas Palmer, lostinbrooklyn, Eden, Janine and Jim, MarineCorps NewYork, Ken/Flickr