The Best Moments From The 'Black Mass' Trailer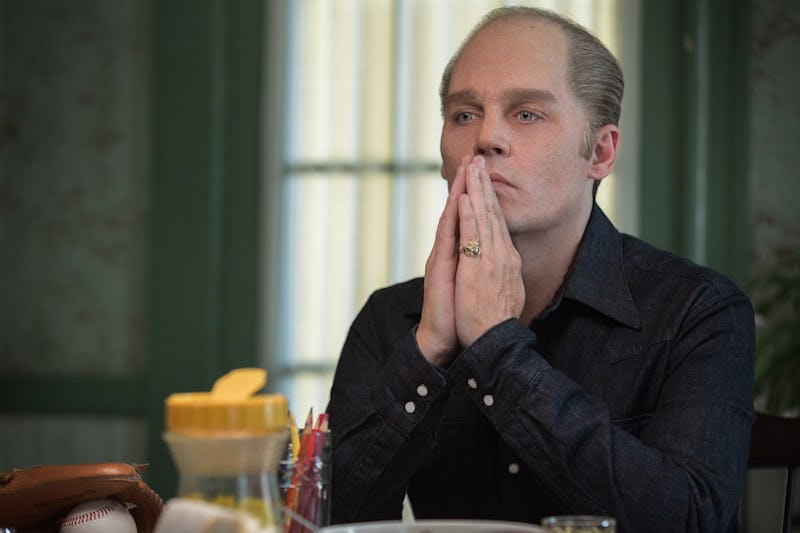 Johnny Depp is undoubtedly one of Hollywood's most prolific actors, with a career spanning more than 30 years and over 70 film and TV projects. The characters he's played have run the gamut from a dude with scissors for hands to a cheeky pirate and we've loved every second of it, but I think it's safe to say that Depp has never played a character quite like Whitey Bulger in the new movie Black Mass, the trailer for which was released this week.
If you're not familiar with Whitey Bulger, he was the brother of Massachusetts senator and also one of the most violent criminals in Boston's history, who eventually teamed up with the FBI just to get back at a Mafia family that was invading on his turf. Needless to say, this deal didn't turn out quite like either party planned, and Black Mass follows Bulger's escapades during that decade, which included racketeering, drug dealing, murder, and more. Yikes!
Black Mass isn't a straight biopic, of course, and certainly plenty of elements are likely to be added for cinematic effect, but from the look of the first trailer, it's going to be good. If you like a good gritty crime drama like I do, you'll probably be looking forward to the September 18th release date like I am.
To get you psyched for its release, here are some of the best moments from the Black Mass trailer.
The First Time You See Johnny Depp's Makeover
I mean, WHAT? This is insane, and I love it. I'm sure the makeup artists will get nominated some awards for this masterpiece work.
When You Realize That Whitey Bulger Meant Business
You learn early on in the trailer that Whitey Bulger is probably not someone whose bad side you want to get on, like, ever. If you do, it won't end well — that much is guaranteed.
When You Actually Start To Feal A Little Bit Scared Of Him
When you think about the fact that Whitey Bulger was a real criminal who would snuff you out for the slightest transgression, it gets you (okay, it gets me) thinking about how that's probably going on somewhere in the world today and it's a little bit terrifying.
When You Recognize Adam Scott, Despite The Mustache
Adam Scott is an awesome, underrated actor, so it's always great to see him in movies. He looks to be playing someone on the opposite side of the law than Whitey, so this could end badly.
When Benedict Cumberbatch Shows Up, Because He Can Only Make Things Better
Seriously, when has Benedict Cumberbatch done anything but improve a movie/TV show? I rest my case.
When Whitey Kills Yet Another Person, And Now You're Freaking Out A Bit
I mean, I know he's a violent criminal and all, but he also seems to be a bit of a loose cannon, which is never a good combination.
When You See The Most Chilling Part Of The Entire Trailer
Sorry, but maniacal laughter is worse than anything else ever. NOPE.
To watch the full Black Mass trailer and scare yourself silly, press play below.
Images: Cross Creek Pictures; Cross Creek Pictures/YouTube (7)