'Mr. Robot' Tackles Dark Truths About Society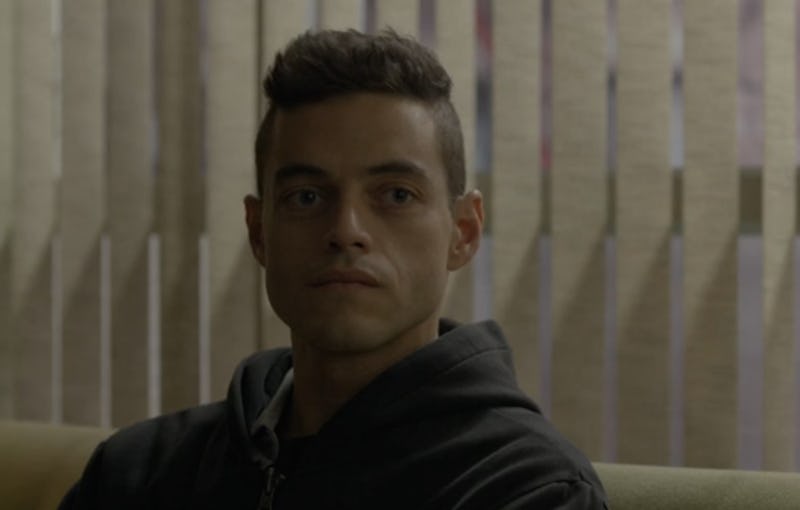 USA Network is really killing it with its scripted fare in recent years. From the award-winning Monk, to the hilarious Psych, brilliant Suits, entertaining Sirens, and the awesome White Collar, USA is finding talent and great material unknown to the bigger networks. Their newest drama Mr. Robot just elevates that list even further. Despite the slightly comical name, the series is a dark and exciting show that follows a young hacker lead into the world of corporate destruction, when he meets Mr. Robot and continues a double life of hacking. The Mr. Robot pilot is now available to stream on Hulu Plus and EW.com, well before its official premiere on USA on June 24. It's definitely worth the watch if just for the performances by Rami Malek as Elliot and Christian Slater who plays the titular character. Elliot is a hacker with personal and societal issues, which leads to his desire to take down corporations from the inside. But, can he really sustain his double life?
For those who have yet to watch the pilot, look away now because this is your official spoiler alert! As those of us who have seen the episode know, Elliot is not fully aware of what his involvement in the Evil Corp hacking has done until the CTO of the company is arrested for the hack. Elliot celebrates his work for just a few minutes before he is whisked away to a secret meeting with Tyrell Wilek, the Senior Vice President of Technology at Evil Corp, and his shadowy bunch of ruthless businessmen whom Elliot believes really run the world.
Here's the thing about Elliot, before this Evil Corp hacking mess began, he was already hacking in his own way. He would hack into people's lives and find their secrets. To put it in Elliot's own terms, it was an itch he desperately needed to scratch. So living a secret life is not an unfamiliar situation for him. (Think of it as the tech-version of Dexter.) The real question is whether or not he'll be found out now that he's doing it on such a large scale. It's possible that Elliot is being watched as he believes in the beginning of the episode. Not just watched by Mr. Robot and his people, but by the evil businessmen as well. Maybe they knew he met with a secret hacking team, and maybe they know he implicated Terry Colby, the Evil Corp CTO, in the hacking scandal.
It's likely Elliot will get found out as he gets in deeper. Maybe Elliot will trip up trying to take down the people he hates the most, or maybe Mr. Robot himself is hiding a secret from the team that Elliot finds out, which could lead to Mr. Robot turning on him. The series so far has so much promise to be a fascinating espionage thriller, and with shows like that the secrets are endless. I'm excited for more.
Images: Screenshot, David Giesbrecht/USA Network